From July 6, 2017, our customers will have the opportunity to upgrade their Endpoint Protection and Endpoint Protection Plus version to version 7.71.00, through the Upgrade to the new version button available in the Notifications area of the management console. You can check what's new here.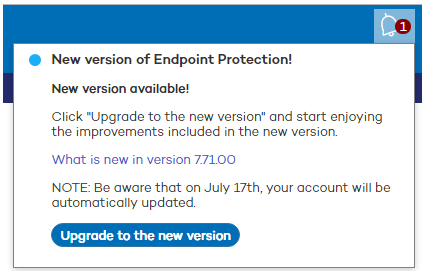 How to upgrade your endpoint protection
Click the Upgrade button you'll find in Endpoint Protection (Plus) Notifications area.
Make sure the option Enable automatic updates of the protection engine is selected.



If it is, clicking the Upgrade button will immediately deploy the protection upgrade to all profiles with that configuration.
Additionally, please note that from July 17, 2017, customers' consoles will be automatically and gradually upgraded to version 7.71.00, without the need to use the
Upgrade
button. The process to deploy the new version of the agent and the protection will work in exactly the same way. That is, your endpoints' protection and
agent
will be automatically upgraded provided the option
Enable automatic updates of the protection engine
is selected in the relevant security profile(s).
Post-upgrade versions
After upgrading to version 7.71.00, the version of the different components that make up your Endpoint Protection (Plus) product will be as follows:
Console version: 7.71.00
Agent version: 7.71.00
Protection version: 7.70.00.0002