The first time you subscribe to Panda Protection Service, you will receive a welcome email from Panda Security.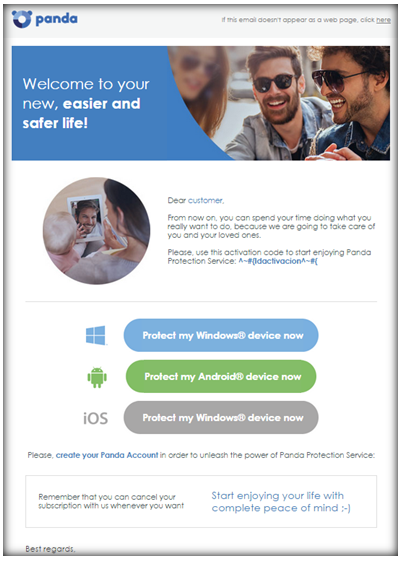 All you need to do now is follow three easy steps:

Step 1: Download and install Panda Protection Service

Click the Panda Protection Service protection for the type of device you want to protect and follow the wizard through (it is advisable to do so from the device you want to protect).

Step 2: Activate Panda Protection Service
Enter the Activation Code included in the welcome email to activate your product.
Refer to article Error codes during the activation of Panda Protection if you get error messages during this process.

Step 3: Create your Panda Account

Create your Panda Account and manage all the services included in your Panda Protection Service (documentation, protection for Windows and Android, IOS location service, specific documentation, etc.). You will always be able to download and install your Panda Protection Advanced from here.
If you have any problem during this process, check out article Troubleshooting issues with your Panda Account.