Symptoms
If the installation of Panda is cancelled, either due to the user's decision or any other causes (system errors, power supply interruption, etc...), the operating system will install the program in compatibility mode for Windows XP SP2.
To prevent this installation type from affecting the solution's performance, the following error message will appear on the screen forcing you to cancel the Panda installation process: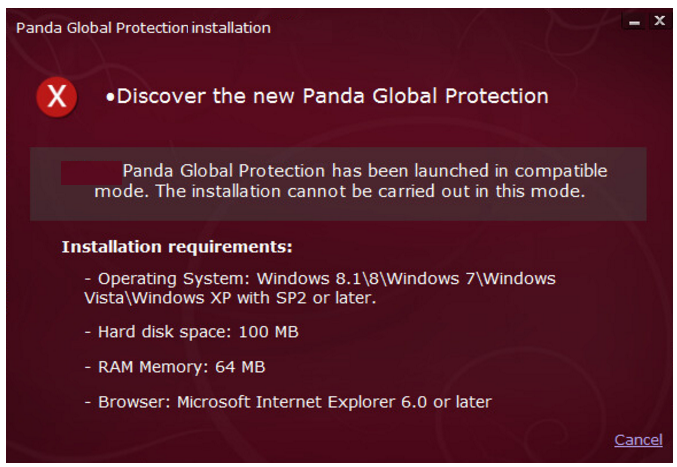 Solution
Follow the steps below to resolve this conflict:
Click OK in the message prompting to cancel the installation of Panda.

Next, you must manually change the compatibility mode set in Windows Vista for this specific case. To do this, change the installation file settings:



If you downloaded Panda from the Panda website, the installation file is called PANDAGPESD.exe for Panda Global Protection, PANDAISESD.exe for Panda Internet Security and PANDAAPESD.exe for Panda Antivirus Pro. The file location can vary depending on where it has been saved.

If you have installed it from a CD-ROM, the installation files are located on the CD. To find them, insert the disk in the drive, open Windows Explorer and go to the CD path: \GlobalProtection for Panda Global Protection, \InternetSecurity for Panda Internet Security, and \AntivirusFirewall for Panda Antivirus Pro.

There are two installation files: install.exe and setup.exe. Follow the instructions below with both files:

Right-click the file and select Properties.

In the Properties window, select the Compatibility tab.

In the Compatibility mode section, uncheck the Run this program in compatibility mode for option (the combo box will display Windows XP Service Pack 2 by default):



Click Show settings for all users and uncheck the Run this program in compatibility mode for option.

Click OK at the bottom of the window.

Run the installation file again.