This guide is aimed at network administrators who need to manage the security of their organization's computers, find out the extent of the security problems detected, and define cyberattack response and prevention plans.
Endpoint Protection and Endpoint Protection Plus are managed services that deliver security without requiring active, constant intervention from the network administrator. They offer highly detailed information about the security status of the IT network thanks to the new Aether platform developed by Panda Security.

Aether is a scalable and efficient platform for the centralized management of Panda Security solutions, addressing the needs of key accounts and MSPs. Aether facilitates the real-time presentation of information generated by Endpoint Protection and Endpoint Protection Plus about processes, the programs run by users and the devices installed, in a coordinated and highly detailed manner.

To get the most out of Endpoint Protection on Aether and Endpoint Protection Plus on Aether, certain technical knowledge of the Windows environment is required with respect to processes, the file system and registry, as well as understanding the most commonly-used network protocols. This way, network administrators can accurately interpret the information in the management console and draw conclusions that help to bolster corporate security.

The Administration Guide is available from your product's administration console, more specifically, here: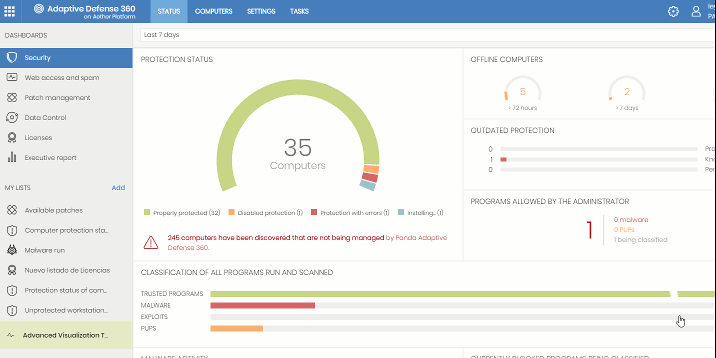 To access the Documentation download area, click
here
.