Panda Patch Management is a module compatible with products based on Aether Platform such as Panda Endpoint Protection, Panda Endpoint Protection Plus, Panda Adaptive Defense, Panda Adaptive Defense 360. Panda Patch Management provides all necessary tools to manage, from a single console, the security and updates of the operating system and third-party applications. This article explains the basic steps you need to know to get started with the Panda Patch Management module.

Creating your Panda Account
After you purchase your Panda Patch Management licenses, you will receive an email message to access your Panda Account, which will allow you to

have secure and simple access to all contracted Panda products

. Open it and click the link included in it.


You will access a Web page to access your Panda Account if you already had an Aether-based product or else, if this is the first time, you will need to create a Panda Account.
Activating your Panda Account
Once you have created your Panda Account, it is essential to activate it.

To do that, go to your inbox and find the message.
Click the activation button. By doing that, you will validate the email address that you provided when creating your Panda Account. If the button doesn't work, copy and paste the URL included in the message into your browser.
The first time that you access your Panda Account you will be asked to set a password. Click Activate Account.
Enter the required data and click Save data. If you prefer to enter your data later, click Not now.
Accept the license agreement and click OK.
You will have successfully activated your Panda Account. You will then find yourself in the Panda Cloud site.

From there, you will be able to access the web console of your product.

Panda Patch Management patch installation
Panda Patch Management will look for available patches for those Windows computers which already had the communications agent installed. You can check the patches found from the Aether administration console, within the Status tab, by clicking the Panda Patch Management menu on the left. If you click View all patches, you will see all the patches that are available for installation.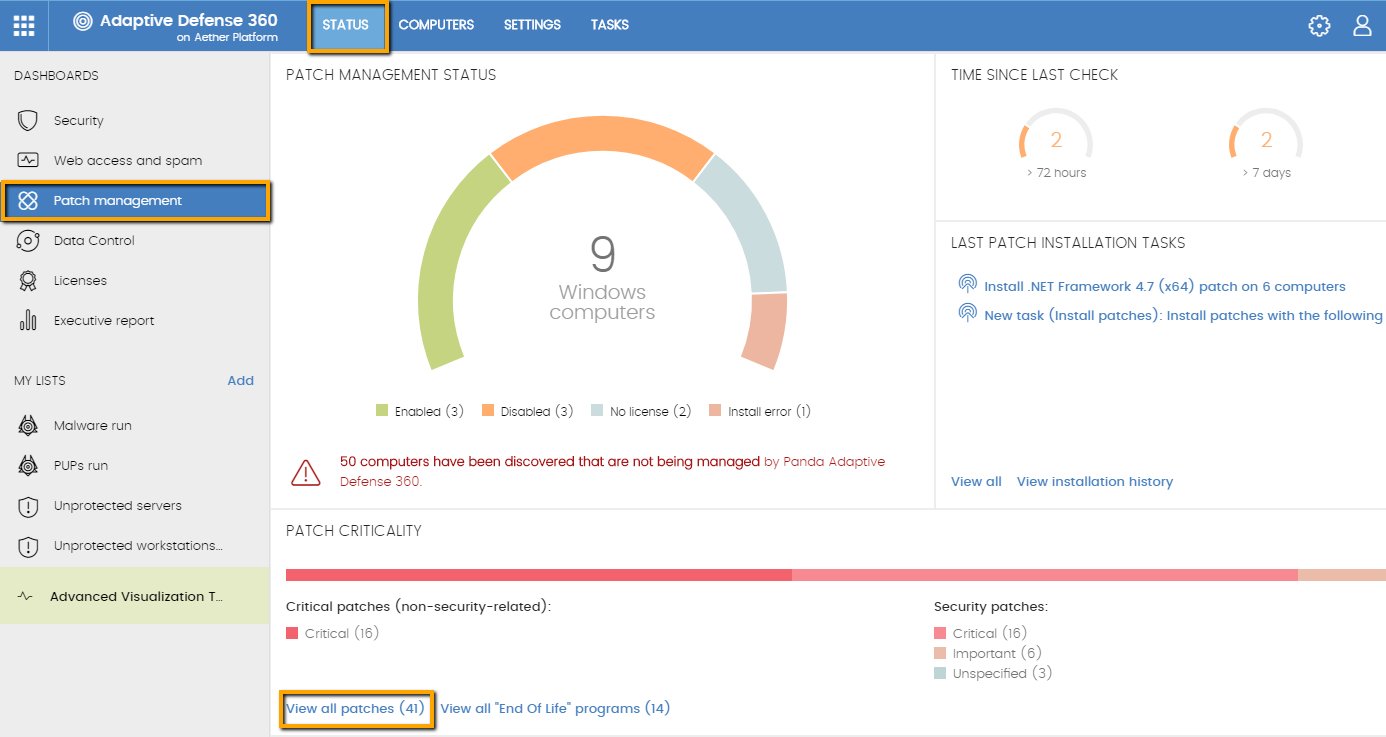 To install a patch, select the computer or computers you want the patch to be installed and select Install, either from the top menu as seen in the screenshot: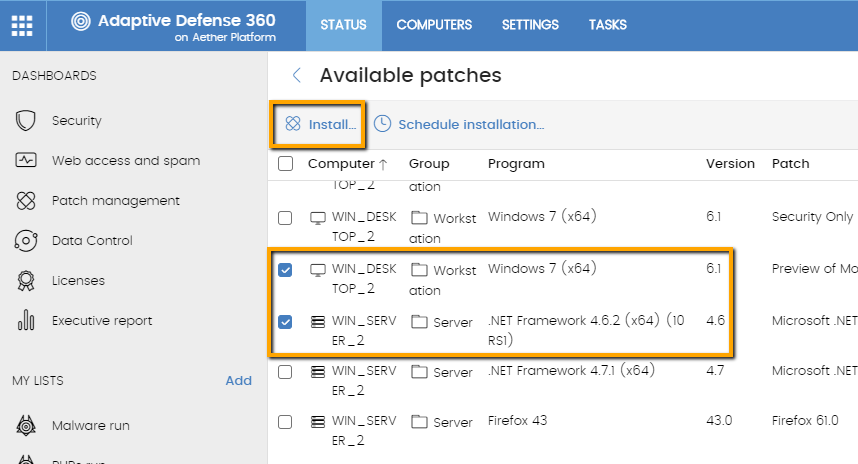 or from the contextual menu, by clicking Install.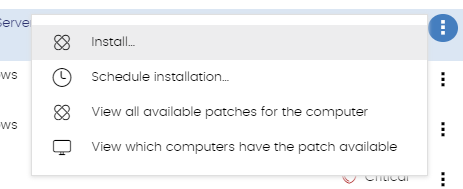 In the Restart options section of an install patches task, you can now specify the maximum time that the system waits before it forces a restart on the computer to complete the installation of the patch (the default time is 4 hours). You can restart immediately when the task is scheduled, or delay the restart up to 7 days.