Panda Cloud Antivirus and Panda Internet Security 2012 receive AV-Test  certifications once again
Panda Cloud Antivirus achieves the highest score in usability for its performance, low false positives and low impact on the system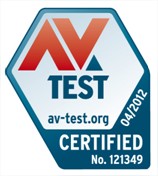 Panda Security, The Cloud Security Company, today announced that Panda Cloud Antivirus, the world's fastest growing cloud-based antivirus, has achieved the highest score in usability by the prestigious AV-Test.org independent lab, outperforming all tested free and paid solutions. Additionally, both Panda Cloud Antivirus and Panda Internet Security 2012 have once again been certified by AV-Test.org. The institute evaluated the protection, repair, usability and performance impact of 22 home user and eight corporate antivirus products under Windows 7 in March and April 2012.
AV-Test.org evaluations measure how much each solution impacts overall system performance while still delivering good levels of protection. Of all products tested, Panda Cloud Antivirus 1.5.2 had the least impact, obtaining 7 points compared to an average of 10 points for the rest of the products (the lower the score, the better). The slowest product achieved a score of 15.
The test also examined false positives – a legitimate file erroneously tagged as malware –, with Panda Cloud Antivirus 1.5.2 recording only three false positives out of the more than 500,000 test files. That's a 0.0006 percent false positive rate, whereas other products tested averaged ten detections (0.002 percent). Products were also tested for false warnings and false blocking of certain actions during download, installing and use of legitimate software. Panda Cloud Antivirus performed flawlessly with no false warnings.
Panda Cloud Antivirus obtained excellent results in the 'Protection' category as well, achieving a 5.0 score as compared to other free antivirus solutions such as Avast (4.5) and Microsoft Security Essentials (3.0). Panda Security's solution also performed better than paid programs from Trend Micro, McAfee and Eset, reinforcing the product's powerful protection capabilities.
"Panda Cloud Antivirus is one of the fastest (lightest) products we've ever tested. Even then, the product offered a stellar protection against all kinds of malware and it performed very well in our 0-day testing. Panda Cloud Antivirus offers a stellar protection against malware attacks, and it ranked higher than some paid Internet Security offerings from other vendors. We congratulate Panda for their high ranks in our comprehensive tests!", said Andreas Marx, CEO of AV-Test.org.
The full report is available at: http://www.av-test.org/en/tests/home-user/marapr-2012/
Panda Cloud Antivirus Free Edition 1.5.2, the software version tested by AV-Test.org and launched in February 2012, includes performance improvements as well as new functionality requested by Panda Security's user community. Since Cloud Antivirus' initial release in 2009 as the first free 'in the cloud' security service for home users, millions of PC users around the world have benefitted from its award-winning protection and light footprint. The latter is a major benefit of Collective Intelligence, Panda's proprietary technology for automatically collecting and processing millions of malware samples in the cloud instead of locally on the user's PC. For more information about this version, please visit: http://blog.cloudantivirus.com/2012/02/27/panda-cloud-antivirus-1-5-2/
For more information about Panda Cloud Antivirus and to download the product, please visit: http://www.cloudantivirus.com