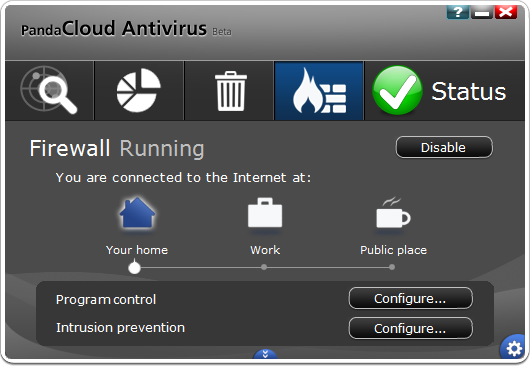 With over 140.000 active beta testers of version 1.9.1 (!!!) and after a long wait Panda Cloud Antivirus Beta 1.9.2 is finally here. This new beta release incorporates not only a lot of bug fixes as reported by the large beta community but also new features such as a new firewall platform and intrusion detection system. This new beta version includes better malware disinfection capabilities and even lower impact on system performance. Last but not least Panda Cloud Antivirus Beta 1.9.2 is compatible with the recently released Windows 8 Release Preview.
If you have the previous Panda Cloud Antivirus Beta 1.9.1 installed this new beta version 1.9.2 will be upgraded automatically for you. We will release the automatic upgrade in a controlled manner over the period of approximately one week. So there is nothing for you to do, simply sit back and let Panda Cloud Antivirus Beta upgrade itself. If you have a Home or Started Edition Operating System you might see a prompt to reboot. Other than that the upgrade is completely transparent.
Some of the most notable changes implemented for 1.9.2 are the following:
New firewall platform for Windows Vista, Windows 7 and Windows 8.
Intrusion Detection System protection against network attacks.
Ability to adapt firewall behaviour by zones.
Registration of the firewall component in the Windows Security Center.
Deactivation/activation of the built-in Windows Firewall when the Panda Cloud Antivirus firewall is activated/deactivated.
New technologies for improved malware disinfection.
Improved detection of in-memory malware.
Improved disinfection of packed/compressed malware.
Improved quarantine management.
Process monitor without the URL monitoring.
Activity monitor in the main interface window.
Last detection show in the main interface window.
Added advanced configuration to enable/disable detection of potentially unwanted programs.
Added advanced configuration to enable/disable background scan after cache synchronization.
Added advanced configuration to enable/disable on-demand scan within compressed archives.
Added advanced configuration to exclude elements by extension.
Improved scanning architecture and integration with Quarantine and memory scanning module.
Integrated new toolbar with Google search instead of Yahoo.
Button to hide the promotional banners shown in the main interface.
Improved integration with the Windows Security Center for the antivirus component.
Improved integration with Collective Intelligence of unknown and new malware samples.
Performance improvement to lower system impact when treating files within Explorer and Recycle Bin.
If you don't want to wait for the automatic upgrade you can manually install Panda Cloud Antivirus 1.9.2 by downloading it directly from http://acs.pandasoftware.com/cloudantivirus/beta19/PandaCloudAntivirus.exe. As always you can provide feedback, send us suggestions and discuss with our QA Department about this beta version in our Beta Support Forum.
It is impressive that over 140.000 beta testers have helped us improve the product so much over the last year. Again our most sincere "THANK YOU" to all our beta users and hope you enjoy this new 1.9.2. We promise this new beta won't be as long as the 1.9.1 beta and very soon we will all be able to enjoy the final Panda Cloud Antivirus 2.0 release 🙂