Published by Ana Etxebarria, 31st May 2012
Perhaps the perfect children's bedtime book, Goodnight Moon is a short poem of goodnight wishes from a young rabbit preparing for his own slumber:
"Goodnight room. Goodnight moon.
Goodnight cow jumping over the moon.
Goodnight light, and the red balloon,
Goodnight bears, goodnight chairs,
Goodnight kittens, goodnight mittens,
Goodnight clocks and goodnight socks…"
It is an American classic that has been told by parents to their children for more than 60 years ago. But… lately the story has changed, a bit 😀
Goodnight iPad is a witty parody picture book for the gadget-crazy kid in all of us.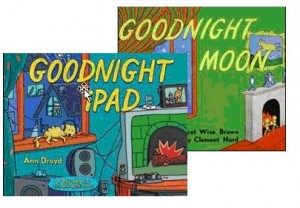 Where Margaret Wise Brown's 1947 story ends with the peaceful wish, "Goodnight stars, Goodnight air, Goodnight noises everywhere", Milgrim's (Ann Droyd's), instead bids goodnight to a host of modern technological appliances. "Goodnight remotes and Netflix streams, Androids, apps and glowing screens," he writes, ending, "Goodnight MacBook Air, goodnight gadgets everywhere."
As the authors say, "Goodnight iPad is a gentle reminder to power down at the end of the day. It will make you smile, and it will also help you wrest yourself away from your gadgets and put yourself — and your machines — to sleep. Don't worry, though. Your gadgets will be waiting for you, fully charged, in the morning."
Luckily one character understands the need for calm. While bidding goodnight to each gadget, the mother rabbit pulls them one by one from her reluctant bunnies (and husband) and throws them out the window. She then settles in bed next to a cat and reads "Goodnight Moon". Check out the video and enjoy!