As of January 2019, there were 1.94 billion websites and this number grows each day. With so many websites available, it's important to be able to identify which ones are legitimate and which shouldn't be trusted.
Security Week highlighted that 1% of these websites are infected with malware at any given time each week. This means that at least 19,400,000 websites have malicious intent every week. These malicious sites become even more of an issue when Internet users willingly hand over their personal information, such as credit card details. Online shopping now accounts for almost 10% of total retail sales and this number has been on the rise for the last few years.
With such a high number of sites at risk, it's important that Internet users know which ones they can trust with their personal information. To help shed some light on this issue, we surveyed 1,000 Americans about what they look for in a reliable website.
We asked, "When you're making a purchase online, what's the most important credibility factor?"
The results showed:
Almost a third of users (29.3%) cited a secure URL as the most important credibility factor.
Those who were younger than 25 cited testimonials and reviews as more important than a secure URL.
The Anatomy of a Safe Website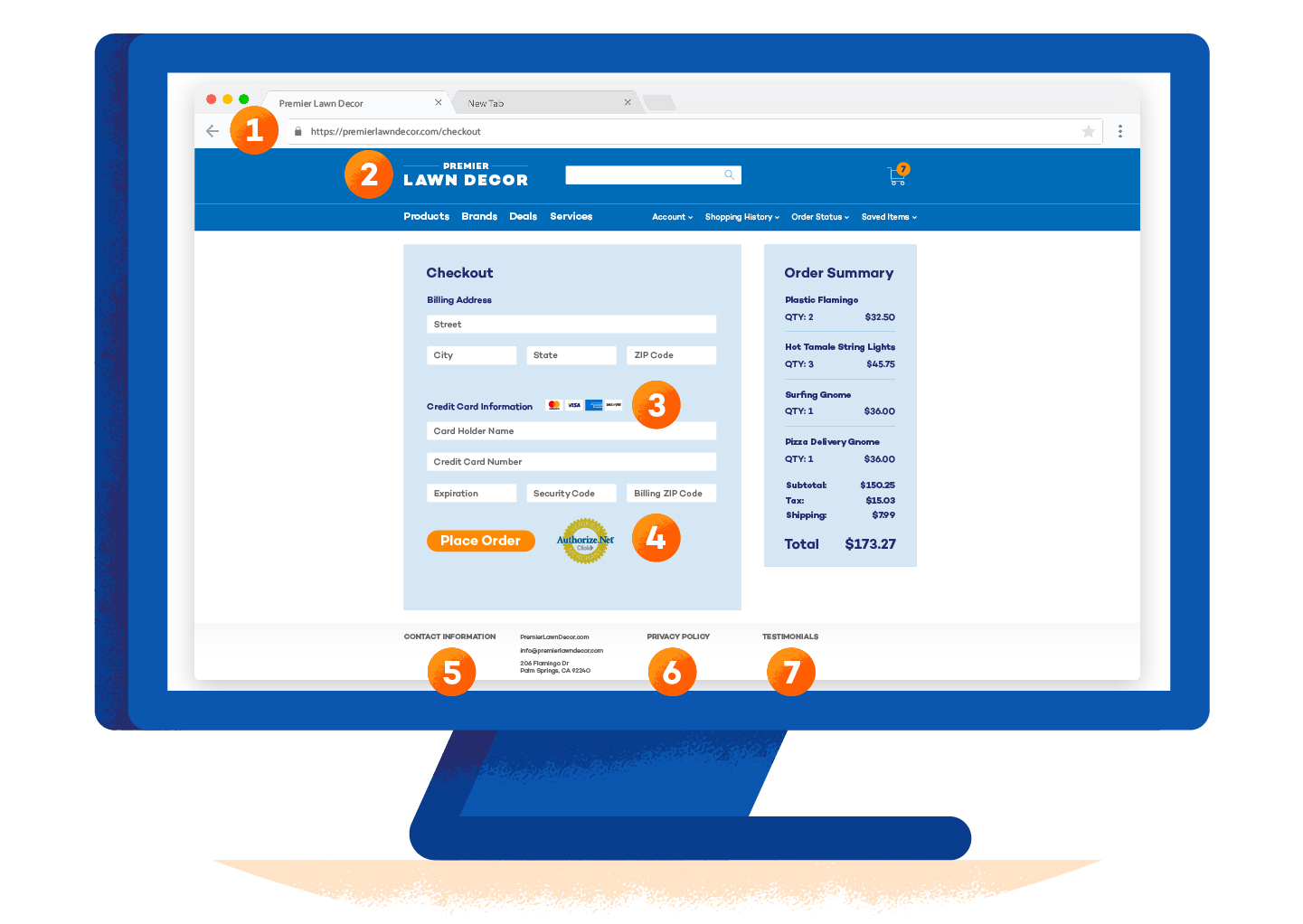 How to Check If a Website Is Safe
To help you protect your personal information, we have seven items to check in order to determine if a website is safe. Read through and then take a look at an infographic that sums up the items.

1. Safe URL
When given an option, most people choose a safe URL as an indicator for website trustworthiness, but how often do they actually check the URL when entering their credit card information? How can you tell if a URL is safe?
A URL is safe if it has the correct spelling, is secured (https) and has some sort of indicator that it's verified, such as a lock sign. Although https is not synonymous with security, these three factors are a good place to start when checking if a site is safe. These factors should be checked on every site you go to, especially when you're on a banking site or entering sensitive information on online shops.

2. Website Appearance Looks Good
Websites that look unsafe usually are. If the website owner isn't investing in the appearance and user experience, they probably aren't investing in the security of the site. These poorly build sites are prone to malware and could be a threat to you. Ensure you have an antivirus on your computer so that you don't fall victim to this threat.
It's also important to notice if the grammar and spelling are correct throughout the site. If there are noticeable errors, it could be a sign that the site is fake or a scam.

3. Familiar Methods of Payment Offered
In addition to a trust seal, an e-commerce website should offer familiar methods of payment. These credit card trust logos will appear where you enter your card information. Some common forms of payment include Visa, MasterCard, Discover and American Express. If a site only offers one form of unfamiliar payment, it could be a scam.

4. Includes a Trust Seal
You've probably seen a trust seal or trust badge before without realizing what exactly it was. Trust seals are symbols or badges that usually show up on purchase pages to verify a page is working to keep your information safe. Common badges include those from Paypal, Better Business Bureau and Verisign.
These trust seals add credibility to the site so that those purchasing through it will feel comfortable sending sensitive information across the web. When purchasing through a site, be sure it has a trust seal.

5. Contact Information is Available
To ensure a website is secure, check to see if there is contact information available. There should be the company or person's name, address, phone number and email. If there's no way to get a hold of the company, what will you do if you have an issue with your purchase?

6. Accessible Privacy Policy
With privacy being such a big issue, it's important to know what the website you're on tracks. You can find this in their privacy policy. The privacy policy is usually found at the very bottom of the homepage. If this isn't the case, you can search the company name plus "privacy policy" to find it.
Privacy policies are legally required because if a site collects information, it's required to protect that information. The extent to which it will protect your information is outlined in this policy. If the website you are on does not have one, it's not safe or legal. If it has one but the wording is vague and it seems incomplete, your information might not be safe.

7. Testimony or Reviews for the Site
To ensure that people have made successful purchases through the site, look at testimonies and reviews. If the site doesn't feature any, look up the company to see what people have said on Google reviews. If it's a restaurant, look them up on a review site such as Yelp.
When looking at reviews, be sure to look at the date and if the person has left other reviews as well. If there are no reviews, this could mean the company has deleted bad reviews or it's new and hasn't had much business. Be wary if this is the case and be sure it has all the other website safety factors.
As we continue to make purchases online, it's important to look out for these safety factors. To ensure your identity is protected when entering sensitive information online, use Panda Security's Identity Protection.

Methodology
This website security study was conducted for Panda Security using Google Consumer Surveys. The sample consists of 1,000 respondents in the United States. The survey was conducted in August 2019.
Sources: