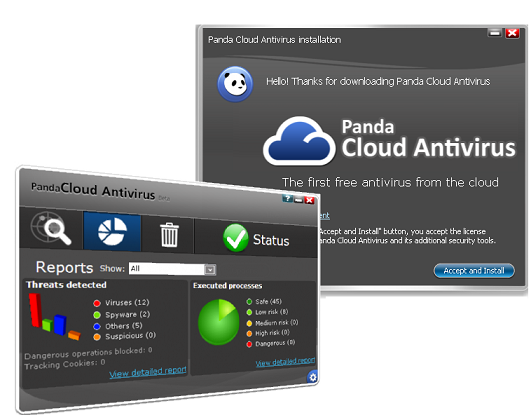 Today is a very special day for us at Panda Security for two reasons. First because today marks the two-year anniversary since we released the first beta of Panda Cloud Antivirus, the first free antivirus from the cloud. To celebrate this, we're releasing another beta version today, Panda Cloud Antivirus Beta 1.9.
The objective of this beta version is to test the interception of networking traffic in order to build cloud-based firewall functionalities in future versions. In this beta the networking interception is applied to both HTTP and POP3 traffic. Even though the program incorporates a Process Monitor which keeps track of HTTP web traffic requests on a per process basis and allows for per-process blocking, no traditional firewall functionality is provided in the beta, only interception.
In order to promote thorough testing of this version, we are giving away 10 Amazon.com $100 gift certificates to the most active beta testers who report bugs in the Panda Cloud Antivirus Beta Support Forum. The winners of the gift certificates will be selected at the close of the promotion by the Support Forum Moderators amongst the users with the most amount of new (unknown at the time of posting) bug reports. Note that the beta may still be ongoing after be promotion ends on August 1st, 2011. In addition there will be PRO license codes given away to other active beta testers as well.
New Features
– Process Monitor functionality and traffic history reporting.
– Ability to block a process by sending it to Recycle Bin.
– Blocked processes can be restored from the Recycle Bin.
– Ability to disable/enable BackgroundScan after signature cache synchronization.
– Ability to exclude file extensions from the on-access scanner.
– Exclusion of Potentially Unwanted Programs (PUP) detections.
– New graphical installer. Logs are kept under %TEMP%StubInstaller.log.
– New Toolbar without ID Protect & Shopping and with Toolbar Cleaner.
Read more about this beta, download and install from http://www.cloudantivirus.com/forum/forum.jspa?forumID=50202