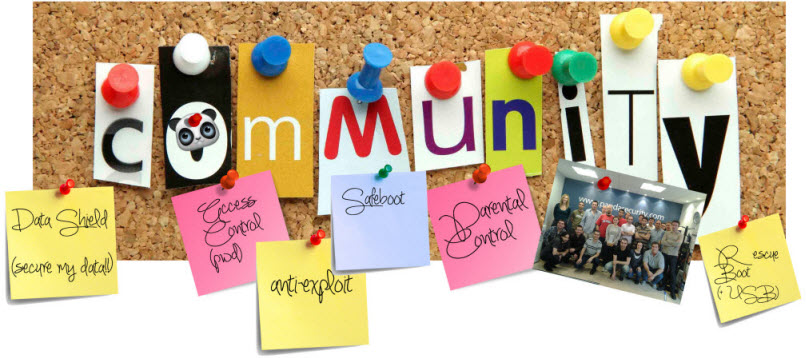 We are happy to announce the availability of Panda Cloud Antivirus version 2.2 in Panda Cloud Antivirus website!
If you are reading this post after seeing a "Panda Cloud Antivirus has upgraded automatically!" message on your Desktop traybar, then you already have the latest version installed and running, and you don't have to do anything else. If your version of Panda Cloud Antivirus hasn't upgraded yet to version 2.1.1, don't worry. As we are releasing the automatic, transparent upgrade little by little, your copy of Panda Cloud Antivirus will upgrade itself automatically in a few days.
This version is, more than ever, focused on our Community, as it includes the features that you are demanding through Panda Cloud Antivirus Community Portal, and a new area designed especially for our most advanced users!
Panda Cloud Antivirus 2.2 includes a new Community Labs Area. We will make available to our millions of community users many new features, FREE of charge while they are in experimental stage. Please, have a look and let us know all your suggestions. Just turn around the product console and start experiencing it!
New features included in this Community Labs Area in Panda Cloud Antivirus 2.2 version are:
Data Shield: This new Protection prevents malware from accessing your personal data. In case a new malware can surpass all protection layers and infiltrate into your PC, Data Shield will avoid any theft or encryption of the important thing: your personal data. We are so sure about the importance of this protection, that we are releasing it enabled by default.
Parental Control: Keep an eye on the web sites your kids are visiting and protect them from inappropriate content by blocking access to any of 59 different categories.  Have a quick view of your children's activity in a dashboard filtered by date, website or category.
Rescue Boot. This new feature is extremely useful in case of emergency situations caused by malware infections. Once created you will be able to boot from a USB or from a rescue option in your PC and remove any virus that locks your system thanks to Panda Cloud Cleaner technology.
Additionally, this new version integrates two of the most demanded features by the Community:
Access Control. Access to Panda Cloud Antivirus settings can be protected by a password from unauthorized people.
Safe Mode: Users will be able to install Panda Cloud Antivirus 2.2 and scan their PC against malware threats in Safe Mode.
And, as we continuously do in every version, we have improved Panda Cloud Antivirus protection capabilities. This time, we have focused these improvements in our behavioral technologies, in our successful anti-exploit protection and in Panda Cloud Antivirus technologies against Potencially Unwanted Programs. Performance optimizations and bug fixes complete this version.
Remember that if you have any problems with Panda Cloud Antivirus, you can always ask for help at our Technical Support Forum.
Enjoy it and let us know your feedback!