With virtual learning, social media, artificial intelligence and smartphones now an integral part of daily life, it's more important than ever for parents to understand what internet safety for kids looks like. 
We can't watch our children every second they're browsing the internet, but educating them on cybersecurity threats, potential predators and the consequences of their actions can help guide them toward smarter decisions online. In this guide, we'll discuss all you need to know to teach your kids safe cybersecurity practices.
Internet Safety & Kids
70% of 8-to-17-year-olds admitted to seeing images and videos not suitable for their age in the last year.
23% of 8-to-17-year-olds admitted that they didn't know how to control who can see their social media profiles.
29% of parents allow their children to use the internet without restriction or supervision.
What Is Online Safety?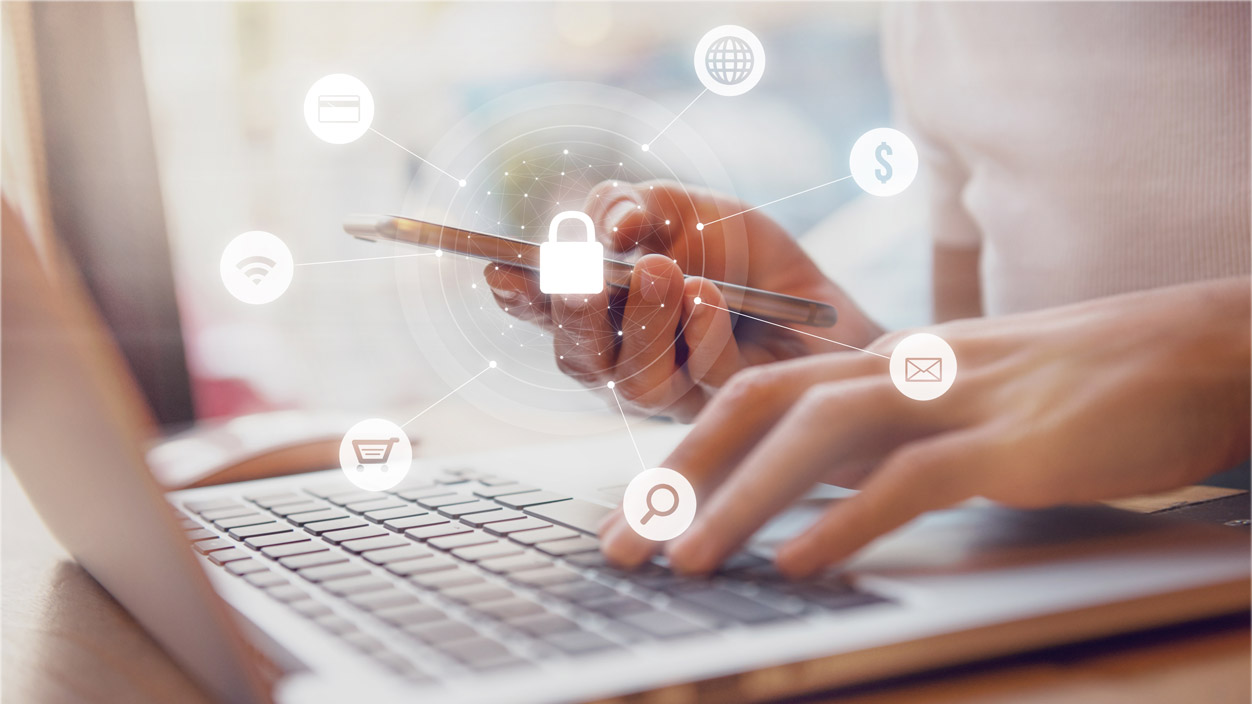 Online safety encompasses the measures and practices designed to protect people from the various risks and dangers they may encounter while using the internet, such as scammers and malware. For children, this includes education about online threats, setting boundaries and encouraging open communication to ensure a safe and positive digital experience.
Online Safety is not:
Overbearing internet monitoring
Enforcing excessive online restrictions
Limiting internet usage
Forbidding kids from having social media accounts
Online Child Safety Laws
In order to understand how to keep your students safe online, you'll want to become familiar with online child safety laws. These can help you find the right websites to incorporate into the classroom and ones to stay away from.
Children's Online Privacy Protection Act (COPPA)
The Children's Online Privacy Protection Act (COPPA) is a U.S. federal law enacted in 2000 to protect the online privacy of children under 13. It puts parents in the "driver's seat" of what their child of up to 13 years views online by requiring parental consent for the collection or use of any personal information of young website users.
Where does this come into play for educators? The COPPA has placed requirements on the operators of websites that are either directed to children under 13 or that have knowledge that they are collecting personal information from a child under 13 years of age. This means that limiting kids to websites covered by COPPA can greatly improve their safety.
Websites covered by COPPA include:
Websites directed toward general audiences but that collect personal information (i.e. a website asking for a user's birthday or ZIP code)
Third-party services like an ad network or plug-in collecting information from users of a site/service directed toward children under 13
Website/online service directed toward children under 13 and collects personal information from them
Flaws with COPPA:
Teens 14-17 are not protected, though they're still legally minors
Websites do not have a reliable way to obtain parents' consent online
Websites do not have an effective way to authenticate a child's age
Websites covered by COPPA must post privacy policies, provide parents with notice of information practices and collect parental consent before collecting a child's information. However, there are quite a few flaws with this act to keep in mind.
While COPPA is effective for some instances, children are still vulnerable to sensitive material such as graphic violence, sexual content and profanity, as well as cyberbullying. Read below to find out how you can keep your students safe and how you can educate your students to browse the web safely.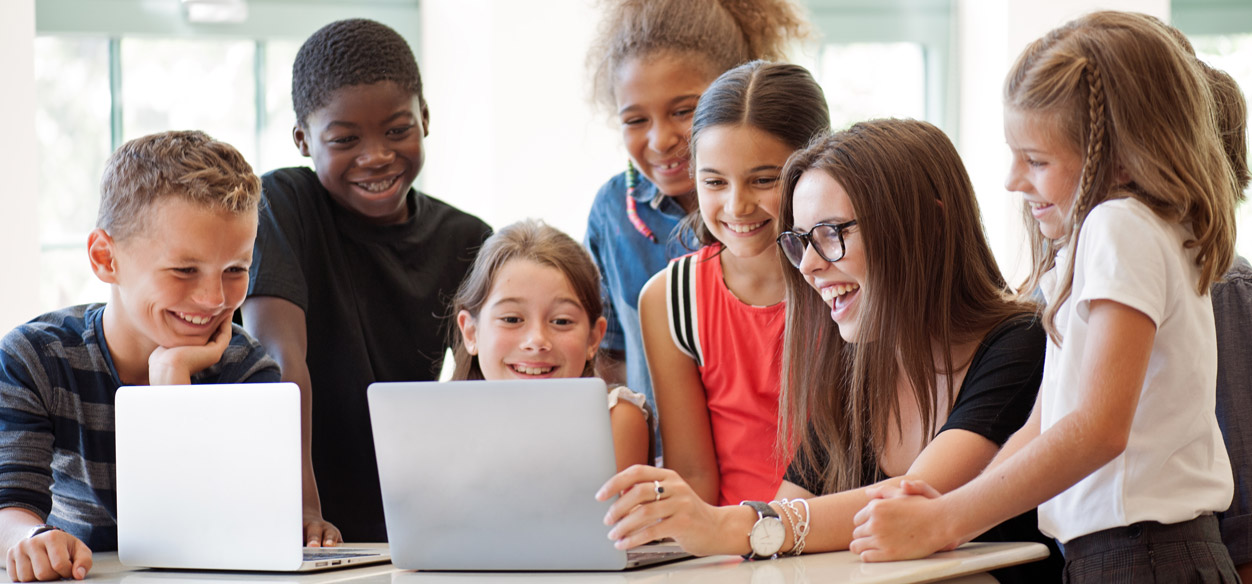 Children's Internet Protection Act (CIPA)
The Children's Internet Protection Act (CIPA) was designed to protect kids from potentially harmful online content when accessing the internet at federally funded schools or libraries. The CIPA requires these institutions to use filtering or blocking technology to prevent children from accessing inappropriate content like pornography or material promoting violence. 
Again, this law is not without its drawbacks. In some cases, these filtering techniques can mistakenly block legitimate educational or informative websites, limiting your child's access to valuable online resources. Additionally, the CIPA leaves kids largely unprotected when browsing the internet at home or on personal devices, and it doesn't protect against other significant cyberthreats like privacy breaches or cyberstalking.
CIPA Requires an Internet Safety Policy Addressing:
The safety and security of minors when using direct electronic communications
Unauthorized disclosure, use and distribution of personal information regarding minors
Access by minors to inappropriate content online
Rules that restrict minors' access to harmful materials
Flaws with CIPA:
Filtering can mistakenly block legitimate websites

Does not protect children browsing the web at home or on personal devices

Does not protect against other significant cyberthreats
Internet Dangers You (and Your Kids) Should Know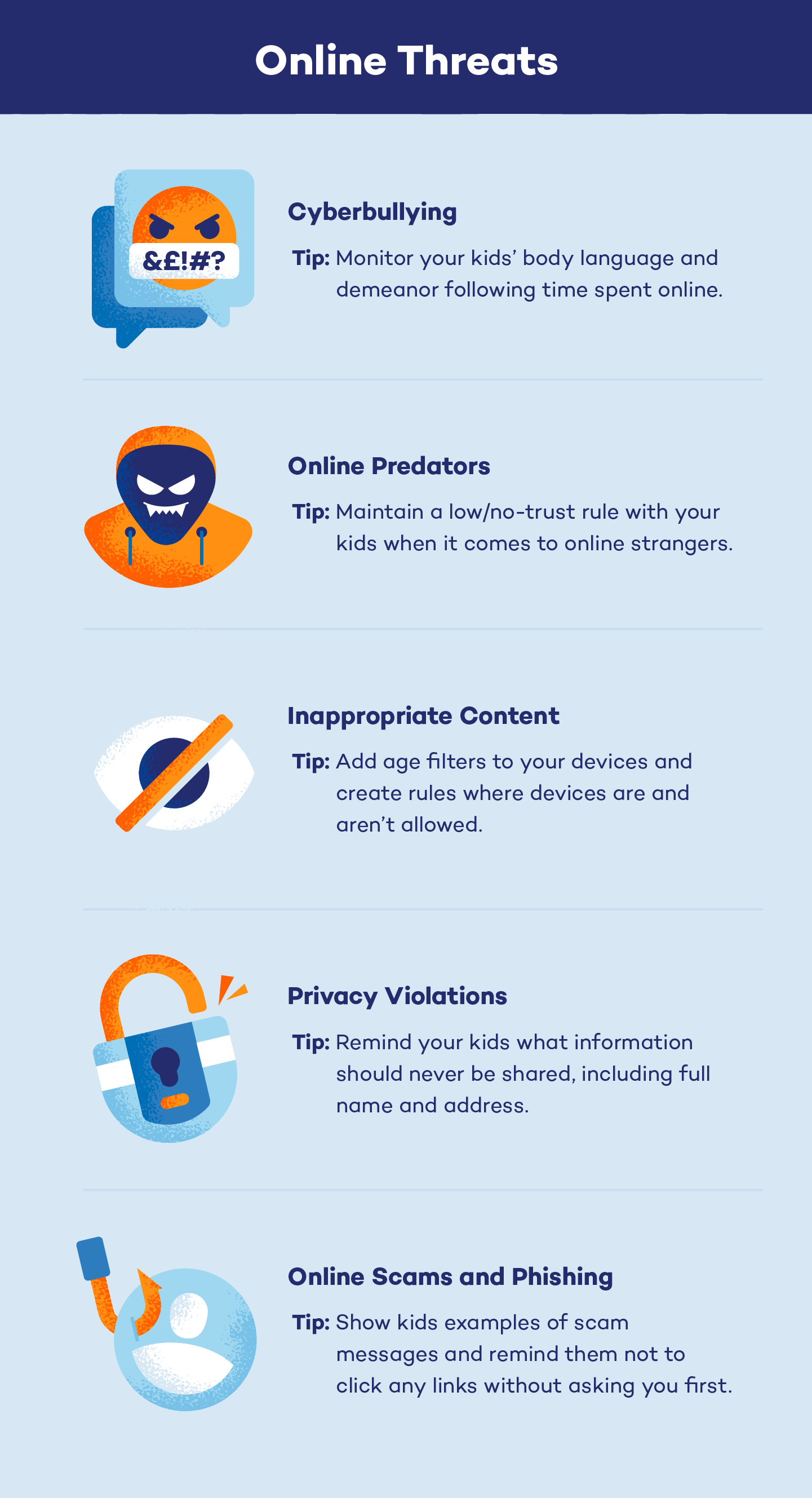 Before you educate your kids on the dangers of the internet, you first need to understand them yourself. Be wary of the following threats as you work to protect your kids as they browse.
Cyberbullying
Cyberbullying is the use of online tools to harass, threaten or demean others, often repeatedly and anonymously. It can affect kids profoundly, leading to emotional distress, anxiety, depression and, in extreme cases, self-harm or suicidal thoughts. 
The lasting psychological impact of cyberbullying can erode a child's self-esteem, disrupt their academic performance and hinder their overall well-being, making it crucial for parents and educators to address this issue quickly and effectively.
Online Predators
Unfortunately, not everyone on the internet is who they say they are. Online predators often create fake online personas in order to establish trust and coerce children into sharing personal information, explicit content or even meeting in person. 
The danger these predators pose goes without saying, which is why parents should be vigilant and encourage open communication regarding their children's online activities. 
Inappropriate Content
Kids are inherently curious, and the internet is chock-full of information about the world around them — good and bad. Children exposed to age-inappropriate content, like pornography, graphic violence, hate speech or disturbing images, may experience negative psychological and emotional effects. 
Privacy Violations
Privacy violations involving children typically occur when personal information like their real name, address, school or contact details is shared online without their consent or knowledge. These violations can lead to risks such as stalking, harassment or even identity theft. 
Online Scams and Phishing
On the topic of safeguarding personal information, kids should also be aware of common online scams like phishing. These scams can take many forms, such as fraudulent emails, fake websites or social engineering schemes. 
Kids may be particularly vulnerable to these threats due to their limited experience, so parents must educate them about recognizing and avoiding suspicious online activities and messages to protect their personal information.
Educating Kids On Online Safety
Keep the following tips in mind to ensure you and your kids effectively avoid the above threats.
1
Integrate Online Activities
Rather than giving kids time to write in their journal, have them set up a blog monitored by you. They can discuss topics like what they want to be when they grow up, a funny story that happened that day or something they're passionate about. If they are under the age of 16, it's recommended they use a pseudonym and refrain from adding any personal details such as their address or birthday in their blog.
By encouraging your kids to engage with the internet rather than attempting to gate it, they'll be ahead of the game when expected to use it at school.
A media pledge is a great way to hold your children accountable for their own online safety. As a family, come up with 5-10 rules that you and your kids promise to follow when browsing the web. These can include what to post online, who to interact with and anti-bullying rules. Display these rules where your children can see them while using the computer.
Rules for 5-to-10-Year-Olds
I will tell a parent or guardian if something online makes me feel sad, scared or uncomfortable
I will never meet face-to-face with anyone from the internet
I promise to be kind online and use proper netiquette
Rules for 10-to-16-Year-Olds
I agree to think before I post and never post content that may put me at risk or ruin my future (like inappropriate images or messages, vulgar language or my home address)
I will always inform a parent or guardian when meeting a friend online and meet in a public place with a parent or guardian
I will respect people online. I will not say or post anything offensive or threatening and will never harass or embarrass anyone by posting inappropriate content
3
Discuss Digital Footprints
Kids need to understand that any information they post online is public and can come back to haunt them. Online information is almost impossible to completely get rid of once it's out there — colleges and employers are increasingly scrutinizing digital footprints when making decisions, so it's essential for your kids to maintain a positive and respectful online presence.
4
Monitor Social Media Use
While you should refrain from excessively monitoring your child's online activities, having a solid grasp of how they're using social media should be a priority. Social media monitoring can help you detect potential social media threats like cyberbullying, inappropriate interactions or exposure to harmful content early on, enabling timely intervention. 
This can be done by following your kids from your own social accounts, setting up parental controls, ensuring their profile is set to private and periodically logging into their accounts to check their messages with their consent and trust. Encourage your kids to come to you whenever they have doubts about a social media interaction.
5
Present Real-Life Situations
Create real-life situations for students to consider, discuss and learn from. Telling a story can be more effective than just listing the dos and don'ts of browsing the internet. This is best for high school students, where they can watch a short clip or hear a story and understand the consequences of such situations. You may want to include the backlash of posting an inappropriate photo, what to be aware of in a chat room, or the real-life drawbacks and consequences of going on inappropriate sites at school. Students can relate and reflect on these issues, and may then feel comfortable sharing their own online experiences.
6
Talk About the Effects of Cyberbullying
When it comes to kids, parents' approval is everything. Because many of your students will not want to disappoint their parents, educating parents on online safety is key to keeping students safe. Let them know the dangers of inappropriate internet usage and ask parents to create an open and honest conversation with their child.
Advise them to bookmark safe, COPPA kids sites for young children so they have a set list of sites to visit. In the classroom, let them know that their internet activity at school may be shared with their parents and they should only browse sites approved by them.
Think before you share. Pause and think about if you are hurting or embarrassing someone else.
Speak up. When you notice a classmate engaging in cyberbullying, speak to a trusted adult for help.
Be respectful. When using a chat room or posting on a public platform, be mindful to respect others and treat others the way you want to be treated.
7
Reinforce What's Private
Let your kids know that their personal information should always be kept private. A great acronym for remembering that information is "YAPPY," which includes:
Your full name

Address 

Phone number

Passwords

Your plans 
Remind your children that they should never give out their passwords and should double-check with you if they've received an unfamiliar email asking them for information. The general rule of thumb for secure passwords is 14+ characters, no words or phrases and no important info included, like birthdays or hobbies.
8
Stick With Eebsites Verified With COPPA/CIPA
Make sure the sites you visit with your children are COPPA- and CIPA-compliant. You can find out if they are verified by checking their privacy policy page. 
If they are not compliant with these two acts, spend time auditing the site, keeping an eye on pop-up ads, questionnaires asking for information or any other questionable content. You can also download the Moz bar, a free tool that calculates the domain authority of a site. If it's above 75 and looks kid-friendly, it's probably OK.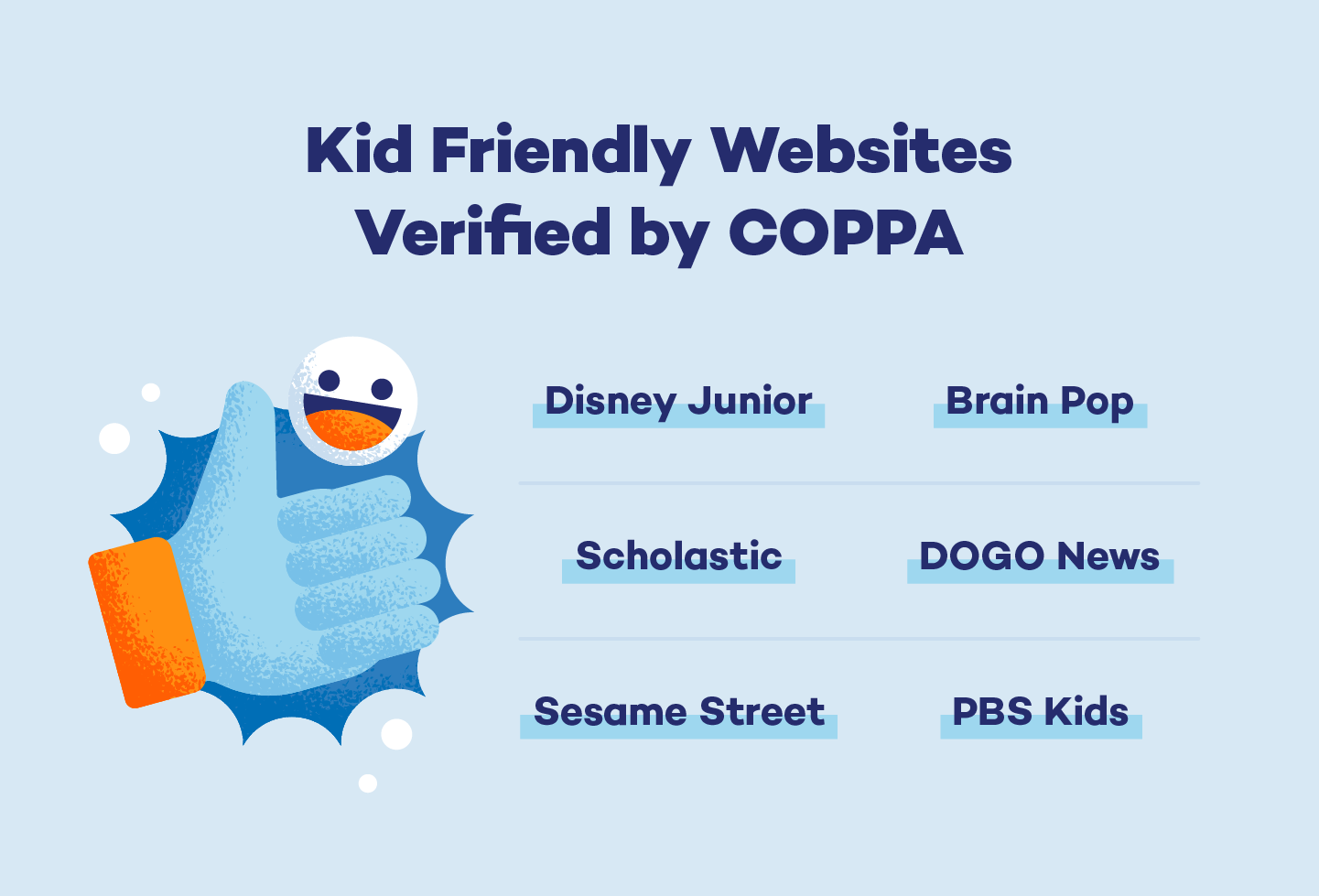 9
Make Internet Safety Fun
Teaching your kids about internet safety doesn't have to be a snooze. In the modern age, there are many engaging tools to help kids become familiar with the benefits and threats of the web. 
For example, Google's Interland is a great resource that doubles as a fantasy game with video game graphics and questions and answers relating to cyber safety. The "villains" in the game pose as users' friends or family members, or ask them to give them personal information. The game also gives kids incentive to do the right thing by distributing points to those who "do the right thing."
10
Practice What You Preach
As a parent, it's essential that you maintain a flawless social media presence. Keep all profiles private and ensure that your accounts are clear of any photos containing alcohol, inappropriate language or content.