We've started receiving email messages passing itself off as a warning message from the Windows Security Center.
The subject of the message is Windows Security Center Alert!
The message contains a window informing you that your computer can be a victim of an infection and recommending you to scan your system. Additionally, it contains a link to a program that is supposed to remove these threats from your computer.
The message is like the following: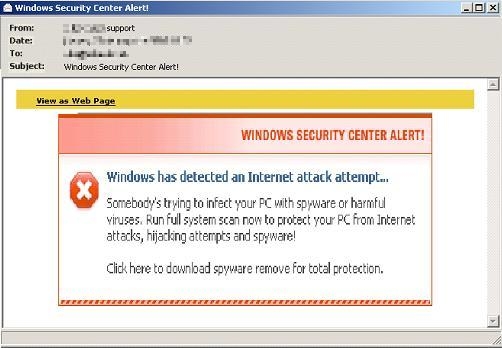 The website to which the link points can be any of the following, among others:
http://sterss<blocked>0mb.com/setup.zip
http://verno<blocked>0mb.com/setup.zip
http://juliedr<bloqueado>0mb.com/setup.zip
The file SETUP.ZIP, once decompressed, contains the rogueware detected as Adware/DataProtection. Once installed, it displays different messages depending on the language of the operating system installed in your computer.
It is programmed to display messages in the following languages:
French
Italian
German
Spanish
Norwegian
Polish
Czech
Ukrainian
Russian