As a society, we have an immense turnover of electronic devices. This is partially due to an increase in new technology, making older devices irrelevant, and also due to the natural wear and tear our devices experience. The lifespan of electronics is predicted to be 11.8 years for a laptop, 6.5 years for a desktop computer, five years for a tablet and only two years for a smartphone.
These short lifespans cause a high amount of e-waste. The United Nations University reported that in 2016, the yearly worldwide accumulation of e-waste had reached 49.3 million tons. By 2021 it's predicted this number reaches 57.5 million tons.
What is E-Waste?
Electronic waste, or e-waste, encompasses all electronics that are at the end of their useful life. This could be a computer that is outdated and doesn't run properly or a VCR that is no longer relevant or useful to the owner.
Luckily, nearly 100 percent of e-waste is recyclable. Even if the device isn't in running condition, there are plastic, metal, glass, palladium, copper, silver and even gold parts that can be recovered and reused. According to the EPA, for every million cell phones we recycle, 35 thousand pounds of copper, 772 pounds of silver, 75 pounds of gold and 33 pounds of palladium can be recovered.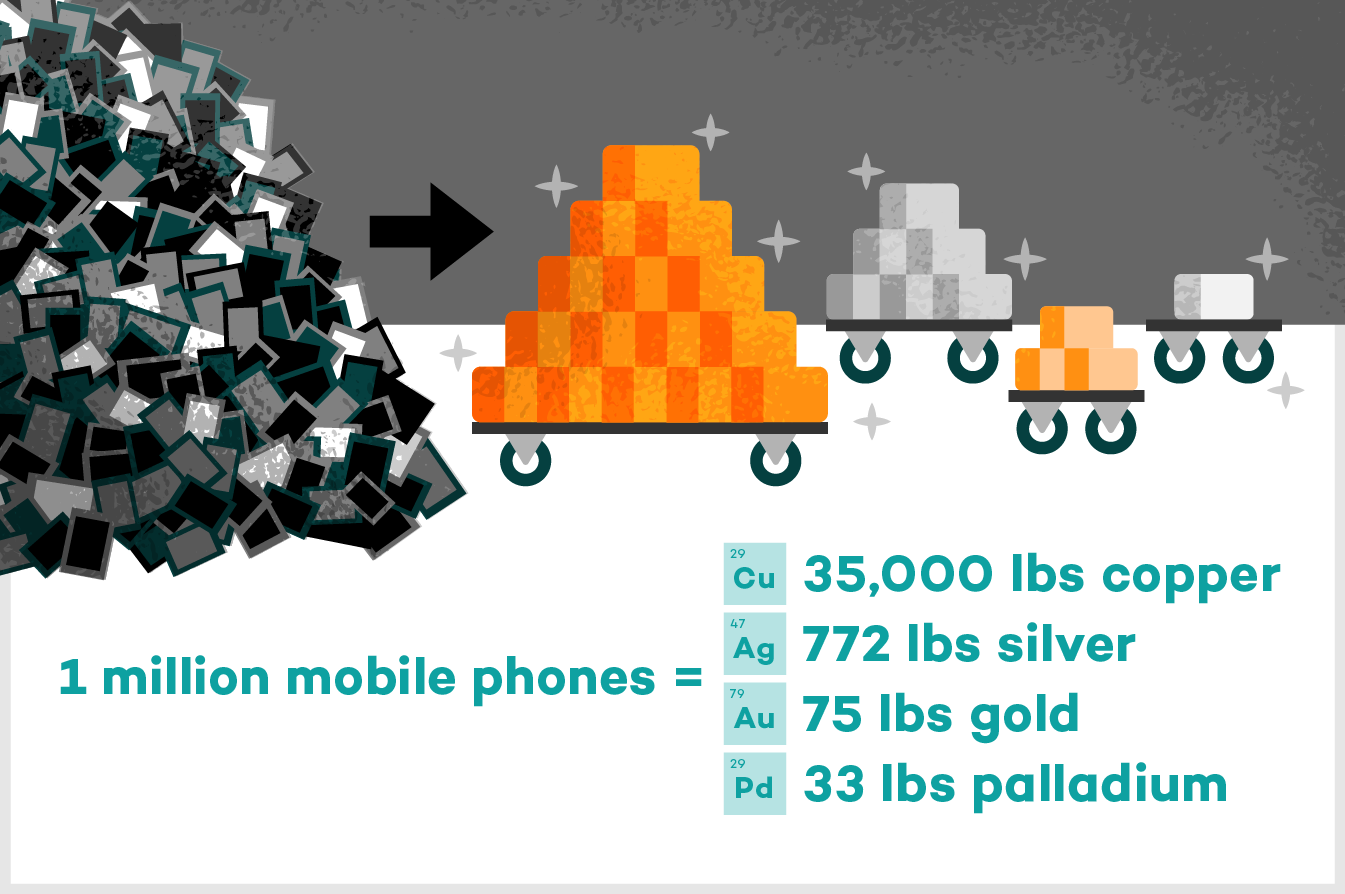 How Do You Recycle Old Electronics?
Recycling your devices means getting rid of them in a safe manner that allows them to be reused. In many states, it's illegal to dispose of these electronics in a regular garbage or recycling bin. Electronic products contain toxic substances such as mercury, lead and cadmium that need to be disposed of carefully and safely. There are three main ways you can recycle your device: donate it, let tech companies recycle it or take it to a designated recycler yourself. To help you find the best way to recycle your device, check out our infographic on recycling electronics or continue reading below.
1. Donate It
If your device is still functional (and in some cases even if it's not), you can donate it to those who are in need of electronics. There are many charities that can use your device or fix and resell it for their cause. Donating to these charities will not only help the greater good of the organization but if you donate to a library, school or nonprofit program, you can receive a tax break on next year's tax return. Browse the notable charities below that accept electronic donations.
Donate to Charities Working With Underprivileged Communities
World Computer Exchange

works to reduce the digital divide for youth in developing countries by using donations to build computer labs in primary schools and colleges.

human-I-T

is an organization that takes unwanted technology and fixes it so they can provide it to low-income individuals and nonprofits.

Komputers 4 R Kids

is a non-profit that provides reused technology to underprivileged students, families and schools.
Donate to Military Charities
Cell Phones for Soldiers

accepts gently used cell phones for resale. The profits go towards prepaid calling minutes for soldiers deployed overseas.

Pickup Please

is a good option for those that don't have the time to take their items to a drop-off center. Pickup Please will come to pick up your electronics—sometimes within 24 hours! This service is currently provided in 13 states. The electronics are resold and the proceeds go to veterans and their families.
Donate to Domestic Abuse and Emergency Services
The National Coalition Against Domestic Violence

collects unwanted cell phones and electronics (minimum of three items) and refurbishes them for sale. A portion of the proceeds goes to their program to help stop violence in the home.

Secure the Call

accepts old cell phones and reconfigures them to only be able to call 911. They then provide these emergency phones to domestic violence centers, senior citizen centers and police and sheriff departments.
Donate to Children's Hospitals
The

Make-A-Wish Foundation

accepts new and used computers, gaming consoles and music players and gives them to hospitalized children to make their stay at the hospital more comfortable.
Donates to a Variety of Charities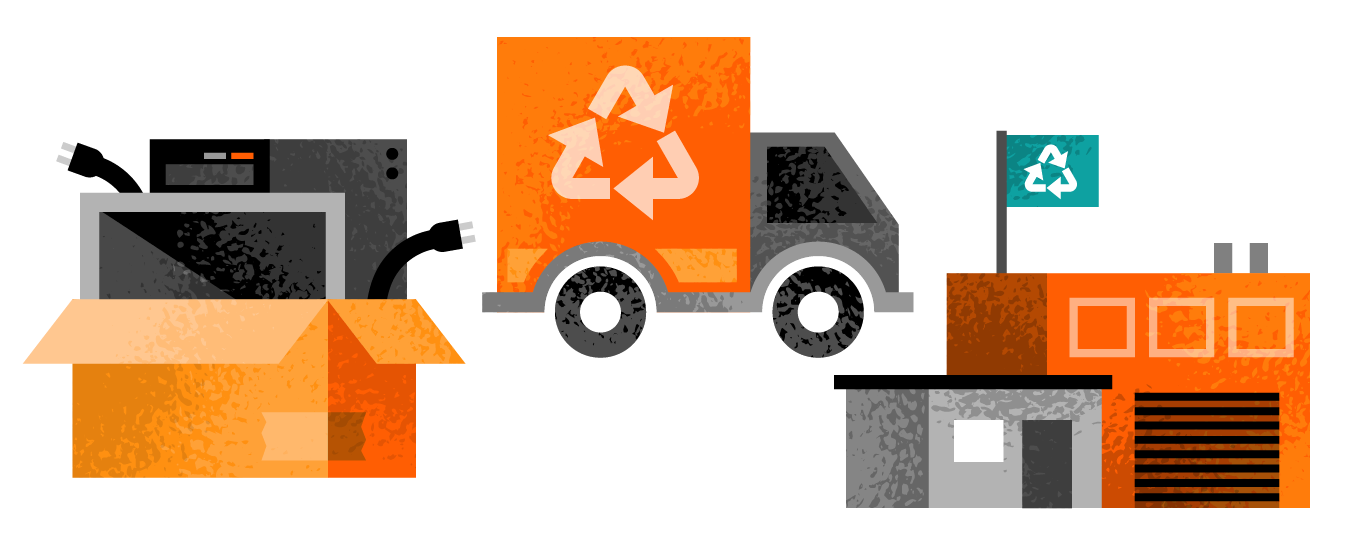 2. Let the Tech Companies Recycle It
Another option for recycling electronics is giving them back to the company you purchased from. Many tech firms and electronic retailers offer recycling programs to make it easier on the consumer. Some of them even offer incentives for recycling your devices with them. For example, Apple lets you trade in a device for a price cut on a future one and Gamestop lets you bring in your electronics to get cash or credit at the store.
Other tech firms simply supply sites where you can drop off your technology or options to mail them in for recycling.
Some companies that offer recycling services:
3. Bring It to a Recycler
You may have many devices to get rid of or don't have access to the above options. If this is the case, you can always find an electronics recycler close to you. There are a few different recycler options such as municipal recycling, private recycling and national program recycling. Check out this map of recyclers to find one close to you that fits your needs.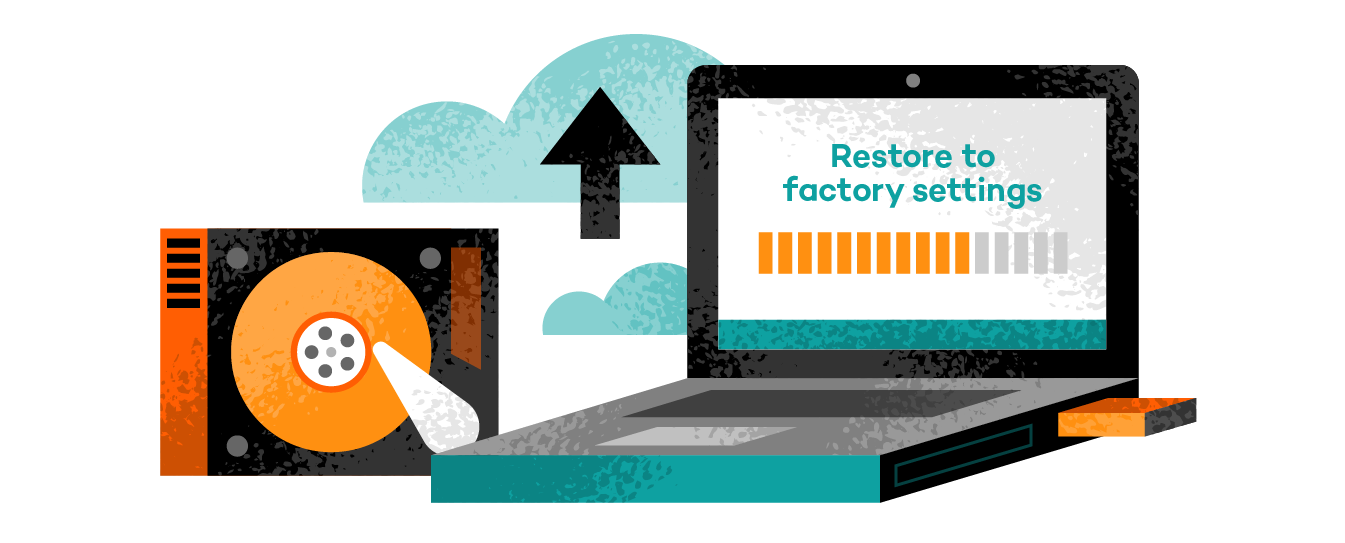 What to Do Before Recycling Electronics
Once you've decided how you'd like to recycle your device, you'll want to make sure the information on it is backed up. Your device may be changing hands and you don't want to give others access to your personal and private data. Some organizations may offer to wipe the device for you, but to be sure you information isn't leaked, it's best to clear it yourself.
Back Up Your Data
Make sure all your documents, pictures and data is backed up either on a hard drive or the cloud. It can be helpful to transfer this information to your new device before deleting it completely. This way you'll be able to tell if everything you need has been successfully saved.
Remove Any Attached Storage
This may seem obvious, but it's important that your device doesn't have any storage still attached. This includes DVD drives, card readers, floppy drives and USB ports. These items should be removed before recycling.
If you are donating a digital camera, media player or cell phone, there may be a memory card or SIM card that holds all your data. This will be located by the battery of the device and should be removed before it's given away. If the device doesn't have an external memory card, you'll need to plug it into your computer to remove the internal memory.
Wipe Your Data
Once the external memory is removed, you'll need to remove the internal data. Resetting the device back to its factory settings should remove all the information you have stored, from your passwords to your photos. There is disk cleaning software you can get for a computer if you want to be extra cautious, but a hard reset will usually do the job. To do this, find your device type below and follow the steps.
Wipe Your Android
Settings → System → Advanced → Reset options → Erase all data (factory reset)
Wipe Your iOS
Settings → General → Reset → Erase All Content and Settings
Wipe Your Windows Computer
Settings → Update & Security → Recover → Reset this PC → Get Started
Note: Choose to remove all personal files when prompted.
Wipe Your Chromebook or Chrome Tablet
Settings → Advanced → Powerwash
Wipe Your Mac
Macs are a little tougher to wipe. You'll have to begin by restarting the device. Once it begins to boot up hold down Option+Command+R until a spinning globe appears on your screen. Release the keys then choose the option that says "Reinstall macOS" and click "Continue." Follow the instructions when it asks and select your main hard drive to be wiped.
Disconnect the Device From Your Online Accounts
If you've had your device for a while, you probably have it connected to online accounts such as Facebook, Twitter, Google, Apple or Microsoft. To ensure that the new owner of the device isn't able to access these accounts, you'll need to remotely delete the device from the accounts. You can do this in the security and privacy settings of these apps. There will be a section that says "Where You're Logged In" or "Recently used devices" where you can remove devices that have access to the account.
Following these tips should keep your data safe and secure when recycling electronics. To ensure that your information and identity is protected, check out Panda Security's Identity Theft Protection. This program will alert you if your personal information is being viewed or stolen, which will allow you to recycle your devices with certainty that your information is secure.

Sources:
CalRecycle I NY Times I Statista I UN News I EPA I CISA I Moving.com