During the activation of your Panda Dome product, you may encounter an error message. Find below how to resolve them:
Error code 1-0
This error message is shown when the proxy option is enabled in the Internet Explorer settings. To solve it, follow the steps below:
Open Internet Explorer, click Tools, Internet options.
Select the Connections tab and click the LAN settings button.
Disable the Use a proxy server for your LAN verification checkbox and click OK.
Click OK again on the Internet options window.
Now, try activating your Panda and verify the issue is solved.
Error code 9-905
Error code 9-905 appears when a wrong activation code is typed during the activation process.
To solve this error, follow the instructions below:
Open the activation wizard and click Next.
Write down your activation code. Make sure that it is correctly typed. If you don?t remember this data, check out the web article how to retrieve my client details.
Enter your email address and follow the instructions from the wizard.
After completing all of these steps, you will see that the activating process finishes successfully.
Error code 9-906
Error code 9-906 means that the limit of activations of your product has been exceeded.
In the case of a paid version, once the limited of activation is reached, you can reallocate the used license from you Panda Account. In order to do so, follow the article How to transfer a Panda Dome license to a different device.
Error code 9-1401 / 9-1402 / 9-1403 / 9-1404
These errors are related to the Panda Account and can appear for the following reasons:
9-1401: The activation code is associated with a different Panda Account.
9-1402: The Panda account provided does not correspond to the account of one of the licenses installed on the device.
9-1403: A Panda Account needs to be provided.
9-1404: The client could not be linked to the Panda Account provided.This error code appears when the code entered does not match the customer's Panda Account.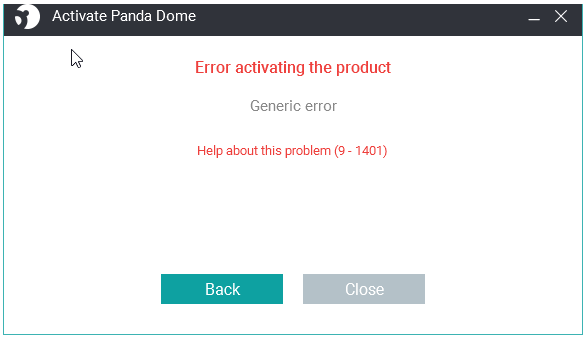 To resolve it, please ensure the code you enter belongs to your current Panda Account. All licenses installed on a device must belong to the same Panda Account. If you have the wrong account, you must reinstall the product and enter the correct account. For more information on how to install your product, check this article.