This article explains how to enable Network and System Extensions (NEXT/SEXT) to ensure the correct functioning of the Panda protection in macOS. We have used Adaptive Defense 360 to illustrate the procedure.
When
you run the
installation file on your macOS device, you get a
System Extensions Blocked
message that prompts you to enable the new extensions
, for example:
EndpointProtectionService (System Extension y Login Item)
Protection Agent (Full Disk Access)
NextLoader (Network Extensions)

To learn how to do so, select your macOS version.
Instructions for macOS Catalina 10.15 or higher
Enable EndpointProtectionService from System Extensions
Open your product and select the Open Security Preferences panel button.
Click the lock icon.


Enter the administrator user credentials and select Unlock.


Select the Allow button.


Enable Protection Agent from Full Disk Access
Open your product and select the Open hard disk access preferences button.
Click the lock icon.


Enter the administrator password and select the Unlock button.


Select the Protection Agent.


Click the Quit & Reopen button.


Allow NextLoader Network Extension
If you have macOS protection version v3.00.00, you must open your product and additionally, allow the
NextLoader
application from
Security Preferences
.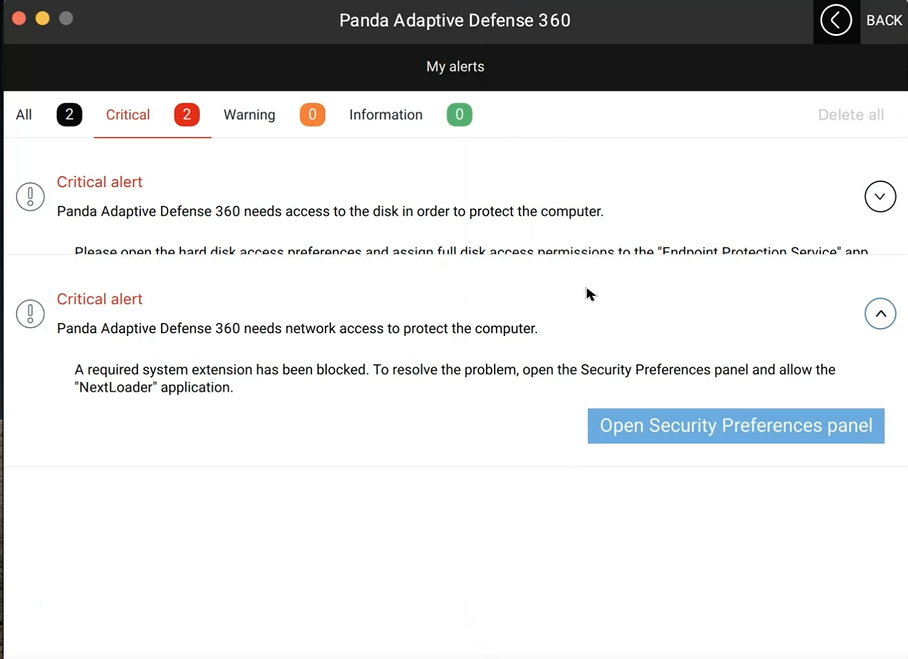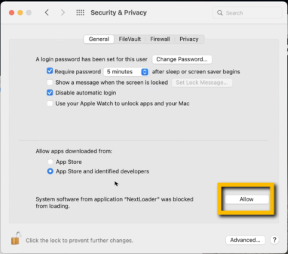 The protection is now working.
Allow EndpointProtectionService from Login Items
To allow
EndpointProtectionService
from
Login Items
, select the
Allow EndpointProtectionService
button from the warning message. This applies to MacOS 13 Ventura and higher.

Enable the
EndpointProtectionService.app
toggle.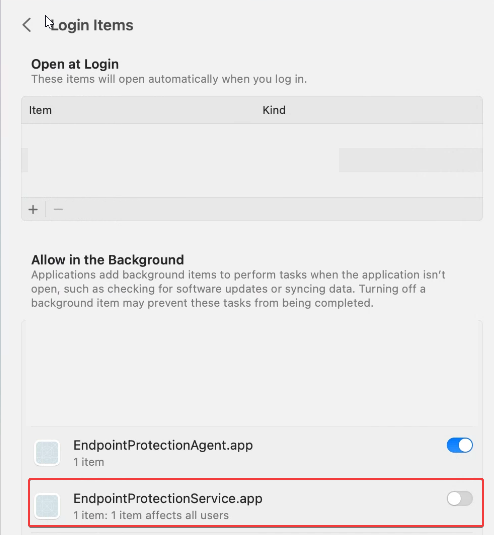 Instructions for macOS Mojave 10.14 or lower
Symptoms

When your Panda product for macOS starts, macOS might block the kernel extensions necessary for Panda to work and you might get the following notifications:
System Extension Blocked on macOS.


Your computer is not protected notification displayed by your Panda product for macOS.


The reason for this is that macOS 10.14 and lower contain a security feature that requires user approval before loading new third-party kernel extensions. Refer to this
TechNote
for more details.
To resolve it, you need to manually approve the Panda Kernel Extension. Follow these instructions:
Solution
Select OK when you get the System Extension Blocked message or select the Open System Preferences button:


From System Preferences, select Security & Privacy.


Select the lock icon at the bottom left to allow changes.


Select the Allow button next to System software from developer "Panda Security" was blocked from loading.


Related Articles
How to whitelist Panda Endpoint for macOS System/Kernel Extensions with Jamf Pro 10.x