Women make up roughly 24% of cybersecurity professionals. While this is an improvement from a mere 11% since 2017, historical obstacles remain for women looking to join or move up in the massive global industry of security. In addition to the large gender disparity in cybersecurity, women in the field are compensated less on average than men. In 2021, 29% of men said they earned between $50,000 and $99,999, while only 17% of women reported the same.
Amid all of this is the staggering increase in cybercrime — particularly ransomware, the top threat type for 2021. Of the top 10 countries with the highest volume of ransomware, the U.S. suffered as many attacks as the other nine countries combined — times four. Even with the global attention cybersecurity has seen in the last few years, a major skills shortage persists, reaching nearly 3 million globally in 2021.
One thing is clear: Cybersecurity needs more women. In order to build strong cultures of cyber resilience across the globe, employers should prioritize attracting, empowering and retaining talented female cybersecurity professionals. Women in or aspiring toward cybersecurity roles represent an untapped reservoir of potential when it comes to the widening cybersecurity workforce gap.
Luckily, there are plenty of incredible women blazing the trail for a more diverse and inclusive industry in the world of security. Take a look below at some of today's most notable women in cybersecurity to learn how they're reshaping the industry as we know it.
1. Chani Simms
Company: Meta Defence Labs (Managing Director and Co-founder)
Accolades:
Founder: SHe CISO Exec. Cybersecurity Leadership Empowerment program
Co-founder: InfoSec for Equality and Women
Licensed Computer Hacking Forensics Investigator (EC-Council)
Chani Simms is an award-winning cybersecurity leader and C-level advisor who helps organizations implement information security and data protection programs. She began working as an IBM engineer specializing in IT infrastructure, systems management, virtualization, and data centers while studying for her computer science degree.
Eventually, she worked her way up to specialize in IT and security and now works with SMEs as a virtual CISO, data protection officer, Cyber Essentials Assessor, and IASME governance auditor. In addition to managing security company Meta Defence Labs, she went on to found SHe CISO Exec., a global training and mentoring platform for information security industry professionals.
Impact on the cybersecurity industry: Founded SHe CISO Exec. to train information security professionals and create emotionally intelligent cybersecurity leaders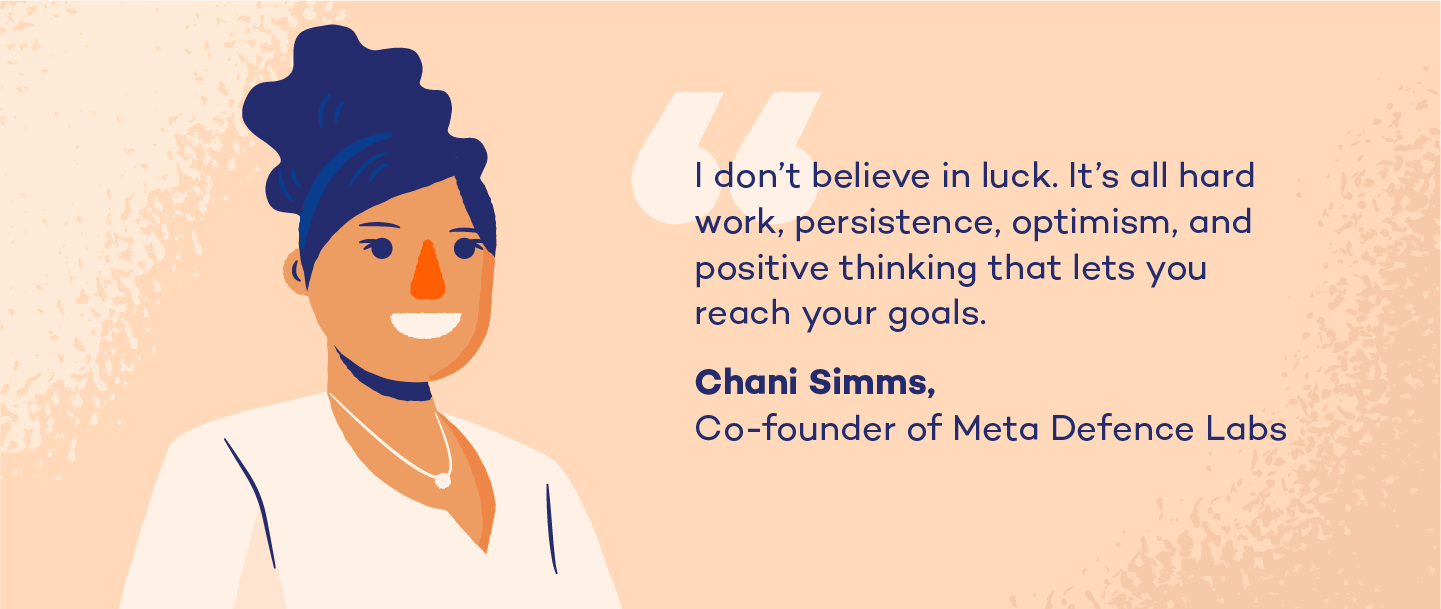 2. Nicole Eagan
Company: Darktrace (Chief Strategy Officer and AI Officer)
Accolades:  
AI Leader of the Year – Tech Leaders Awards 2020
#1 position – The Software Report's Top 25 Women Leaders in Cybersecurity 2020
Dubbed "AI Leader of the Year" in 2020, Nicole Eagan has blazed her own trail in the world of AI and cybersecurity since leaving her role as chief marketing officer at HP Autonomy in 2012. Since then, she's made strides positioning her current company, Darktrace, as an international leader in cyber defense in her role as chief strategy & AI officer for the firm.
Nicole's leadership of Darktrace's innovative approach to disruptive AI technology helped shape one of the most effective solutions to global cybersecurity challenges, resulting in the company's 600% year-over-year growth.
Under Nicole's leadership, Darktrace has defended smart cities like Las Vegas — whose water reclamation system and industrial IoT sensors were under attack by state-sponsored threat actors — using bespoke security strategies when standard security tools proved insufficient for this type of advanced infrastructure.
Nicole has established herself as one of the most remarkable voices in the cybersecurity industry — traveling the world to raise awareness about topics ranging from adaptive AI cyber defenses in building tomorrow's cities of the future and AI-powered threats to regulatory compliance and cyber risk. In addition to her commitment to leading the change in how organizations approach cyberattacks, she also leads internal and external efforts to solve the issue of gender disparity faced by women in the cybersecurity industry.
Impact on the cybersecurity industry: Established Darktrace as the global leader of AI cyber defense by developing state-of-the-art AI algorithms that detect never-before-seen cyberattacks
3. Rana el Kaliouby
Companies: Smart Eye (CEO), Affectiva (Co-founder and CEO)
Accolades:
University of Cambridge: Ph.D., Computer Science
Massachusetts Institute of Technology: Post-Doc, Computer Science & Technology
Board Advisor: Boston Children's Hospital Simulator Program
Executive Fellow: Harvard Business School
Steering Committee Member: All Raise
Rana el Kaliouby is an Egyptian American scientist, entrepreneur, and AI leader on a mission to bring emotional intelligence to the world of AI. Since growing up in the Middle East and moving to the United States to become an entrepreneur, she's spearheaded the application of artificial emotional intelligence in a slew of industries and established herself as a global leader in AI.
After making her exit as CEO of Affectiva — an MIT spin-off company she co-founded to humanize how people interact with technology — she stepped into her current role as CEO of Smart Eye, which acquired Affectiva in 2021. Her work is helping to scale the company to a global AI powerhouse, with a key focus on ethics, diversity, equity, and inclusion.
Rana's track record for using innovative technology to address the needs of several international markets reflects her deep passion for ethical AI in today's digitally driven world. She's applied her skills to a variety of markets including automotive, robotics, and education as well as areas like mental health and autism.
Impact on the cybersecurity industry: Established and continues to lead the emotion AI industry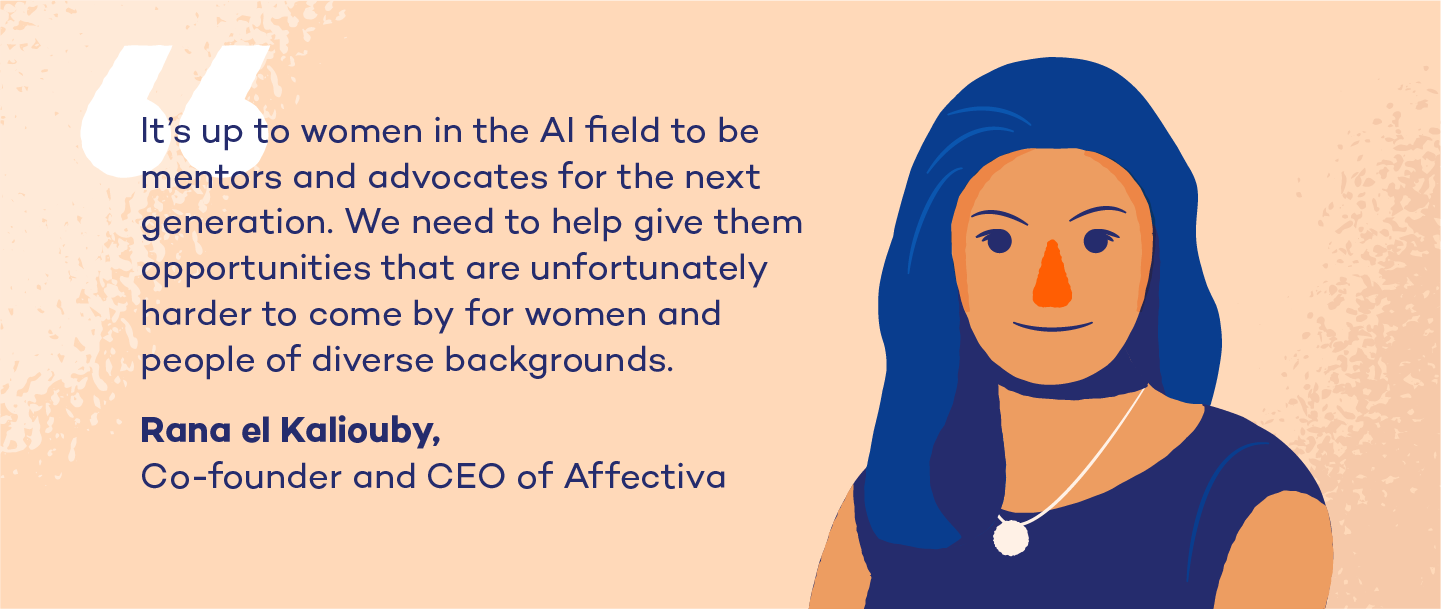 4. Kirsten Davies
Company: Unilever (Chief Information Security Officer)
Accolades:  
University of Puget Sound: B.A., International Political Science & Government
International Institute of Human Rights (Strasbourg, France): International Law, Human Rights certificates
Johns Hopkins University: International Law and Business, Human Rights certificates
Prosci Institute: Advanced certificate in Change Management
Having lived and worked on four continents, Kirsten Davies' global approach to information security, data privacy and enterprise risk has led to her recognition as a true thought leader in cybersecurity transformation. Her skillful approach to cybersecurity has led to accomplishments like building Africa's first end-to-end security function and negotiating the first-ever Cyber Security Master Agreement with the German Workers Council for Hewlett Packard Enterprise.
Prior to her newest role as global CISO for Unilever, she served as CISO for The Estée Lauder Companies, where she led a foundational restructuring of core cybersecurity capabilities, overhauled the information security policy suite, commanded the data integrity program and doubled the size of the program — all while prioritizing diversity and inclusion across all genders and ethnicities.
Impact on the cybersecurity industry: Achieved the first-ever Cyber Security Master Agreement with the German Workers Council for Hewlett Packard Enterprise (HPE), now replicated across HPE's 20+ Works Councils in EMEA
5. Kate Maxwell
Company: Microsoft (Chief Technology Officer, Worldwide Defense & Intelligence)
Accolades:
University of Pittsburgh at Johnstown: B.S., Computer Science
George Mason University: Master's in Systems Engineering
Board Member: The Startup Ladies
Board Member: TechPoint Foundation for Youth
Prior to her current role with Microsoft's Worldwide Defense & Intelligence (D&I) division, Kate Maxwell put her knowledge of computer science and systems engineering to work for 16 years in the aerospace field, working for defense contractor Raytheon Technologies to better understand frontline defense technology.
As her expertise grew, she found the corporate contractor environment wasn't suited for her passion for bringing disruptive, innovative technology ideas to life, which ultimately led to her digital transformation position at Microsoft.
While digital transformation in government is its own challenge, Maxwell has proven determined to follow her passion for leveraging the intersection of technology and culture to advance organizations, missions, and multinational alliances.
"As technologists, we often run after the amazing and shiny new technology," she says. "But if we don't get the culture right and really seek to understand how people and technology interact, that new technology is not going to take hold. Period."
Impact on the cybersecurity industry: Using cloud computing, artificial intelligence, machine learning, and high-performance computing to deliver digital transformation to the international defense allied community
6. Shivon Zilis
Company: Neuralink (Director of Operations), OpenAI, Creative Destruction Lab
Accolades: 
Yale: B.A., Economics and Philosophy
Board Member: OpenAI
Fellow: Creative Destruction Lab
Ruthlessly dedicated to machine intelligence for good, Shivon Zilis has spent most of her career focusing on how machine learning can solve pressing real-world problems. Her journey has taken her from project director at Tesla to partner and founding member of Bloomberg Beta, a $75 million venture fund that invests in startups transforming the future of work, to her current positions as founding fellow of Creative Destruction Lab.
In addition to her position as a board member for OpenAI, an AI research company dedicated to ensuring that AI benefits all of society, she's been heads-down at Neuralink since 2017 developing the future of brain machine learning by building devices to help people with paralysis.
Impact on the cybersecurity industry: Developed brain machine interfaces to build innovative devices for people with paralysis
7. Lauren Knausenberger
Company: United States Airforce (Chief Information Officer)
Accolades:
The Wharton School: MBA
Venture Partner: NextGen Venture Partners
As CIO of the Department of Air Force, which includes the Air Force and Space Force, Lauren Knausenberger leads a 20,000-person team of IT experts working to advance the cybersecurity landscape of the Department of Defense.
Since joining the Air Force in 2017, Lauren has quickly established herself as one of the most important drivers of innovation for the Air Force's Information Technology portfolio. In the wake of increasing pressure from airmen and women for the Air Force to solve widespread IT issues, Lauren has been a vocal advocate of leveraging modern technology to replace an outdated IT infrastructure and better serve U.S. warfighters.
In the face of rapidly evolving cyberattacks, Lauren has led the Air Force in eradicating outdated IT policies and introducing an IT-as-a-service model to bolster the department's cybersecurity. In 2021, she worked to scale Platform One and Cloud One, the Air Force's software development platform for the Defense Department, and spearheaded initiatives to improve the department's cloud strategy and shift to a fully zero-trust model.
Her modernization initiatives and digital transformation efforts are helping transform the Air Force and bolster the country's global competitive advantage. She's also focused on growing Digital University, an online platform for warfighters to grow their technical skills and for airmen to learn more agile processes.
Impact on the cybersecurity industry: Spearheaded Operation Flamethrower, an initiative to eradicate outdated IT policies and modernize the Air Force's cyber landscape
8. Sheila Jordan
Company: Honeywell (Chief Digital Technology Officer)
Accolades:
Florida Institute of Technology: MBA
Cisco Executive Sponsor Catalyst Award
Sheila Jordan is a passionate IT leader who's made her mark driving global IT strategy and transformation for a slew of organizations. Her belief in the power of digital transformation to realign the structure of businesses is how she's helped companies maximize the value of technology investments and implement end-to-end data-driven digital experiences to create more impactful customer journeys.
Sheila's holistic approach to digital transformation has led to her recruitment for a variety of roles. As former senior vice president at Cisco, she integrated key IT services that touched Cisco's global workforce and spearheaded the shift to a more intuitive consumer experience. As former chief information officer at global cybersecurity leader Symantec, she drove the IT vision and strategy while ensuring the firm stayed ahead of emerging technology trends. Today, Sheila commands Honeywell's digital transformation strategy in her current role as chief digital technology officer.
Aside from being a driving force behind IT infrastructure and services, Sheila is passionate about breaking down the underrepresentation of women in senior leadership roles in the technology field. By focusing on collaboration and motivating leadership, Sheila is a change agent and example to leaders looking to understand what unique programs should be pursued in order to attract and retain more women in the workplace.
Impact on the cybersecurity industry: Transformed Symantec's business by successfully splitting IT and security operations
9. Lakshmi Hanspal
Company: Amazon (Global Chief Information Security Officer, Devices & Services)
Accolades: 
Boston University: M.S., Computer Science
Lakshmi Hanspal is a trailblazer in the digital and cybersecurity world, championing security leaders to fully evolve into their increasingly critical roles. Her skills in information security, risk management, and privacy have led her through an array of senior positions, where she's combined her cybersecurity expertise with her talent for driving engagement and collaboration among C-suite executives to facilitate buy-in on key security initiatives.
Passionate about securing digital transformation and supporting socially conscious commerce, Lakshmi advises several Silicon Valley startups and serves on the advisory boards of eight cloud companies. She most recently joined the board of directors for Spectrum Labs, a company dedicated to building safe, inclusive, engaged online communities through the power of AI and making the internet a safer place for all.
Aside from leading the charge for collaborative, business-centric global security solutions, Lakshmi also works to promote women in technology and develop the next generation of female talent. Prior to her current role as Amazon's global chief information security officer, she was the global chief security officer at Box and became the third female on Box's executive board.
Impact on the cybersecurity industry: Advocating for greater organizational cybersecurity buy-in and teaching leaders how to create organizational cultures of security built upon trust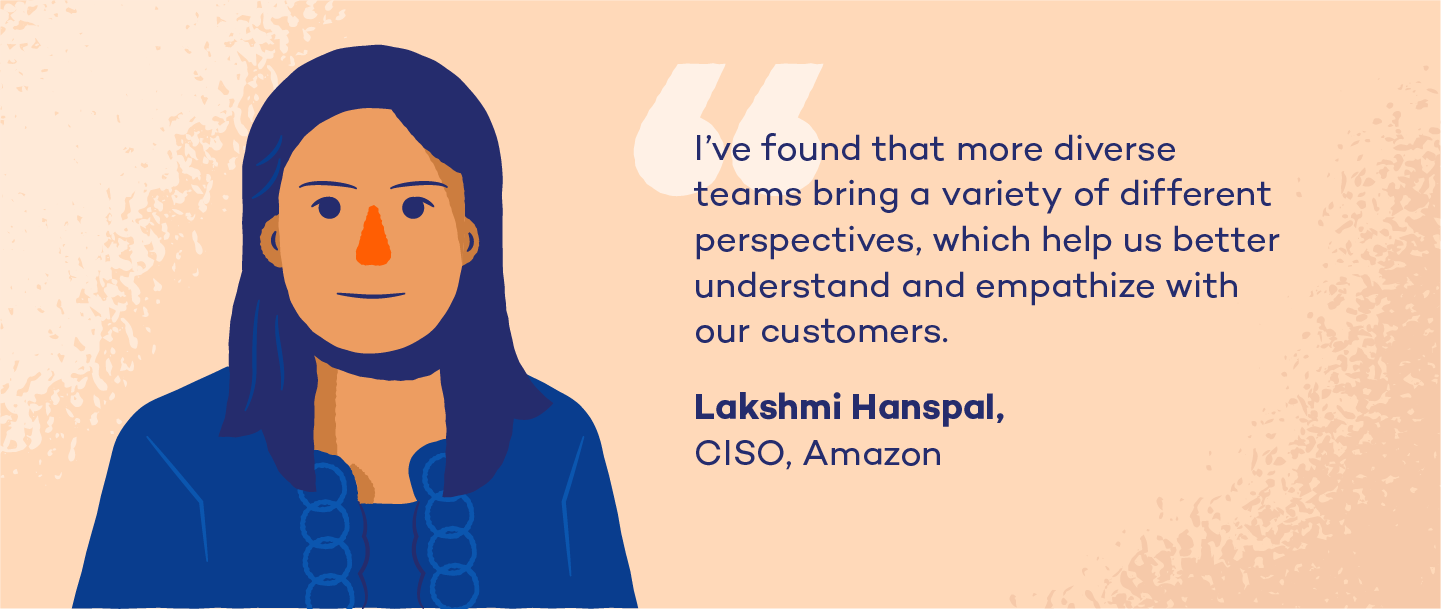 10. Nasrin Rezai
Company: Verizon (Chief Information Security Officer)
Accolades: 
Harvard Business School: Leadership Development certification
Nasrin Rezai is a technical visionary and agent of change in the global cybersecurity world. Unafraid to dive headfirst into the evolving security challenges faced by business leaders, her commitment to changing the way we think about cybersecurity has enabled her to design security solutions for large enterprises and champion stronger security culture.
Her skills in global technology risk management and leading transformative change of risk culture have taken her through various chief information security officer roles. She currently serves as the CISO at Verizon, where she commands the firm's information security strategy to protect its customers and leading networks.
Working from the mantra "Do your part. Be cyber smart," Nasrin is actively working to shift society's view of cybersecurity from something scary and inaccessible to something we all play a role in for the greater good. She's also passionate about helping others develop their potential, especially women in pursuit of leadership roles in the tech industry.
Impact on the cybersecurity industry: Advocating for a more accessible, humanized approach to cybersecurity for all — consumers, businesses, and society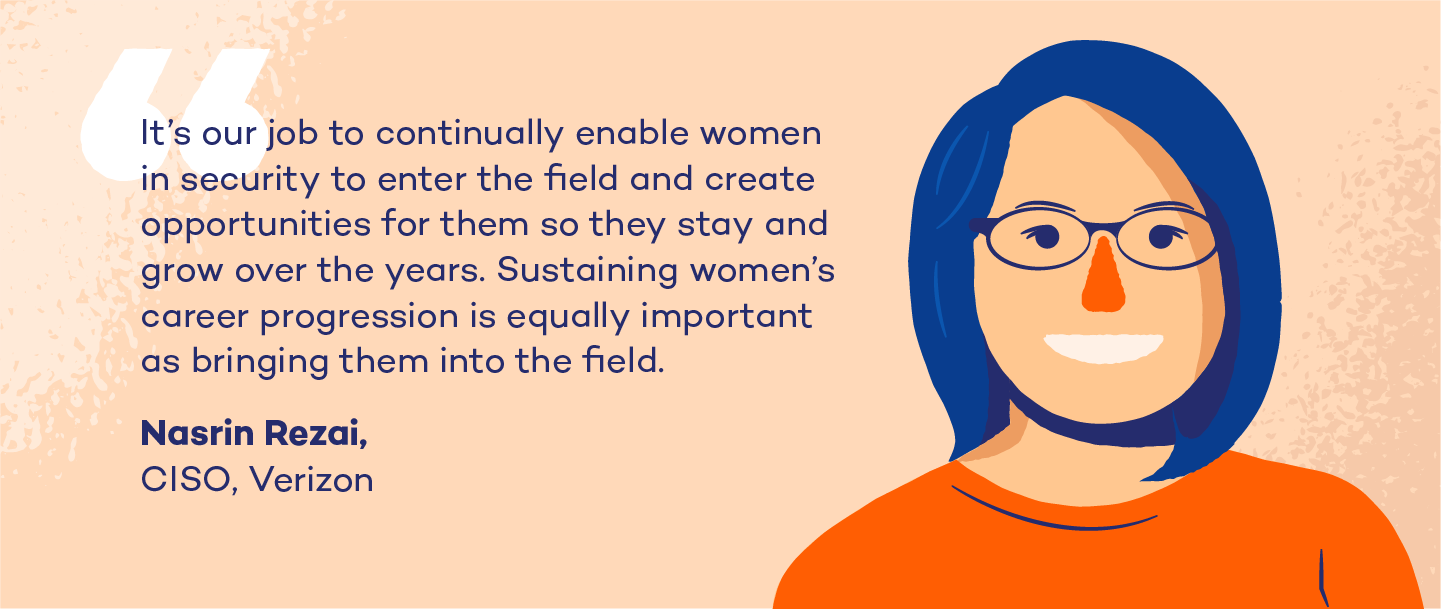 11. Kamelia Aryafar
Company: Google (Director of Engineering, Cloud Artificial Intelligence)
Accolades: 
Drexel University: Ph.D. and M.S. in Computer Science and Machine Learning
Board Member: Initiative of Analytics and Data Science Standards (IADSS)
Advisory Board Member: SCU Retail Management Institute
Board Member: Women of MENA in Technology
Kamelia Aryafar is the director of engineering and head of retail and consumer solutions in Google Cloud AI, where she leads applied artificial intelligence teams in solving retailers' problems. Before her role at Google, Kamelia leveraged her customer-centric approach to machine learning to lead the integration of state-of-the-art AI algorithms across product teams for Overstock.com.
Kamelia began her journey in 2013 as a data scientist at Etsy, where she collaborated with product teams to implement machine learning and AI algorithms throughout the company. This was the start of her established expertise in the machine learning community, in which she remains an active member — she often speaks at industry conferences, serves on several advisory boards, and has published a slew of papers in scientific journals.
Her passion for machine learning goes beyond her corporate prowess — her commitment to advancing the field of AI also expands into supporting women in STEM and teaching aspiring undergraduates the skills they need to succeed in the ever-changing security sector.
Impact on the cybersecurity industry: Advocating for leaders to create an environment for women, immigrants, and minorities to enter STEM fields
12. Natasha Sayce-Zelem
Company: Prime Video at Amazon (Global Head of Partner Engineering)
Accolades:
Founder: Empowering Women with Tech
Natasha Sayce-Zelem is Amazon's global head of partner engineering — a seemingly unlikely title, considering her early career as a freelance music photographer.
Prior to her role at Amazon, Natasha was the head of technology at broadcast media company Sky, where she commanded the digital trading department using machine learning and conversational user interface technology to develop data-driven customer journeys.
In 2016, she founded Empowering Women with Tech, a support network showcasing female role models working in science and technology with the goal of encouraging more women to consider a career in STEM. One of her focus areas is breaking the stigma surrounding information technology and teaching women just how creative a career in technology and science can be.
Impact on the cybersecurity industry: Helping women harness their untapped skills and encouraging more women to find a career in STEM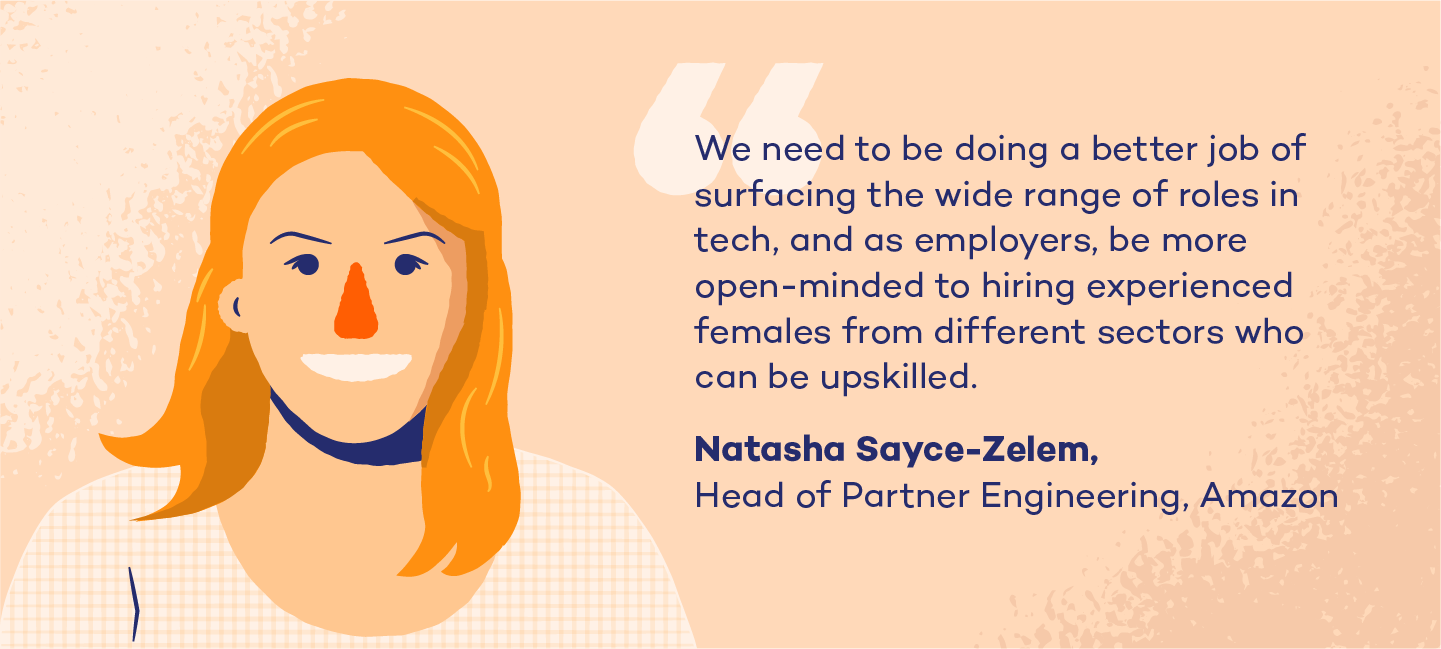 How Can Women Succeed in the Cybersecurity World?
Men may outnumber women in cybersecurity by 3 to 1, but women are increasingly joining the field and taking on leadership roles in higher numbers. While women still face an uphill battle in terms of compensation, an (ISC)2 study reveals that women in cybersecurity have higher levels of education and more certifications than men. As women continue to prioritize higher education and certifications, a path to accelerated career advancement in the field is slowly but surely being forged.
The increasing representation of women in cybersecurity shown in the latest (ISC)2 study represents a positive upward trend — both for women and the cybersecurity industry as a whole. Here's how women can continue the trend.
Invest in Skills Training and Networking
Breaking into the cybersecurity field requires at least three things: skills, networks, and perseverance.
Skills/training: With the increasing global demand for cybersecurity professionals, you won't struggle to secure a role in the industry even with minimal technical skills and training. That said, you can improve your chances by developing your skills in the areas that employers are looking for. Identify the most important skills highlighted in the positions you're interested in and invest in growing in those areas.
Networks: In the cybersecurity world, more collaboration yields more success — especially if you're trying to break into the field for the first time. Finding organizations with people in the roles you aspire to hold is critical to navigating the cybersecurity field, and finding mentors and role models can provide the clarity you need to find your place in the industry.
Perseverance: A survey of 300 women cybersecurity employees found that less than half came into the industry with a background in IT or computer science, and instead had diverse backgrounds in fields like psychology, internal auditing, or compliance. So don't write yourself off from positions because you feel underqualified. Keep applying, networking, and growing your skills, and remember that your potential isn't based on past experiences alone.
Take Risks and Make Your Voice Heard
One of the keys for women in entry- or mid-level positions looking to forge a path to higher-level roles is pushing to take on new projects and opportunities that you don't feel completely qualified for.
Women tend to chronically underestimate themselves — a popular study by Hewlett Packard revealed that men apply for a job or promotion even if they meet just 60% of the requirements, while women apply only if they meet 100% of them. When women resist taking the risk of a stretch opportunity, they limit their ability to gain deeper experience and a broader perspective of the organization.
While organizations must play their part in creating a culture that supports women's voices, women can also prioritize their own commitment to stepping out and making themselves heard. And while there are certainly plenty of assertive women who have no problem making their opinions known in the workplace, an unfortunate truth is that these are often the same women who struggle to get promoted.
One Accenture Cybersecurity Forum (ACF) Women's Council member said, "A skill I had to learn was not to communicate in ways where I didn't get labeled a 'challenge.' You still have to have your voice — and be loud with that voice — but in ways that effectively get you what you want."
Women in Cybersecurity Associations and Groups to Follow
While the gender divide in cybersecurity is clear, these women — and their contributions to the world of cybersecurity — are paving the way to ensure more gender inclusion in the future.