We want to inform you of an Internet website which sells bots mainly designed for social networks.
The following image is an example of the services offered in the website, like  the creation of accounts in different web services, from social networks like Twitter or Friendster to sites such as MySpace or YouTube, and even mail services like Gmail or Yahoo: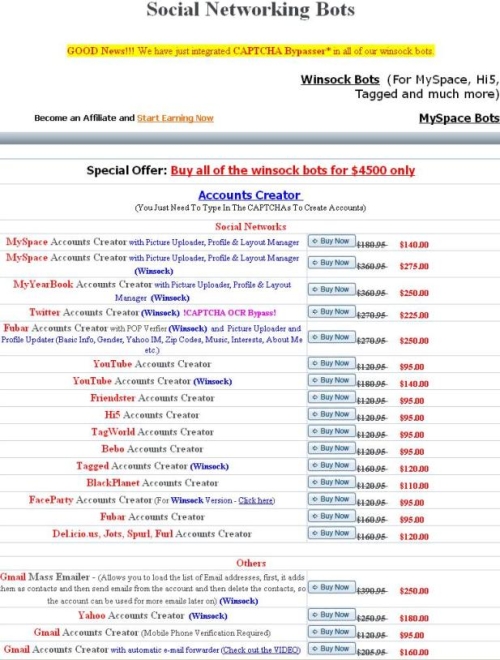 Additionally, they are proud to say that their bots are able to bypass the Captcha security system, which offer most of these services.
What are these bots used for? They explain in this website that the bots gather information about the identity and the friends' names and then send them automatically friendship requests, comments or messages that can contain anything you want.
Regarding the prices of the bots, they go from $95 to $225, and you can also buy the whole set of bots for $4,500. Besides, they guarantee that the bots won't be detected by any antivirus solution, as their features can be modified to avoid being caught.
What is curious is that the domain of this page is registered in Miami, but it makes reference to known sites like Tuenti in Spain or Yahoo!UK.
This only proves that there is a whole business which is giving economic benefist to cybercrooks and this is going to continue working until measures are taken and laws against this type of crimes are toughened.
What worries me is that these websites offer any user the possibility to become part of the cybermafias, a scene where cybercrooks are in most of the cases unpunished.
If all the efforts made by cybermafias to create these businesses were focused on good causes ( fraud is not considered as one of them), we would be much happier.
Thanks to Peter Kruse from CSIS for the information.