Identity theft is a large issue across the globe. Even if you personally haven't been victimized, hearing the data and statistics on identity theft may make you think, am I next? It's important to educate oneself on identity theft and how at risk you are.
Identity theft affects millions of people each year. According to a Harris Poll, nearly 60 million Americans have been affected by identity theft in 2017. However, what is even more shocking is only three in five adults who took the survey said they have ever looked at their credit report. Monitoring your credit report can help protect your finances from theft. Read on to learn the types of identity theft, identity theft statistics, and how to stay safe.
How Has Identity Theft Increased Substantially?
It is evident that the risk of identity theft is quite high and it is safe to save it will not be dropping anytime soon. This is mainly due to data breaches. Data breaches involve a company or other organization's customer's information including but not limited to Social Security numbers, addresses, credit card numbers, bank information and other personal information being accessed illegally.
According to the Identity Theft Resource Center (ITRC), there were 1,579 data breaches in 2017, exposing nearly 179 million records. That equates to a 44 percent increase in the number of breaches in just one calendar year. Of the five industry sectors the ITRC tracks, the business category had the most total breaches in 2017 for the third year in a row.
The most recognized data breach of last year involved Equifax, one of the three major credit reporting agencies. With 147.9 million victims, the amount of personal data hacked was substantial. Information included names, birth dates, addresses and Social Security numbers.
Another quite harmful data breach in the past few years was 2016's Uber hack. Hackers stole data from 57 million Uber customers, and the company paid $100,000 to cover up the theft. The breach wasn't made public until November 2017, after being revealed by Uber CEO Dara Khosrowshahi. The two hackers broke into the company and stole personal data including phone numbers, email addresses and names of 57 million users. What's worse, the hackers also stole 600,000 driver's license numbers of drivers for the company.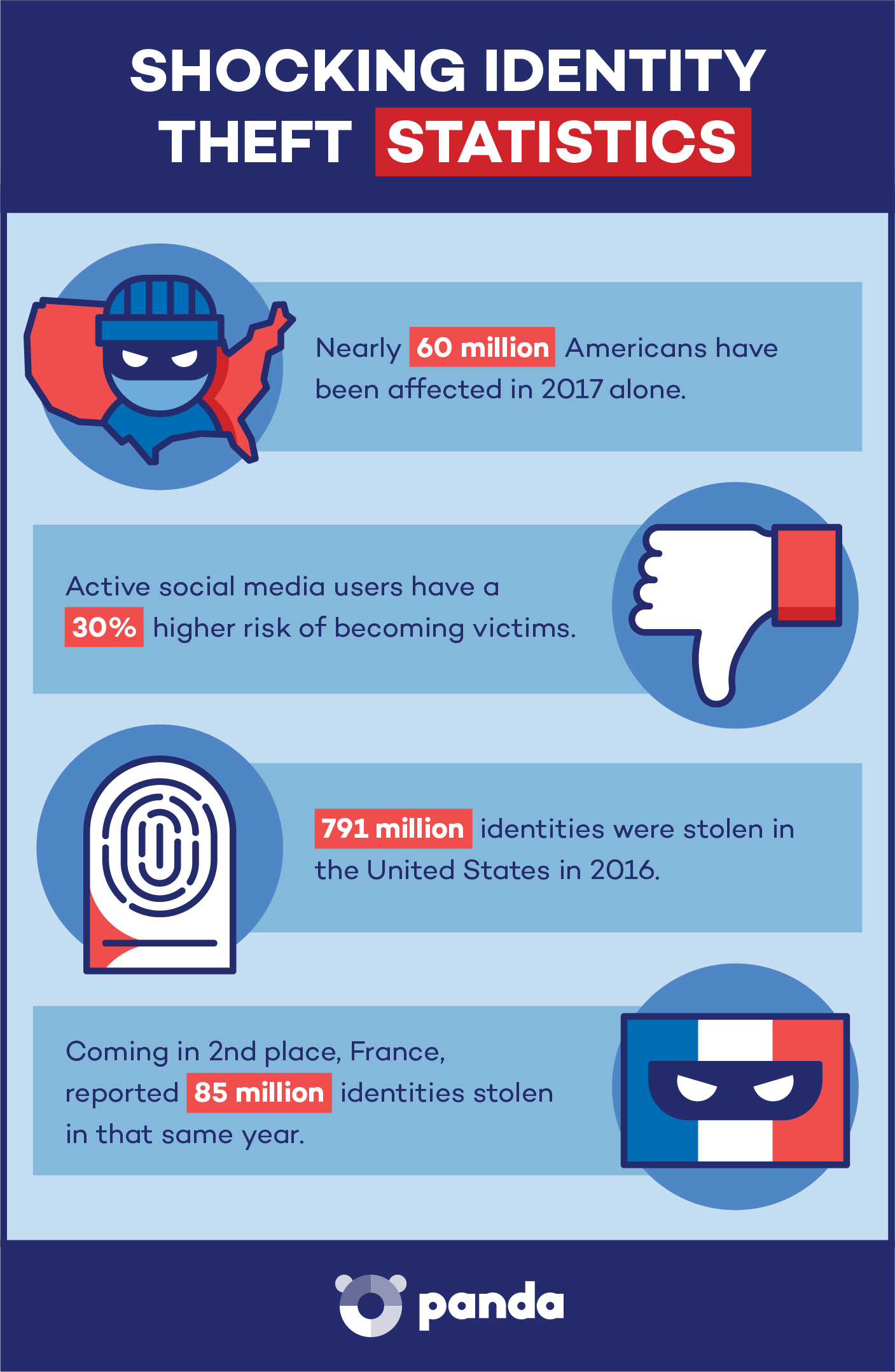 Who Are More Likely to Be Victims of Identity Theft?
According to War on Identity Theft, Americans are significantly more likely to be victims of identity theft than anyone other country in the world 143 million Americans faced an increased risk of identity theft after the Equifax hack stole a plethora of users' private information. This was just one breach, with the total amount of identities stolen at 791 million in the U.S. in 2016 alone. France was the next largest amount of identities stolen, at 85 million identities total.
Another large market for identity theft is social media. Active social media users have a 30 percent higher risk of becoming victims because of their information reaching increased exposure. Specifically Facebook, Instagram, and Snapchat users face a 46 percent higher risk of account takeover than those who do not have these social accounts.
E-commerce shoppers are consistently exposing their financial information and have a higher risk of credit card fraud. 62 percent of these e-commerce shoppers made an online purchase within the past week. While they can be likely victims of identity theft, e-commerce shoppers are also quick to catch fraudulent activity, minimizing the damage. 78 percent of fraud victims within the e-commerce community detected fraud within one week.
Types of Identity Theft
There are several types of identity theft. Some may drain your bank account while others may get a job by stealing your name. Familiarizing yourself with the different types of identity theft can help prevent you from oversharing information and help keep you safe.
Financial Identity Theft: When most people think of the term "identity theft" they think of credit reports and bank accounts being corrupted. This is financial identity theft, and it has caused many people trouble over the years. Target's hacking scandal is maybe the most recognizable financial breach in decades. The hackers got a hold of 40 million customers' credit and debit card information and over 65 million customers had their information stolen including but not limited to credit/debit card information, names, addresses, and phone numbers.
Medical Identity Theft: This is probably the most difficult identity theft to fix, as it involves someone stealing your health insurance to get medical care. Once an identity thief uses your health insurance, doctors could update your records with the imposter's medical information. This can lead to false treatment and medical bills you'll have to pay for. In 2016 alone, there were nine times more medical than financial records breached at 27 million. That's 10 percent of the population! What's even more frightening, the Medical Identity Fraud Alliance reported that 20 percent of victims received the wrong diagnosis or treatment due to identity theft.
Employment Identity Theft: It's important to be wary of which companies you give your SS number out to. Employment identity theft involves a scammer who cannot get a job because of a criminal record or poor credit, who steals your Social Security number to get a job in your name. Then when it comes to taxes, they will be filing your information and the IRS will want taxes from you on income they made in your name. In 2016, 34 percent of all identity theft fraud was related to employment or tax-related fraud.
A new strand of identity theft is known as synthetic identity theft, which involves fraudsters combining fabricated and real data to create a fake identity. It is often used to take out loans or to sign up for credit cards. Synthetic identity theft accounts for the most credit card fraud losses in the united states. In fact, in 2016, synthetic identity fraud cost banks six billion dollars. The total is actually greater when considering store credit cards along with other products like auto loans. It becomes increasingly harmful to consumers when someone opens an account with a user's social security number with a fake name and address, it might not show up on their credit report.
Children are actually a large target for identity theft. While adults consistently check their credit reports, kids have Social Security numbers that scammers can steal and open accounts, take out loans and more. A child could be unaware of their identity fraud lance until it is time to take out a loan or apply for college. Thieves can steal information from accounts where you have input your child's data, such as a toy store or a school database. According to a 30-year law enforcement veteran and child identity theft author, Robert Chappell Jr., about 1.3 million kids are affected by child identity theft annually.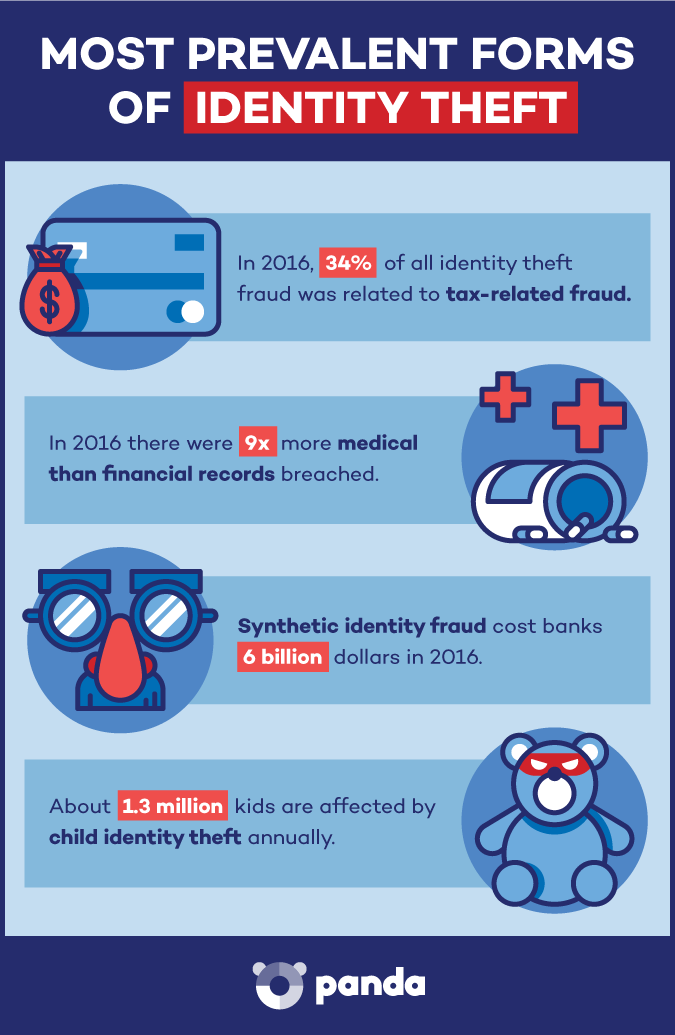 Identity Theft Protection
There are several ways to protect yourself against identity theft. We have compiled six useful tips you can use to help protect yourself against identity theft before it's too late.
Create a strong password. Make sure to create a long password (minimum 12 characters) with a variety of numbers, letters, and characters.
Plan a security freeze. If you are not planning on opening new accounts in the near future, putting a freeze report on your account can prevent anyone from opening on in your name.
Check credit report. It is suggested to request a credit report three times a year to check for fraudulent or suspicious activity.
Be smart on social media. Review your social media settings to make sure your profile is only viewable by your friends and family and keep personal information to a minimum.
Sign up for account alerts. Sign up for alerts for your bank account and credit reports to alert you of unusual activity or large payments to unknown receivers.
Check bills regularly. Make sure to read all bills in you and your child's name. If anything seems suspicious or out of sorts, call your bank immediately.
Sources:
Detroit Free Press | Business Insider | Insurance Information Institute | Consumer Reports | Dark Reading | Javelin Strategy | ITRC | War on ID Theft | CNN | The Washington Post | Comparitech | Forbes |