Today February 14, we would like to congratulate not only lovers all over the world for St. Valentine's Day but also the Spanish Police who, in collaboration with Europol and Interpol, have dismantled a cybercriminal band responsible for the so-called Police Virus. You can see the full story in the post from our fellow PandaLabs colleagues  echoing this important achievement.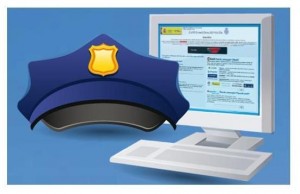 We also take the opportunity to remind you of the steps to eliminate and, not least, apply prevention measures against this type of virus:
How to disinfect the Police Virus Trj/Ransom.ab And to prevent future infections, remember:
Avoid browsing unsafe pages.
How? By using virtual browsers as Panda Safe Browser. This type of browsing creates what is called a virtual environment completely isolated from the system and the other applications on your PC, letting you browse the Internet securely. It is as if your Internet session took place outside your computer. This way, your system will be safe from possible Internet threats.
Enable automatic updates for your operating system, in the case of Windows, Windows update.
If not active, you can use the Vulnerability detection analysis featured in any of the 2013 Panda products.
Upgrade your programs as soon as possible.
Do not rely the security of your computer security programs only. Note that many of these viruses mutate easily and very quickly. Therefore, it is very important to close the gates, which are the security holes they exploit.
Remove, if not required, applications such as Java applets, Flash animations.
Otherwise, keep them updated at all times.
We are sure you already know, but we don't get tired of repeating it: Never open mails from unknown senders as they may contain virus.
And remember, if you have any problems with the disinfection, please Contact TechSupport. We know how to help you.