Seniors have become the main target of cybercriminals. A report by the Consumer Financial Protection Bureau found that Suspicious Activity Reports for elder financial exploitation quadrupled from 2013 to 2017.
When there was a loss of money, the average loss per filer was $16,700. Shockingly, one-third of the individuals who lost money were ages 80 and older.
Seniors are prone to this type of financial fraud for a variety of reasons. We created this guide to help you understand why they are the targets, what these common internet scams are and how to prevent them.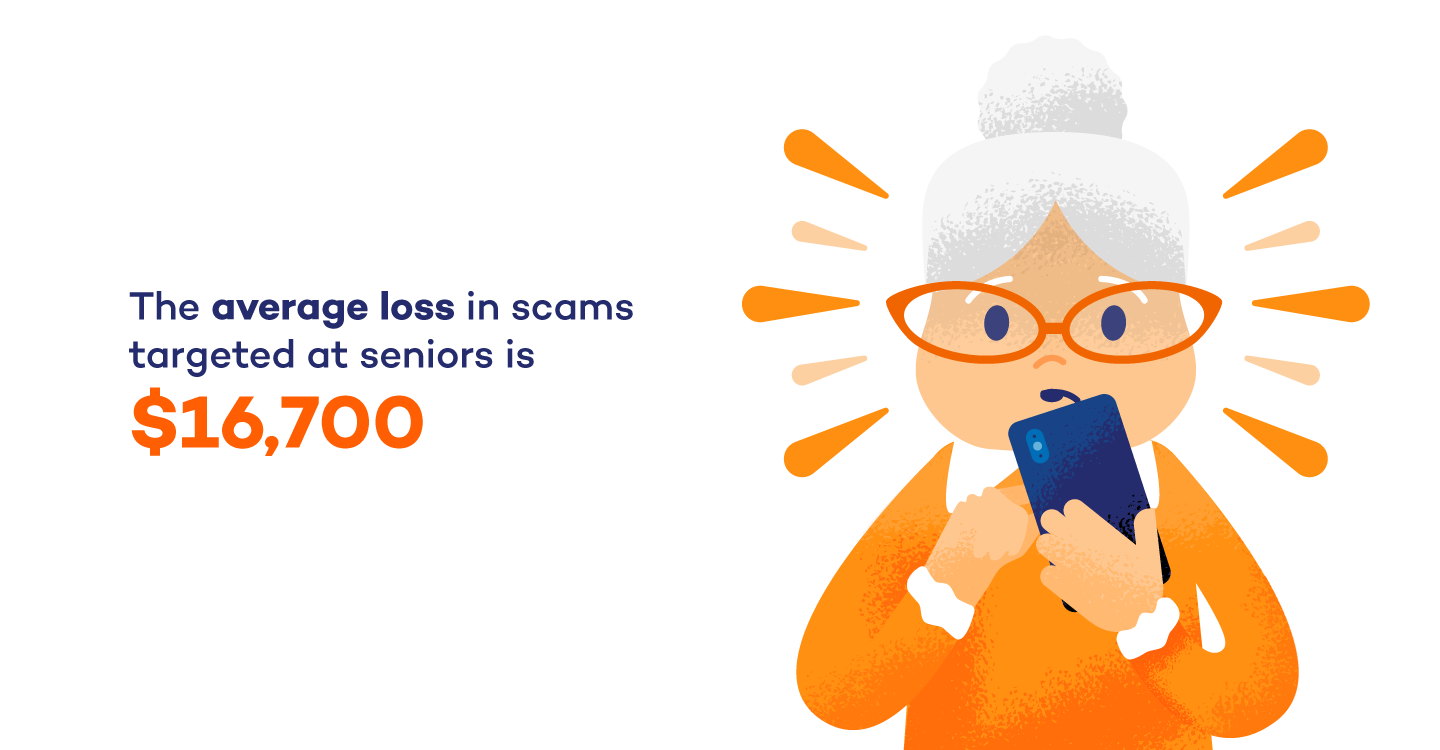 Why Are Seniors Susceptible to Internet Scams?
There are many deceptive hackers that prey on seniors. Most often, it's because seniors have one or more of the following traits.
They Only Have Basic Computer Skills
Seniors didn't grow up with an iPad glued to their hands. While the Internet might come as second-nature to younger generations, it has to be learned by seniors. Some seniors are tech-savvy, but the majority only know the basics.
If those who aren't skilled with technology are presented with a hacker telling them their device needs to be updated, they will likely hand over the money to fix it without a second thought.
They've Saved Money
By the time seniors retire, they have done all their savings and can sit back and relax. This mindset makes them more willing to give some extra money to someone claiming to be a family member stranded in Paris or a fake charity collecting funds.
They Are Looking to Get Rich Quick
On the other hand, seniors who have not saved are looking to make some fast money so they can retire. These people fall victim to lottery and get-rich-quick online scams.
They Feel Isolated
Many seniors have lost family and friends. They may feel isolated and turn to the internet to foster new relationships. Unfortunately, there are scammers who create fake personas on social media to get close to lonely seniors and then take advantage of them.
They Are More Trusting
Whether they are isolated, have had brain changes that make it harder for them to recognize a trustworthy person or they have grown accustomed to friendly environments, seniors tend to be more trusting. This means they are more likely to believe someone is who they say they are online.
7 Internet Scams That Target Seniors
While some online scams are generic and don't target a specific age bracket, others specifically target seniors.
1. Online Investment Scams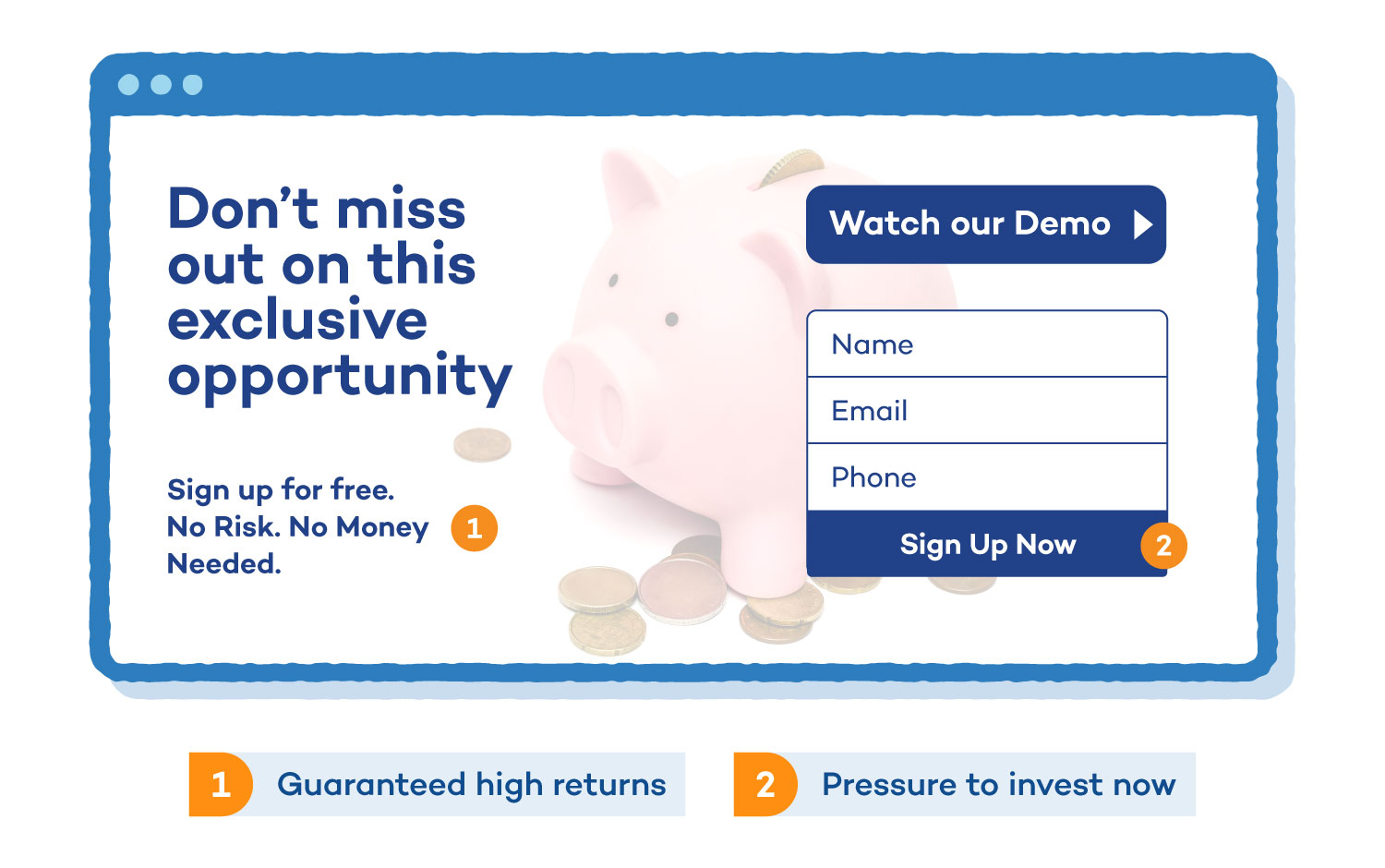 Many seniors are planning for retirement or need help managing their savings. Online investment scams target these individuals, promising a good return on their investment. These either turn out to be Ponzi schemes or once the money is wired, you never see it again.
How to Avoid an Online Investment Scam:
Beware of promises of high returns with no risk.
Avoid offers that pressure you to buy quickly.
Ask your bank or trusted financial advisor about the investment.
Verify the investment is registered with the Securities Division or Securities and Exchange Commission.
2. Online Dating Scams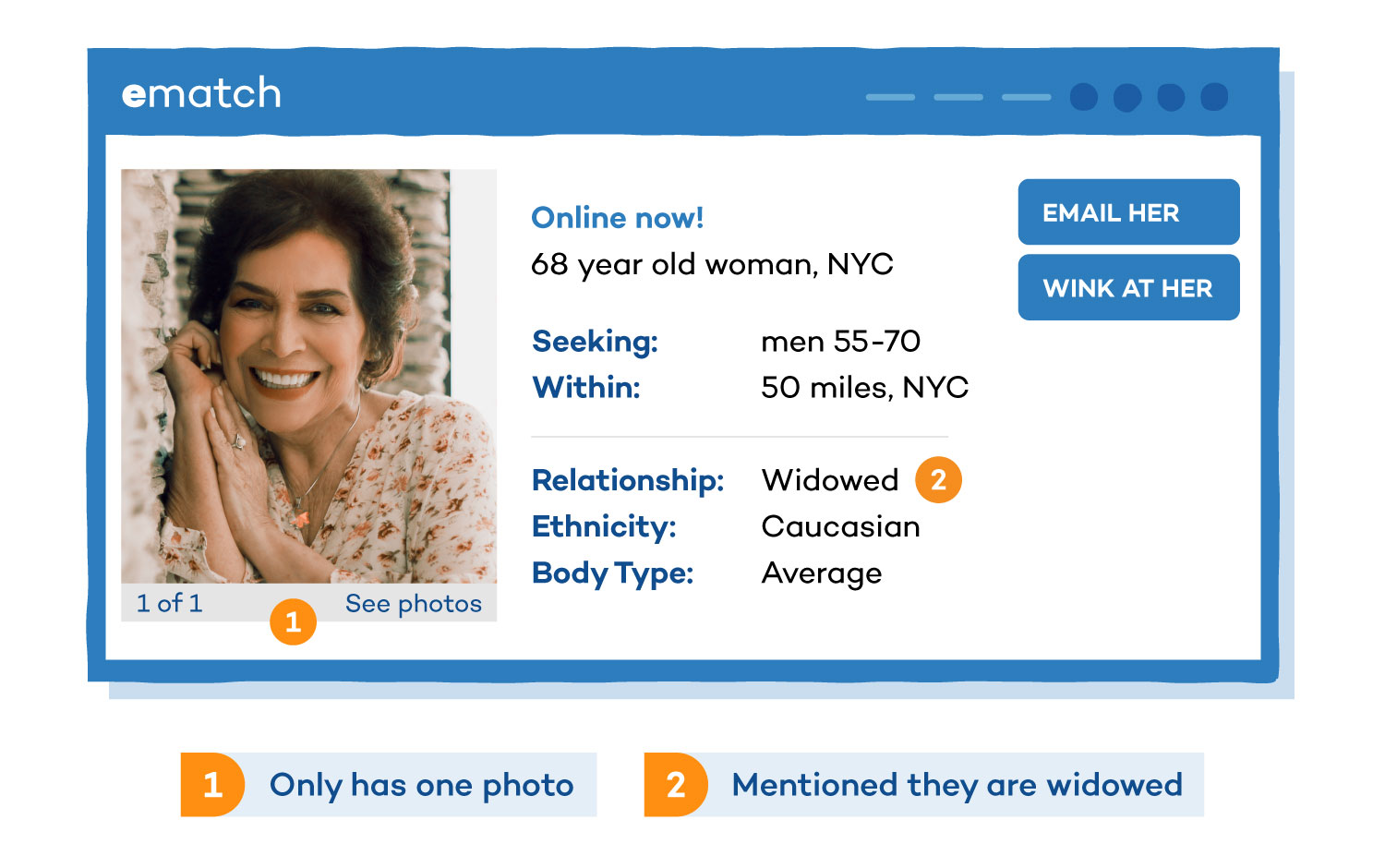 The Internet can be a great place for seniors to find love. The online dating pool is large, but unfortunately, it's ridden with catfish. Catfishing is when someone creates a fake profile and gets close to someone in order to scam them out of money. They will create a scenario where they need to borrow money, whether it's for a family member who's fallen ill or a plane flight to visit the victim. Many seniors fall victim to this scam because they are looking for companionship and can be too trusting.
How to Avoid an Online Dating Scam:
Look for inconsistencies in the profile.
Be wary of someone trying to rush into a relationship.
Let your family or friends know, so they can inspect the profile.
Never transfer or wire money to someone you've met online.
3. Lottery Scam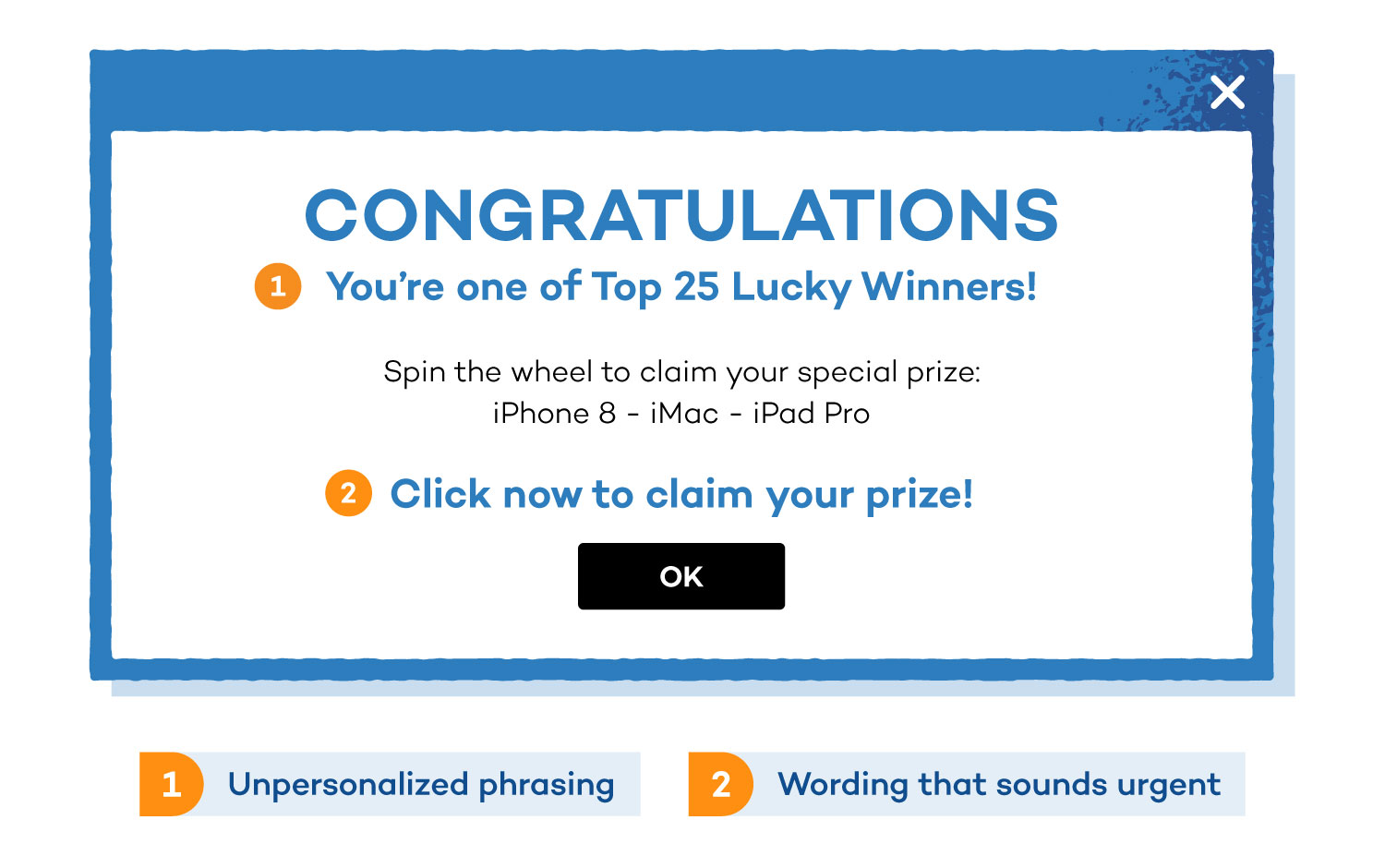 Seniors are prone to falling for scams that tell them they won the lottery. A lottery scam may be a colorful banner on a website saying you are the millionth visitor or might be an email that says they won a raffle. Regardless, the scammer will ask for personal and banking information to "wire" the winnings to them. Instead, their savings are stolen.
How to Avoid a Lottery Scam:
Remember you can't win a lottery you've never entered.
Keep in mind, no one hands out money for free.
Never give out your banking information online.
4. Counterfeit Prescription Drug Scam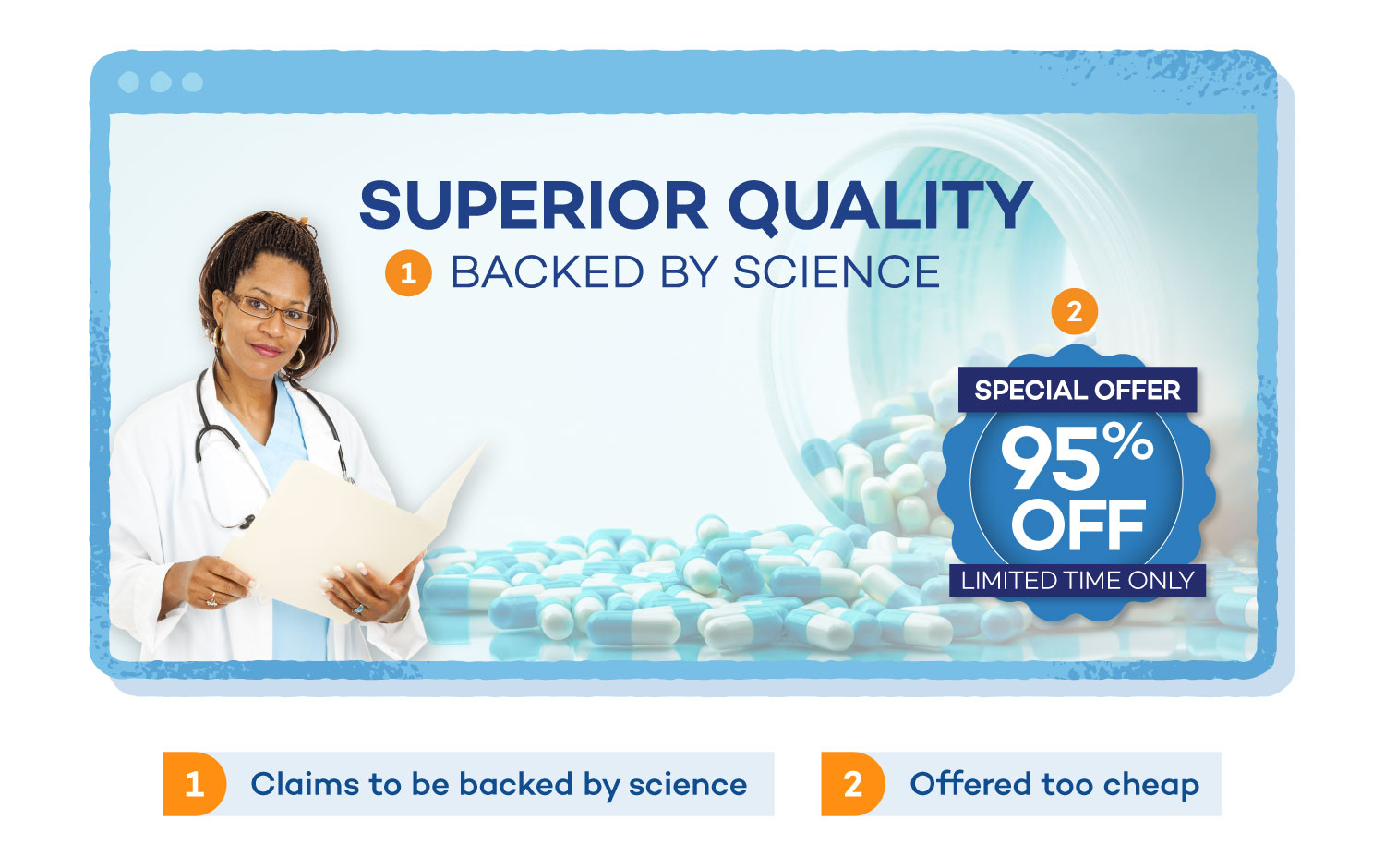 People go online to research their prescription drugs and find the best price. Unfortunately, they run into scammers who offer them drugs at a cheap price. Either these prescription drugs aren't authentic or they never arrive at your door once purchased.
In a different version of this scam, a senior may find a prescription drug that has all the benefits they are looking for and claims to be backed by science. It's offered at a cheaper price than what they were prescribed by a doctor. Unfortunately, these drugs aren't approved by the FDA and can pose serious health risks.
How to Avoid a Counterfeit Prescription Drug Scam
Only buy prescriptions from a NABP approved pharmacy.
Verify any drugs with your doctor.
If you send money for a drug online and don't receive it, report the fraud and notify your bank.
5. Tech Support Scams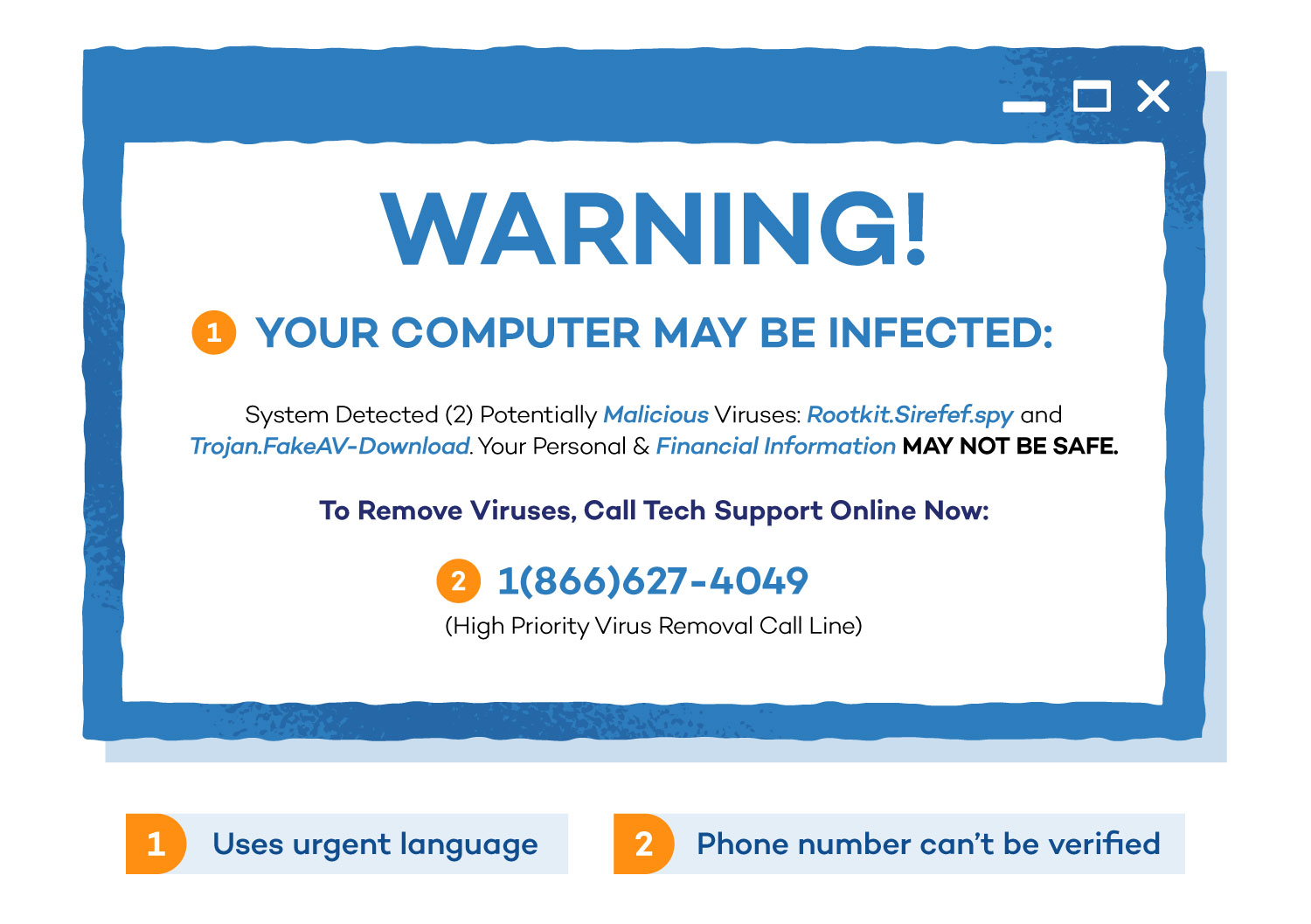 Tech support scams start out with a pop-up warning of a computer issue. The pop-up gives you a phone number to call. A fake Microsoft or Apple employee answers the phone and convinces you to give them access to your computer so they can solve the issue. Then they either access your bank through your computer or request a payment for the said repairs.
These scams cost people $55 million in 2018 and the FTC reported that older adults were five times more likely to report losing money on tech support scams.
How to Avoid a Tech Support Scam
Don't fall victim to urgent wording that tells you to take action immediately.
Search the phone number in Google to be sure it's legitimate.
6. Anti-Aging Product Scams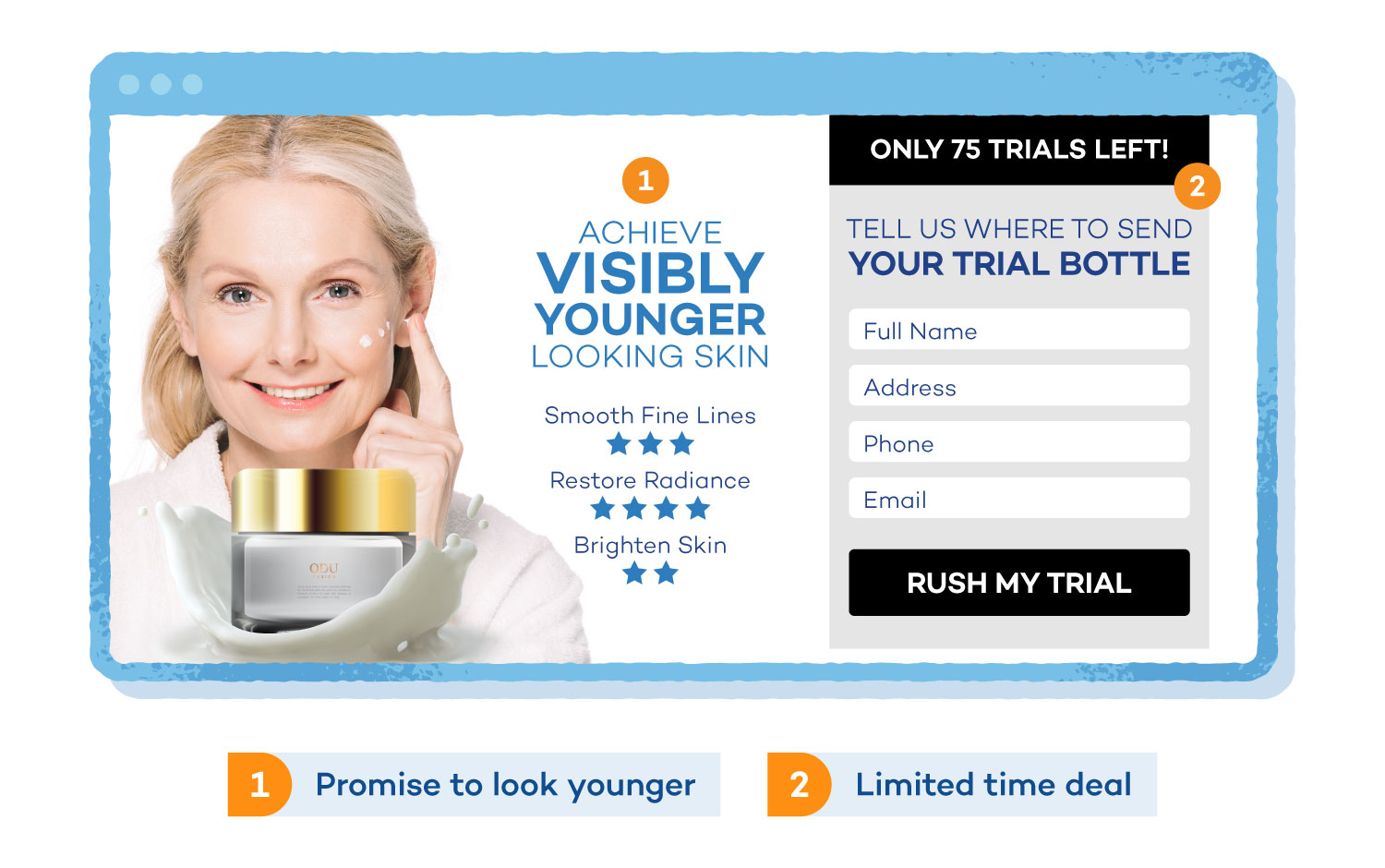 This scam plays on a senior's desire to look younger. The anti-aging product scam comes in a few forms. It could be an ad for a low-cost or even free (plus tax) anti-aging products for sale. Once you enter your banking information to purchase the product, these scammers will take your money.
In another situation, you may come across a fake Botox that will get rid of wrinkles. These counterfeit products have been found to have carcinogenic ingredients in them such as arsenic, beryllium or cadmium. These scammers take your money and leave you with health issues.
How to Avoid an Anti-aging Product Scam:
Watch out for products with "secret formulas" or "breakthrough ingredients."
Do research on the product to find what ingredients it contains and what reviews it has.
Consult your doctor about the product.
7. Funeral and Cemetery Scams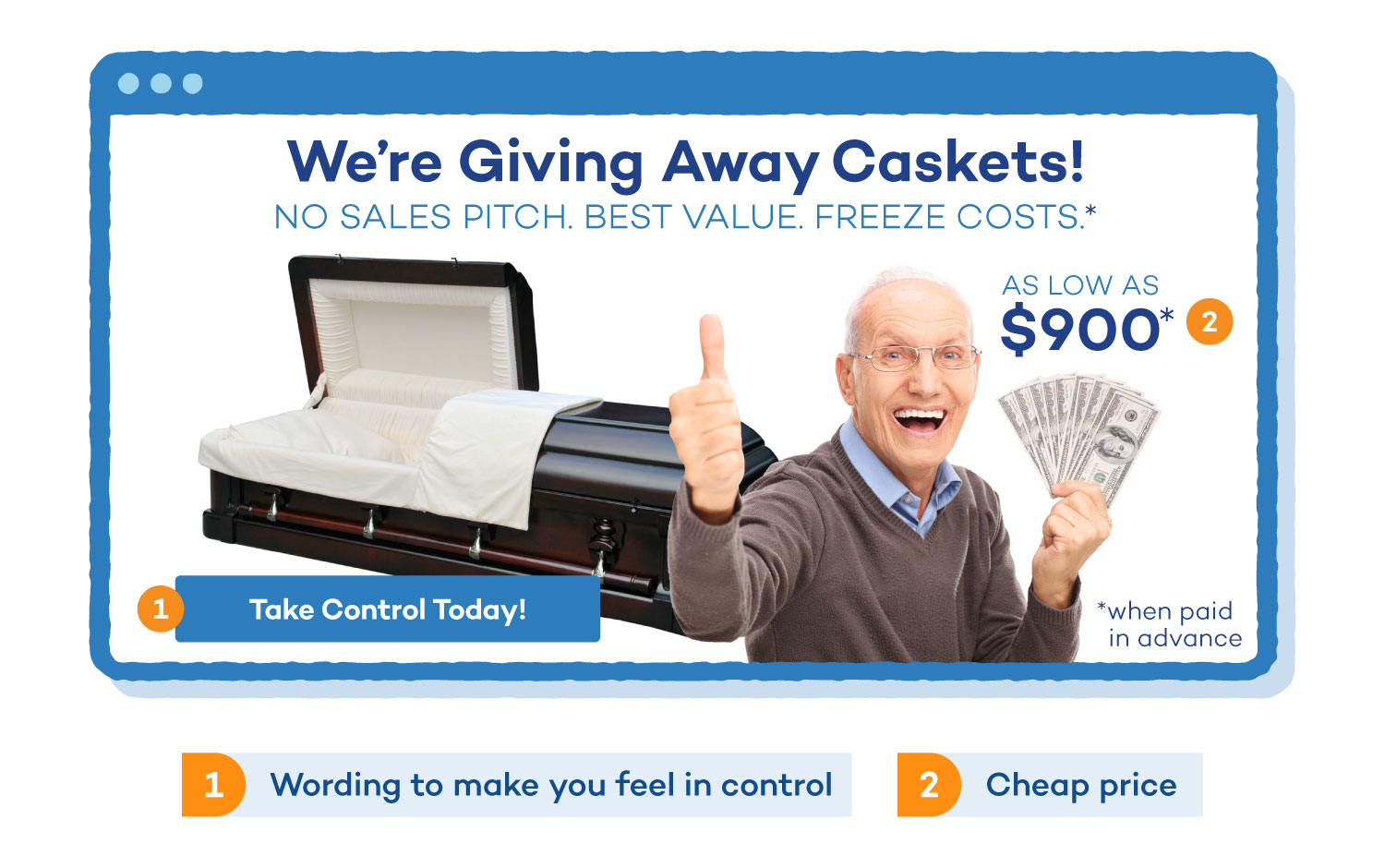 Funeral and cemetery scams can target seniors both in-person and online. This could be in the form of a misleading funeral package that offers a cheaper price but ends up costing in additional service fees.
This scam could also attempt to sell a casket at a lower price, but when you need it, there is no casket. Unfortunately, many don't realize they are scammed until they have passed away and the family is left to find the transaction was fraudulent.
How to Avoid a Funeral and Cemetery Scam
Shop around and all the details so you know your rights.
Include your loved ones in the process so they know all the details.
Resist any pressure to add on services.
Search for BBB accredited funeral homes in your area.
Tips for Keeping Seniors Safe Online
In addition to knowing these common scams, here are some tips to keep seniors safe online.

Be sure the website is secure
If you are entering any personal information onto a website, be sure it's a secure site. You can check by looking at the URL and ensuring it says https.

Use Secure Payment
If purchasing something online, be sure the website has a secure payment method. It's also best practice to use a credit card. With a credit card, it's easier to report fraud and reverse the charges so you don't lose money.

Log Out of a Shared Computer
When using a library computer or one that is shared by your living community, be sure to log out of your accounts when you're done. If you've downloaded any personal documents, delete them off the desktop before logging out.

Keep Your Computer Updated
If you have a personal computer, keep it updated. With the updated software, you're less likely to get a virus. For extra protection, consider installing an antivirus software on your computer.

Secure Passwords
Be sure to create secure passwords for all your accounts. These passwords should be different for each account. If you have trouble remembering them, consider getting a password manager that can store all your complex passwords in one place.

Report the Scam
Lastly, it's important that you report any scam to the FTC. Don't be embarrassed or afraid to report the scam that you were involved in. If you fell for it, it's likely others did too. By speaking up, you can prevent other seniors from falling victim.

It's important to be wary of Internet scams no matter what age you are. If your family is unfamiliar with online scams, go through these examples with them and suggest tips for staying safe online.