…or as it is popularly said, at least, in Spain: "From Guatemala to Guatepeor".
As if things weren't bad enough in Central America after the dramatic consequences that the Agatha storm had in Guatemala, Honduras and El Salvador, cybercrooks are taking advantage of the news about the misterious sinkhole that appeared in Guatemala city, in order to distribute the rogueware detected as MySecurityEngine.
The following searches, among others, display the following pointing to malicious URLs:
Agatha Guatemala

Giant Sinkhole

Giant Sinkhole Guatemala

Guatamala Sinkhole 2010

Guatemala City

Guatemala City Airport

Guatemala City Attractions

Guatemala City Crater

Guatemala City Facts

Guatemala City Hotels

Guatemala City Pictures

Guatemala City Sinkhole

Guatemala City Wheater

Guatemala Crater

Guatemala Crater Agatha

Guatemala Hole

Guatemala Sink Hole

Guatemala Sinkhole

Guatemala Sinkhole

Guatemala Sinkhole 2007

Guatemala Sinkhole 2010

Guatemala Sinkhole Agatha

Guatemala Sinkhole Bottom

Guatemala Sinkhole Coordinates

Guatemala Sinkhole Depth

Guatemala Sinkhole Video

Guatemala Sinkhole Wiki

Sinkhole Death

Sinkhole Guatemala

Sinkhole Guatemala City

Sinkhole in Guatemala
Here you have an example: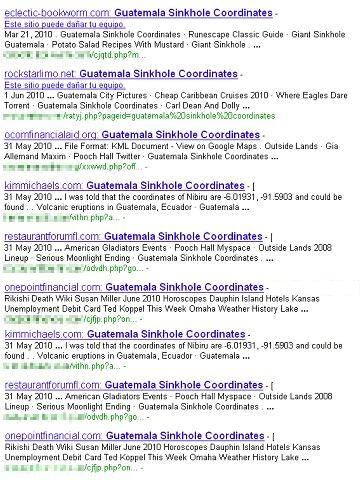 When you access any of these websites, you are redirected to websites like the following from which the rogueware is downloaded:
smar<blocked>stav3.co.cc
avw<blocked>21-pr.co.cc
mega<blocked>kz9.co.cc
Once more, cybercrooks are showing us that they have no qualms and any pretext is valid enough when dealing with economic profits.