Trojans continue to be the most pervasive malware threat
China, Thailand and Taiwan are the world's most infected countries
Data theft, social media and cyber-war take the spotlight
The full report is available at https://press.pandasecurity.com/press-room/reports/
PandaLabs, the antimalware laboratory of Panda Security, has released its 2011 Annual Security Report, which details an extremely interesting year of data theft, social networking attacks and cyber-warfare. According to the report, malware creation hit a new record high in 2011 with 26 million new strains in circulation, nearly one-third of all malware that has ever existed and been classified by the company (88 million).
These figures show cyber-criminals' sheer capacity to automate the creation of new malware variants, further evidenced by the average number of new threats created and released every day increasing from 63,000 to 73,000 since last year. Panda Security leverages Collective Intelligence, a cloud-based proprietary system that automatically detects, analyzes and classifies 99.4 percent of all malware received, leaving just 0.6 percent to be dealt with manually. In November 2011, PandaLabs announced that Collective Intelligence had reached a historic milestone by processing 200 million files, and this number has already reached 210 million.
Malware
In 2011, Trojans dominated the threat landscape more than ever before. Whereas in 2009 Trojans made up 60 percent of all malware, the percentage dropped to 56 percent in 2010. Last year, however, the percentage jumped up to 73 percent, so that three out of every four new malware strains created were Trojans, followed by viruses (14.24 percent) and worms (8.13 percent).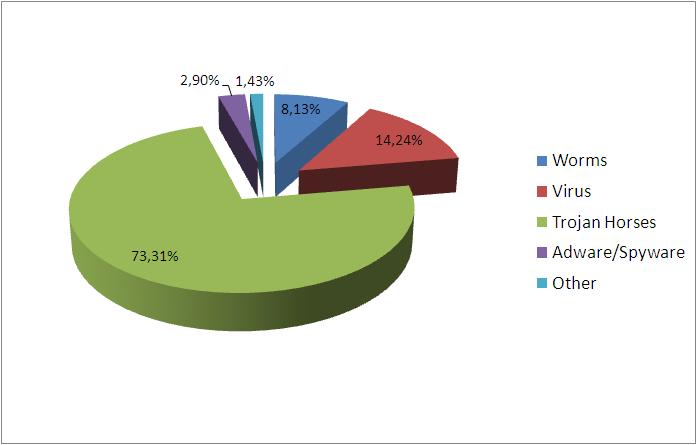 The countries leading the list of most infections are once again Thailand, China and Taiwan, with 60, 56 and 52 percent of infected computers respectively. These are actually the only countries that exceed the worldwide average of 38.49 percent.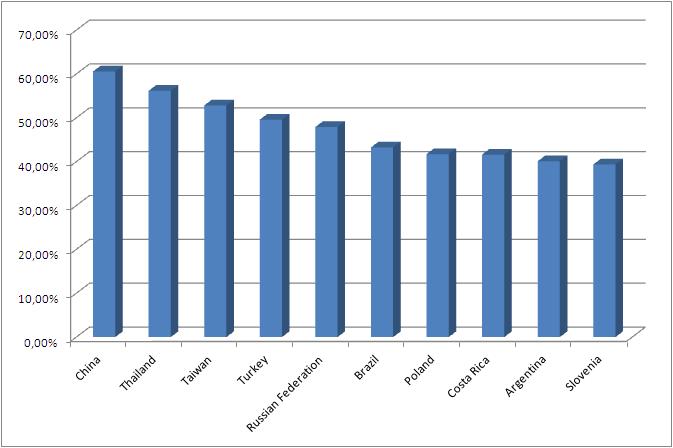 2011: The year of cyber-attacks, social media and cyber-war
The report offers a general view of the most important events regarding computer security in 2011. Sony suffered a massive breach that led to the theft of data belonging to 100 million user accounts in what is probably the largest-ever Internet security break-in, whereas the Steam video game service, used by 35 million people, was also compromised by hackers.
Social networking sites, mainly Facebook and Twitter, play a vital role in the life of Internet users and are extensively covered in the report. 2011 witnessed the launch of a new social media service in a bid to rival Facebook: Google+. Despite its rapid growth, with more than 25 million users registered in just few weeks, Google+ is still far away from its direct competitor, Facebook, which makes it less of a target for cyber-crooks.
Cyber-war also grabbed headlines in 2011. The number of cyber-attacks multiplied all over the world, affecting governments and government contractors -like weapons manufacturers- alike.  Besides offering an overview of the most significant events in the computer security field, the 2011 Annual Security Report also forecasts future trends for 2012.
The full report is available at: https://press.pandasecurity.com/press-room/reports/. Visit the PandaLabs blog for more information about these and other threats:  https://pandalabs.pandasecurity.com/