Published by Leyre Velasco
Journalists, politicians, singers, writers, actors and actresses, more and more people from all sections of society join Twitter to share their life with the rest of the world. Some write directly what comes into their head, without help or supervision of an expert in social media.
Are they really aware that, due to the nature of the Twitter network, they are taking major risks? The most notorious one: being wrong … publicly. Being famous, your reputation is at stake. It's like when a politician is betrayed by a microphone taping "off-the-record" conversations. On Twitter, what you say, how you say it and when you say it, matters. The image of these personalities can get easily damaged to a greater or lesser extent.
The reasons are varied. From blatant typos, lack of general knowledge, unfortunate expressions to, in the worst case scenario, incendiary and offensive tweets to the community.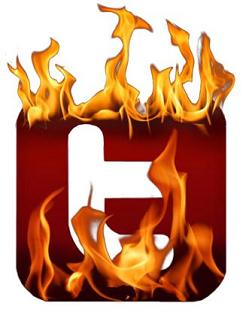 Let's take a look at a few curious examples:
Lautaro, the younger brother of Gonzalo Higuain, Real Madrid player, recently wrote a strong message against Jose Mourinho in the social network. Soon afterwards, the message was deleted, but by then, it was too late. This is what happened: A day before the second leg match between Barcelona and Real Madrid, when his girlfriend asked him on Twitter about the possible departure of Mourinho from Real Madrid, he replied: "It's the best thing he could do because he is a son of a .. and a chicken who does not know how to outplay Barca (or words to that effect). Oh, don't bother looking for Lautaro's Twitter account because it no longer exists.
Alejandro Sanz certainly writes (or used to write) his tweets himself. His blatant spelling mistakes prove this point. As a result of the harsh criticism he received after a particularly infamous typo, the artist quit the social network. Later on, he reflected on it and justified the mistake on the grounds that his finger had played a trick on the computer keyboard. Whatever. Thanks Alejandro for returning to the network. These lapses generate TT which are pricelessly hilarious!
But the issue could  get embarrassingly serious. How about what happened to the actor who first got 1 million followers on Twitter? We are speaking about Ashton Kutcher. Months ago, he posted a tweet endorsing the late Jo Paterno, Pennsylvania State University's American football  coach condemning his firing. Almost immediately, he was inundated with a flood of angry replies. Why? Because the reason behind the sacking had to do with Paterno's involvement with child abuse. He later deleted the tweet and apologized, but by then the comment had been retweeted so many times, the damage had been done.
But, of today's and probably most recent Twitter faux-pas, on a scale of 1 to 10, the case reported by the prestigious paper The New York Times gets a 10.
Just imagine the scene: The Superbowl. Advertising on a giant digital, mega-cool screen with stars like Madonna performing or David Beckham's ad for H&M underwear on full display. A rate of 10,000 tweets per second during the last three minutes of the game.
Roland Martin, journalist of the CNN, issues the following tweet during the event: "If a dude at your Super Bowl party is hyped about David Beckham's H&M underwear ad, smack the ish out of him! #superbowl."
The reactions of gay rights groups were immediate. So much so that in the end, even after Mr. Martin and CNN issued the pertinent apologies, we can say that the tweet has cost him the job.
Perhaps this is the downside of free expression in the social networks, where everything is under the watchful gaze of thousands of Twitter users who forgive but don't forget.
In my opinion, spelling errors are revealing yet excusable, especially because the perpetrator, surely out of ignorance, is not even aware that he is making a mistake. Just a consequence of his sheer lack of attention during spelling and language classes at school.
Something of a different nature is when people from a certain position of influence, say journalists or politicians, express hurtful and offensive thoughts. Therefore, this is my recommendation: Think before you tweet.
Now, to which point should you constrain your natural thoughts? Where is the limit of freedom of speech?
What do you think? We invite you to send us your comments, but remember, if we deem them offensive, they will not see the light 🙂 That is the advantage of having a moderated blog. Without acrimony.