En el RSA 2019, Panda Security ha recibido el reconocimiento NSS Labs Recommended, en el Group Test de soluciones de protección avanzada (AEP).
Iratxe Vázquez, la Product Marketing manager de Panda Security manifiesta su satisfacción en los resultados y afirma que "durante todo el largo e intenso proceso de evaluación, Panda Adaptive Defense 360  y sus servicios integrados, han demostrado consistentemente lo que oímos de nuestros cilentes: que la solución está entre las más eficientes contra cualquier tipo de cyber ataque, con o sin malware, conocido o desconocido, con técnicas tradicionales o de nueva generación".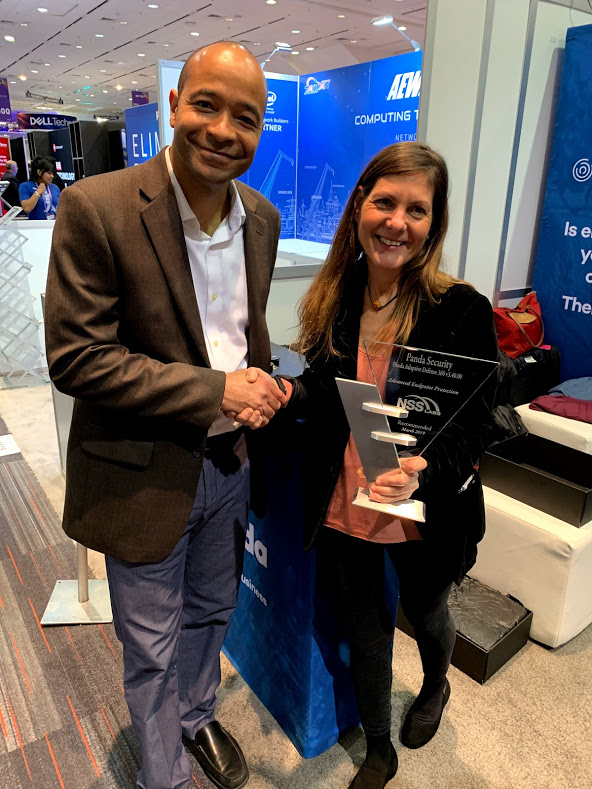 Sobre las capacidades EDR de monitorización exhaustiva del endpoint, se proporciona 2 servicios totalmente gestionados, sin coste alguno y fundamentados en tecnologías escalables de Machine Learning en la nube que automatizan y aceleran el proceso de identificación de amenazas, sin delegar en el cliente.
Sobre Panda Security
En Panda Security ayudamos a las empresas a protegerse contra amenazas avanzadas y nuevas técnicas de ataque. Manteniendo constantemente nuestro espíritu innovador, en Panda hemos marcado varios hitos históricos en el sector. Hoy en día, somos el proveedor líder europeo de sistemas EDR, con accionariado, sede, tecnología y plataforma nube totalmente europeos.
Gracias a nuestra concepción visionaria del modelo de la ciberseguridad avanzada que combina soluciones y servicios, somos capaces de proporcionar una visibilidad totalmente detallada de toda la actividad en todos los endpoints, el control absoluto de todos los procesos en ejecución, y la reducción de la superficie de ataque.
Según Iratxe Vázquez: "Somos uno de los pocos proveedores de seguridad de endpoints que utiliza técnicas avanzadas de machine learning y Deep learning para clasificar las amenazas mediante miles de atributos estáticos, contextuales y sobre todo de comportamiento. Todo esto desde la nube, lo que da una capacidad de procesamiento virtualmente infinito, en tiempo real y sin coste para nuestros clientes."
Si necesitas más información ponte en contacto con nosotros.
Sobre NSS Labs:
NSS Labs, Inc. is recognized globally as the most trusted source for independent, fact-based cybersecurity guidance. Our mission is to advance transparency and accountability within the cybersecurity industry. Our unmatched foundation in security testing, along with our extensive research and global threat analysis capabilities, provide the basis for NSS Labs' Cloud Platform for Continuous Security Validation.
This cloud platform empowers enterprises with objective, empirical data and allows them to gain continuous visibility, gather actionable insights, and rationalize investments in their cyber programs. The cloud platform lets enterprises know where they stand by continuously validating the effectiveness of their security products and assessing the impact of unmitigated risks to the enterprise stack. This gives business leaders the relevant information they need to substantiate their security investments.
CISOs, Chief Security Architects, SOC and Threat Analysts, and information security professionals from many of the world's largest and most demanding enterprises rely on trusted information from NSS Labs.