Panda Cloud Antivirus Free es una de las 22 soluciones certificadas (de los 33 productos analizados)
Panda Security obtiene, por segunda vez en un año, el sello del prestigioso laboratorio
Panda Security, The Cloud Security Company, anuncia la certificación VB100 de Panda Cloud Antivirus Free en el análisis de diciembre de Virus Bulletin para Windows 8, en el que han participado 33 soluciones antivirus. Tras la modificación de su metodología para incluir las soluciones basadas en la nube, Panda Security obtiene por segunda vez consecutiva el sello del prestigioso laboratorio.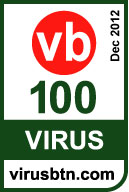 La certificación VB100 supone que Panda Cloud Antivirus Free ha detectado el 100% de las muestras incluidas en la lista de "In the Wild" con 0 falsos positivos. La review se ha llevado a cabo sobre Windows 8 y los tests han constado de 3 partes fundamentales: análisis bajo demanda, on Access y el ratio de falsos positivos generado. En las pruebas Panda Cloud Antivirus Free consiguió un 100% de detección tanto bajo demanda como "on access" y 0 falsos positivos.
Panda Cloud Antivirus Free se ha mostrado como una de las soluciones gratuitas más rápidas y con menor consumo de memoria y CPU de las soluciones gratuitas, entre las que se incluían Avast, AVG o Microsoft. Virus Bulletin también destaca la sencillez y claridad de la interfaz del producto, así como la facilidad que proporciona un producto íntegramente en la nube.
"Obtener la segunda certificación VB100 dos veces en un mismo año de forma consecutiva es una gran noticia y supone la reafirmación de la calidad de nuestras soluciones", afirma Alberto Añón, Product Manager de Panda Cloud Antivirus. "Para Panda Security es un reconocimiento a nuestro esfuerzo por ofrecer de forma gratuita el producto más ligero con el mayor nivel de protección, también en el nuevo sistema operativo Windows 8."
A esta certificación se unen la ya conseguida en septiembre de 2012 con el producto Panda Cloud Antivirus Pro, además de las conseguidas por la solución gratuita Panda Cloud Antivirus por parte de los prestigiosos laboratorios AV-Test.org y AV-Comparatives durante 2012.
Más información en: http://prensa.pandasecurity.com/2012/09/panda-cloud-antivirus-pro-consigue-la-certificacion-vb100-de-virus-bulletin/, http://prensa.pandasecurity.com/2012/06/panda-cloud-antivirus-numero-uno-en-usabilidad-segun-av-test-org/ y http://prensa.pandasecurity.com/2012/04/panda-cloud-antivirus-obtiene-el-sello-advanced-plus-de-av-comparatives/