Panda Security, The Cloud Security Company, obtiene la certificación VB100 de Panda Cloud Antivirus Free para Windows XP SP3 en el reciente análisis realizado en abril por el prestigioso laboratorio Virus Bulletin y en el que han participado 40 soluciones de antivirus. En este contexto, es la tercera vez consecutiva que Panda Security obtiene el sello de Virus Bulletin para plataformas Windows.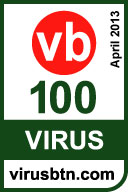 La certificación VB100 indica que Panda Cloud Antivirus Free ha detectado el 100% de las muestras incluidas en la lista de "In the Wild" con cero falsos positivos. El análisis se ha llevado a cabo sobre Windows XP SP3 y los tests han constado de tres partes fundamentales: análisis bajo demanda, "on access" y ratio de falsos positivos generado. En las pruebas Panda Cloud Antivirus Free consiguió un 100% de detección tanto en los parámetros de bajo demanda como de "on access", además de cero falsos positivos.
Ligereza y rapidez con el mínimo consumo
De acuerdo al test llevado a cabo por Virus Bulletin, Panda Cloud Antivirus Free ha demostrado ser una de las soluciones gratuitas del mercado que mejor se comporta. En este contexto, el prestigioso laboratorio destaca la solución de Panda Security como una de las más rápidas del análisis, además de ser la herramienta gratuita que registra menor consumo de memoria y CPU, y una de las más ligeras de todas las soluciones analizadas.
Virus Bulletin también subraya la sencillez y claridad de interface de este producto, así como su capacidad para realizar configuraciones, a pesar de ser gratuito, y su facilidad de uso, gracias a su tecnología basada en la nube.
"En menos de un año, hemos conseguido hacer un hack trick en certificaciones de Virus Bulletin en diferentes plataformas de Windows", afirma Alberto Añón, Product Manager de Panda Cloud Antivirus". "Para nosotros es un enorme orgullo conseguir esta mención, que supone el reconocimiento a la calidad de nuestros productos. Además, este tercer certificado nos anima a continuar mejorando nuestro nivel de protección y capacidad de ligereza, que, por supuesto, incluirán también las nuevas versiones de Panda Cloud Antivirus".
Más información aquí