This year, there's a whole new meaning to "there's no place like home for the holidays." With COVID-19 cases spiking, many of December's festivities will be celebrated at a distance to protect the health of our family and friends. Though the observance of these holidays may look a bit different this year, there is still plenty to celebrate.
Gather your family and friends for an online photo challenge and amp up your submission with these video conference backgrounds and printable props for every holiday. From Hanukkah and Christmas to Boxing Day, Kwanzaa, and New Year's Eve, you and your virtual guests will love these digital creations. Prior to your celebration, be sure to set up antivirus software to avoid the aftermath of any pesky Zoombombers attempting to install malware disguised as app updates.
Hanukkah Zoom Backgrounds
Whether you prefer the traditional eight nights of celebration with dreidels and gelt or a modern spin on your favorite childhood holiday, Hanukkah should not be cut short even if your family can't be together this year. Celebrate the beloved festivities with freshly cooked latkes, sufganiyot, and plenty of Manischewitz wine.
Create a Zoom schedule with your virtual guests allowing each household to host an evening, or multiple evenings, from December 10th to December 18th. On your night to shine, print some props, and set your own Hanukkah Zoom background.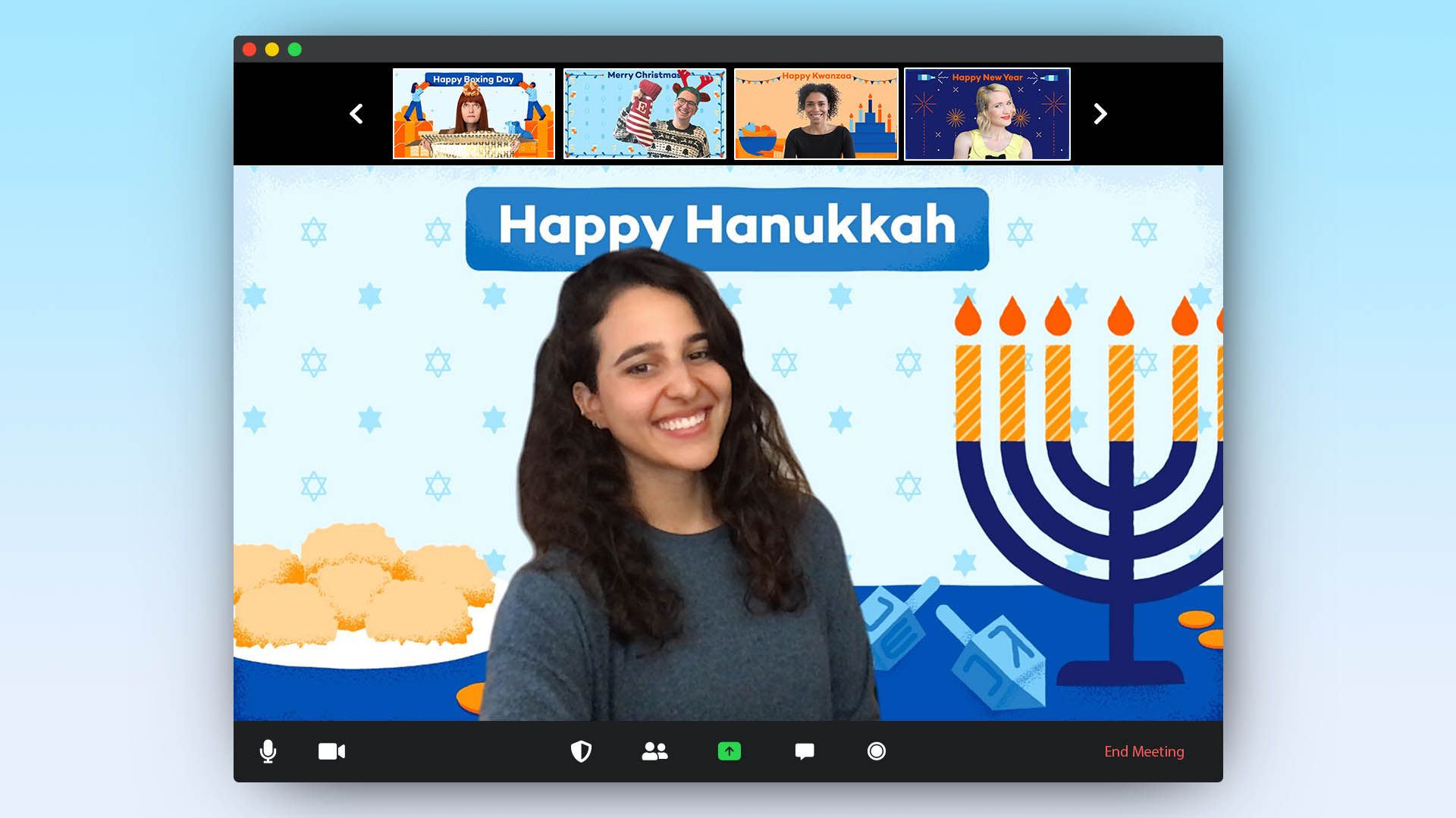 Christmas Zoom Backgrounds
Socially-distant Santa may not make his appearance from the chimney this year, but the celebration can still be close to our hearts. Challenge your extended family to a cookie bake-off (and no, we don't mean browser cookies) the night before Christmas, and leave them on your patio for Kris Kringle to enjoy.
On the morning of December 25th, put on your matching PJs and host a video-opening party with friends and family to enjoy the ear-to-ear smiles that each gift brings. The best part? A virtual background means no one will see the mess from a slow, cozy morning.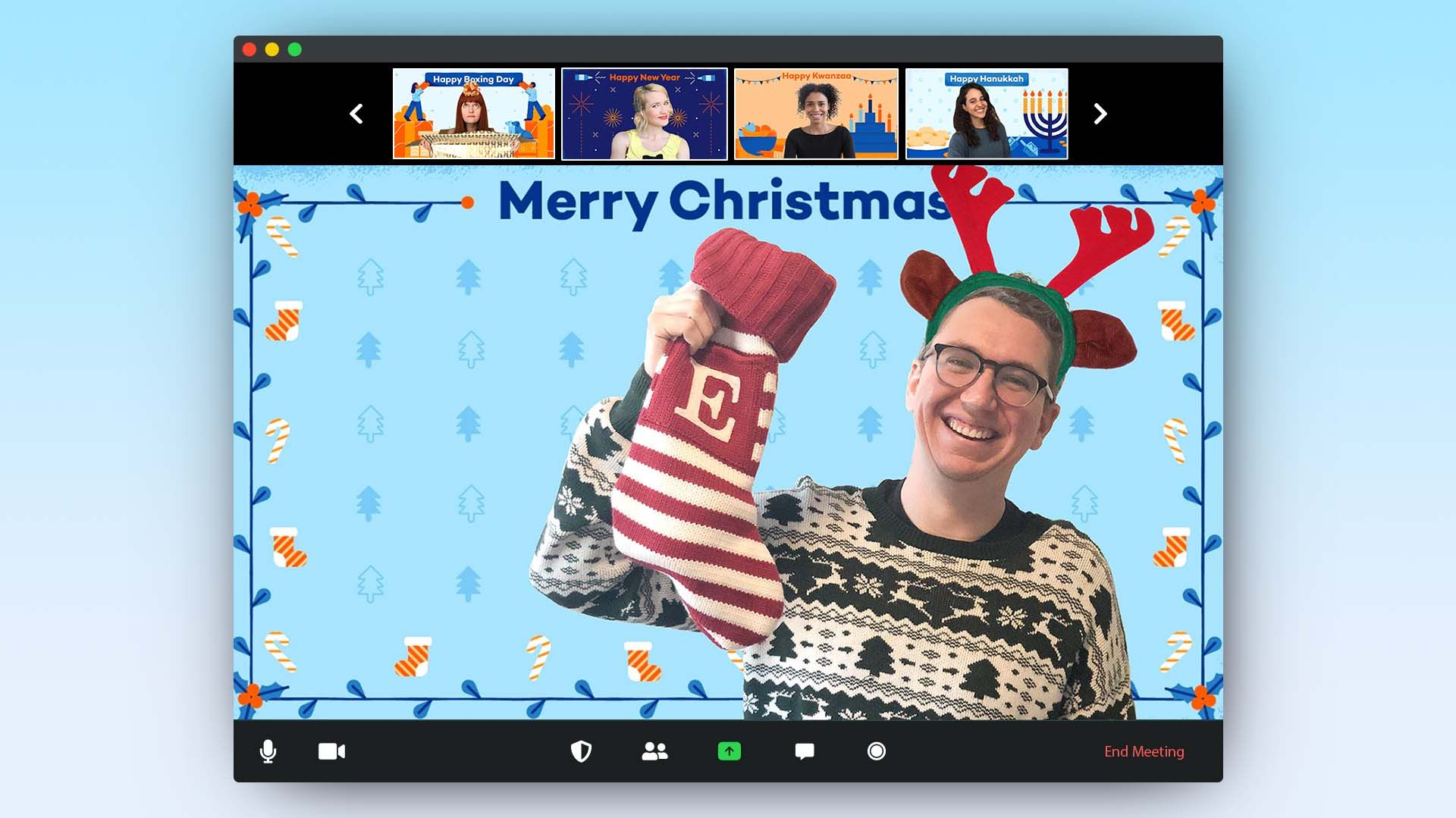 Boxing Day Zoom Backgrounds
Boxing Day is traditionally celebrated across Britain, Australia, and Canada with fox hunting in the chilly countryside. The typical gatherings that happen before and after hunting won't be permitted this year, but that doesn't mean the day should go unnoticed.
Grab the leftover turkey, ham, and maybe a few bottles of unfinished wine, then start a video call with your family and friends to celebrate the secular holiday. Have everyone hunt for the best Boxing Day shopping deals, then showcase your hauls over a socially-distant Zoom call.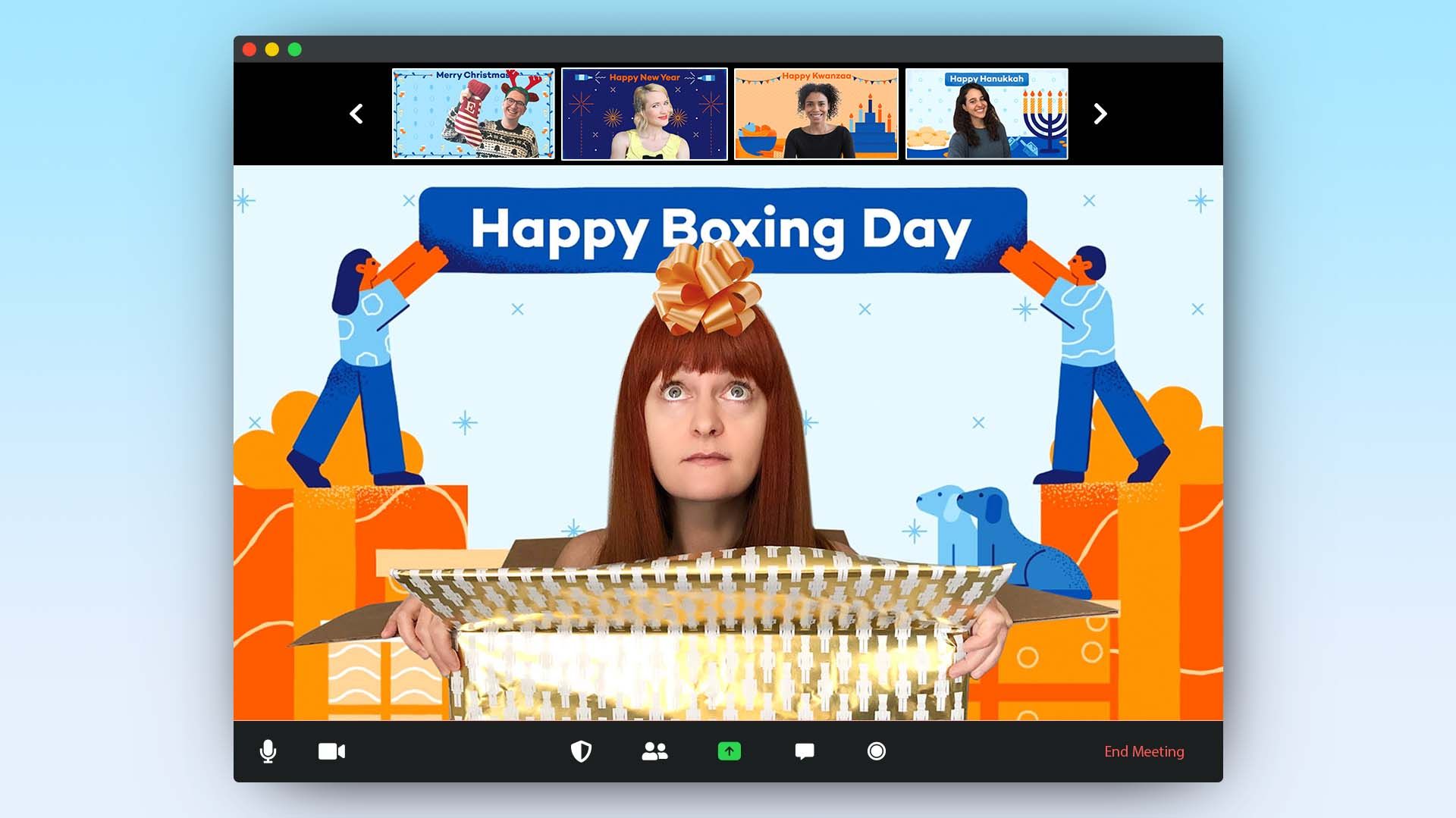 Kwanzaa Zoom Backgrounds
Kwanzaa celebrates family, culture, and community. This year, pay homage to its origins by going all out with your decorations. Your tablescapes will live on after the seven-day celebration as a photo in your saved data, showcasing mementos of the festivities for years to come.
Create some buzz with family and friends by doing a big reveal on video. Have every person participating start with the Kwanzaa Zoom background, and one by one have each person step out of frame, remove the virtual background, and reveal their tablescape. Rotate who hosts each night, choosing a theme based on one of the seven principles during this spiritual holiday.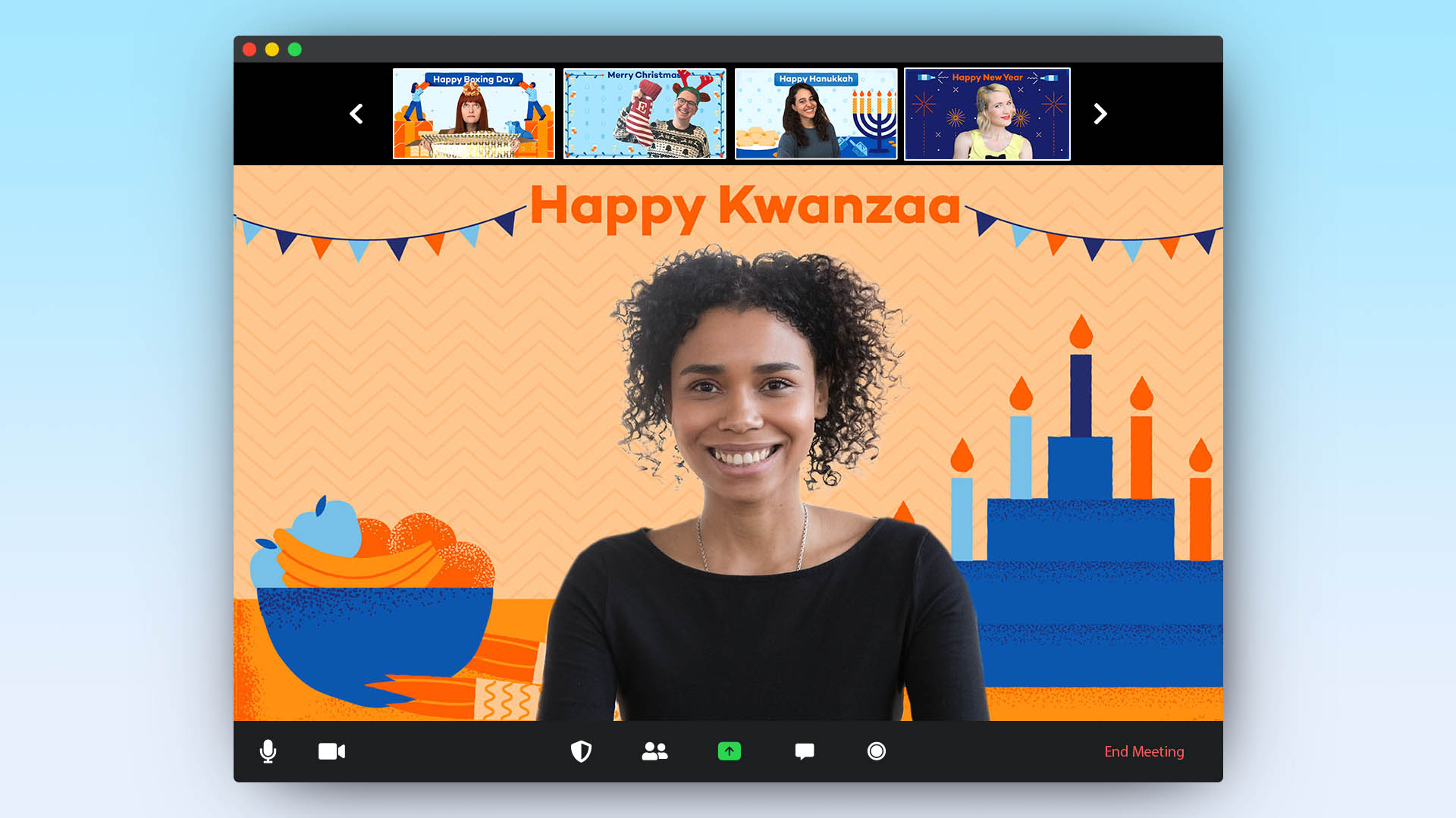 New Year's Eve Zoom Backgrounds
This year, when the clock strikes twelve, you'll be able to hear a pin drop in Times Square, bringing a whole new meaning to "all dressed up with no place to go." Maybe it's the year you'll finally be sleeping before midnight, or perhaps it's the one that motivates you to actually start your New Year's resolutions on January 1st.
Regardless of what your festivities look like, one thing is sure: everyone around the world will be celebrating the end of a turbulent year. So fire up the WiFi, set your custom NYE Zoom background, pop the champagne, and take some time for a virtual chat with friends and family. A celebration is certainly in order.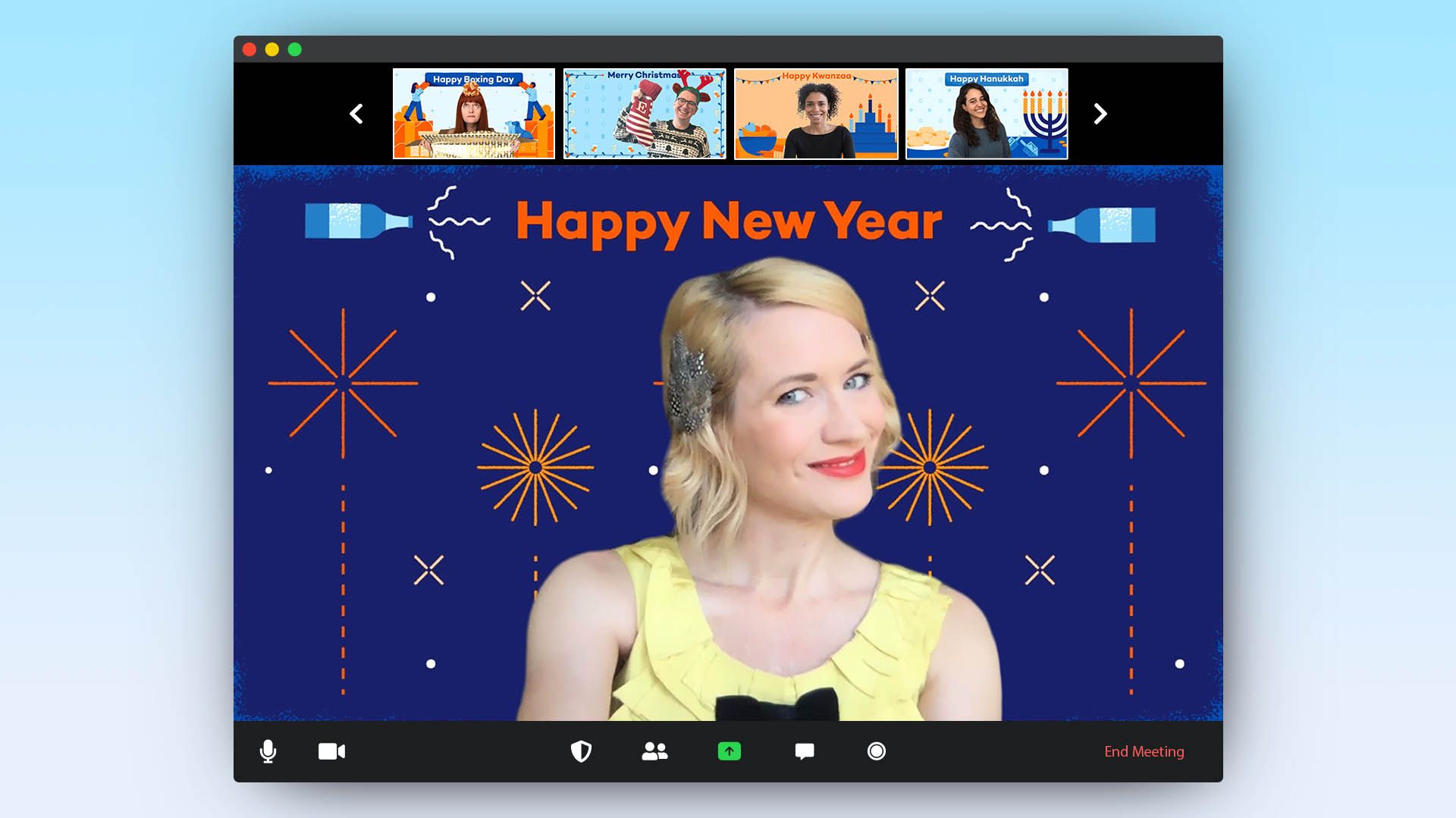 Festive Printable Props
Printable props are especially perfect for the little ones joining the festivities this year. Have them help print and cut each prop, and encourage a learning moment by teaching them about other holidays beyond the ones they're used to celebrating. Pick your favorites, then take a family photo to remember all the fun.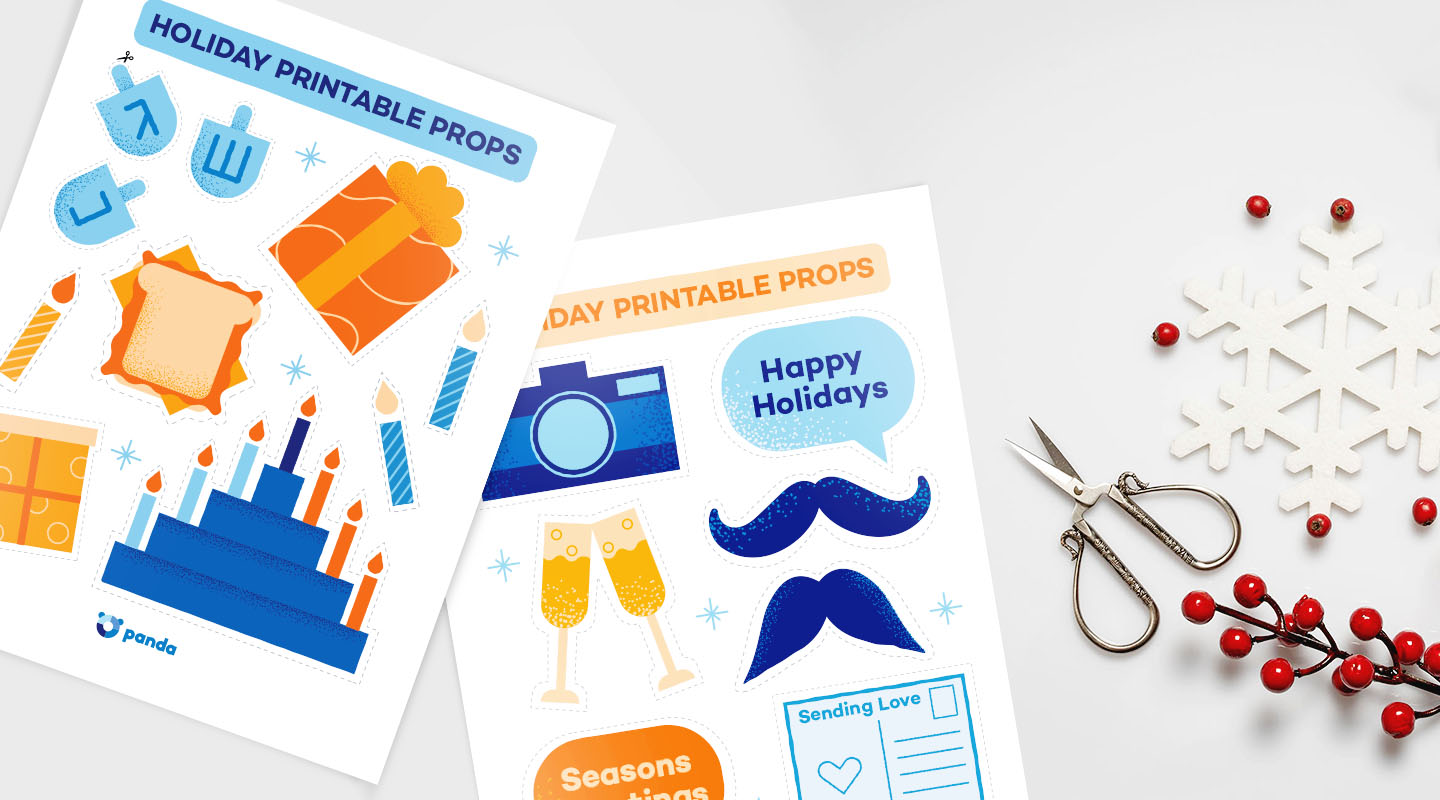 Tips for Setting Up Your Holiday Zoom Call
The wreaths are hung, the eggnog is brewing, and your family and friends around the world are ready to celebrate virtually with you. Follow these tips to make sure even your relatives who rarely use tech can join in the fun.
Set a calendar reminder: It's not likely you'll remember every family member's phone number, so set up a calendar reminder and share it with everyone participating. Add the Zoom link so the notification gives the group an easy way to join.
Password protect the meeting: Zoombombers will likely try to troll holiday meetings. In the worst case, they can install malware onto your device disguised as an app update. Make sure to add a password to the call to avoid any unwanted guests.
Add your background: Before your scheduled call time, add your festive background on the app. To do so, go to the Zoom drown down menu options, and select preferences. Go to the "Background & Filters" window, and click the small plus sign on the top right of the existing backgrounds. Finally, add your image, making sure "mirror my video" is unselected so the text is legible to guests and get ready for some holiday fun!
Record the meeting: Holiday's may never look this virtual again, so record your session to keep the memories alive. Once your call has begun, select the small circle on the bottom menu that says "Record". You can pause or stop the session at any time. Once the meeting has ended, the recording will automatically save to the host's drive. Take a few screenshots of your favorite moments, or share the whole video with your friends and family for a 2020 keepsake.
If there's one thing that 2020 has brought, it's unmatched creativity and a new meaning to connectivity. Whether your relatives are near or far, the holidays are a time for community. And who knows? You may feel even more united than ever this December reconnecting with extended family who typically can't make in-person gatherings. You'll just have to convince your off-the-grid uncle he can hide his location with a VPN and join in the fun — without the rest of the family knowing his GPS coordinates.