Malware usually uses English to "communicate" with the affected computers and users, just as people use it to communicate with people from other countries.
Of course, this is not always like that, as there is malware specifically designed to affect a certain country, such as the Trojans belonging to Banbra family, which only affects users of Brazilian banks.
And we can also find cases in which malware is polyglot and depending on with whom it speaks, it will use one or another. Such is the case of the messenger worm detected as  MSNWorm.IE .
This worm sends instant messages trying to convince you to see a photo and includes a link from which the worm is downloaded: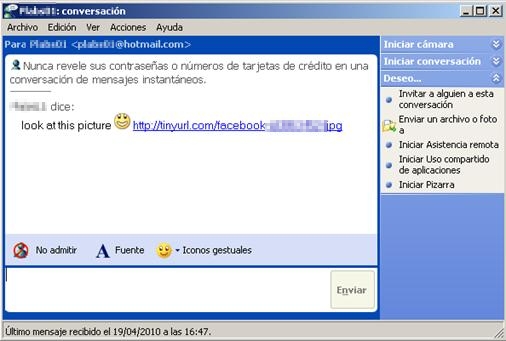 These are the different languages this worm can "speak" depending on the language of the operating system of the affected computer:
English: seen this?? 😀
look at this picture 😀
Spanish:Â mira esta fotografia 😀
Portuguese: olhar para esta foto 😀
French: regardez cette photo 😀
German: schau mal das foto an 😀
Italian: guardare quest'immagine 😀
Dutch: bekijk deze foto 😀
Sweedish: titta pσ min bild 😀
Danish: ser pσ dette billede 😀
Norwegian: se pσ dette bildet 😀
Finish: katso tΣtΣ kuvaa 😀
Slovenian: poglej to fotografijo 😀
Slovak: pozrite sa na tto fotografiu 😀
Chzech: podφvejte se na mou fotku 😀
Polish: spojrzec na to zdjecie 😀
Romanian: uita-te la aceasta fotografie 😀
Hungarian: nΘzd meg a kΘpet 😀
Turkish: bu resmi bakmak 😀
The intention is non other than to reach a highest number of users and this way make sure that it will obtain a wider distribution.
Who said that learning languages wasn't useful? 😉