A Brazilian Web page offering a video of the tsunami disaster released by the Japanese consulate is the most frequently blocked website in Q1 2011
propecia canada
content/uploads/2011/03/URLTable.jpg" alt="" width="278″ height="241″ />PandaLabs, the anti-malware laboratory of Panda Security, The Cloud Security Company, has released a study on the nature of malware-infected websites blocked by the company's antivirus solutions in Q1 2011. According to the research, 25 percent of sites used video and multimedia contents as bait; 21.63 percent referred to installers or program updates; 16.53 percent claimed to contain cracks and keygens, and 16 percent were social media URLs.
According to Luis Corrons, Technical Director of PandaLabs, "Users continue to fall victim to malicious links offering to take them to an exciting video or the new episode of their favorite TV show. This technique has become a weapon of choice for hackers as it requires minimum investment and attracts a large number of victims. Most of these sites download Trojans onto users' computers without their knowledge. Therefore, a good security solution capable of blocking them proactively is extremely helpful for users who, in most cases, cannot distinguish between 'good' and 'malicious' websites."
eBooks are in fifth place on the list (5.25 percent of occurrences), followed by P2P downloads and adult content. The ranking is closed by sites offering software programs, operating systems, browsers, videogames and antivirus software (all of them used in less than 3 percent of cases).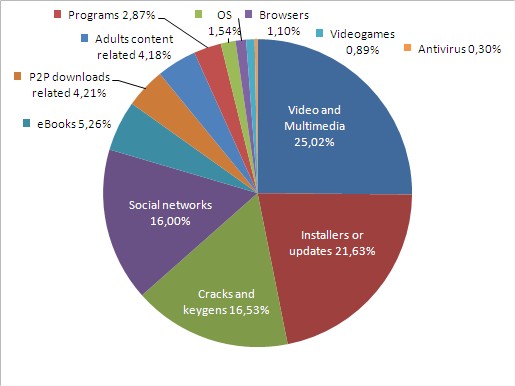 Most Blocked URLs in Q1
The three most blocked sites by Panda solutions in the first quarter of the year are three Brazilian Web pages, the first one referring to a video released by the Japanese consulate showing the rescue of a group of tsunami survivors.
The second site contains a video supposedly showing a short circuit causing the death of 15 people, and the third one supposedly contains footage of a police officer being fired because of his Internet activities.
"Attackers exploit hot topics and users' morbid curiosity" –explains Corrons. "Who is not interested in watching the latest footage of such a devastating natural disaster as Japan's recent earthquake?"
Popularity Ranking
The study shows user preferences in relation to the malware lures used. For example, if you take a look at P2P applications, you'll see that the most popular program is Ares, followed by Torrent and eMule.
As for social networks, Facebook is still the king, way ahead of Messenger, Tuenti and MySpace.
The most searched for operating system is Windows, followed by Mac and Linux. Finally, Explorer still dominates the Web browser market, with Firefox and Chrome trailing behind.
"There are no hidden secrets when it comes to finding out if a website is legitimate or not, and it is increasingly complicated for users to differentiate them. And even worse than becoming infected is the fact that you might not even know it if you don't have a good security solution installed."
Panda offers users Panda Cloud Antivirus, a free tool for them to get a 'second opinion' on the health status of their computers. Panda Cloud Antivirus scans your PC thoroughly even if you have other antivirus programs installed.
More information is available from the PandaLabs Blog.