Cybercrime trends are always changing. In the 30 years since Panda Security was founded, we've seen everything from computer viruses delivered from floppy disks, malicious attachments, Trojans and ransomware, to live hacking and fileless threats. In fact, paradoxically, evolution and change could be seen as the only constants in cybercrime. However, there is one other element that many of the most notorious cyberincindents of the last 30 years have had in common: vulnerabilities.
Vulnerabilities are a cybercriminal's best friend
Vulnerabilities in operating systems and applications are one of the most popular points of entry for cybercrime. In fact, according to one study, by the end of 2020, 99% of successfully exploited vulnerabilities will be known before the incident. Here, we're taking a look at some of the most important vulnerabilities of the last 30 years, and the incidents they have caused.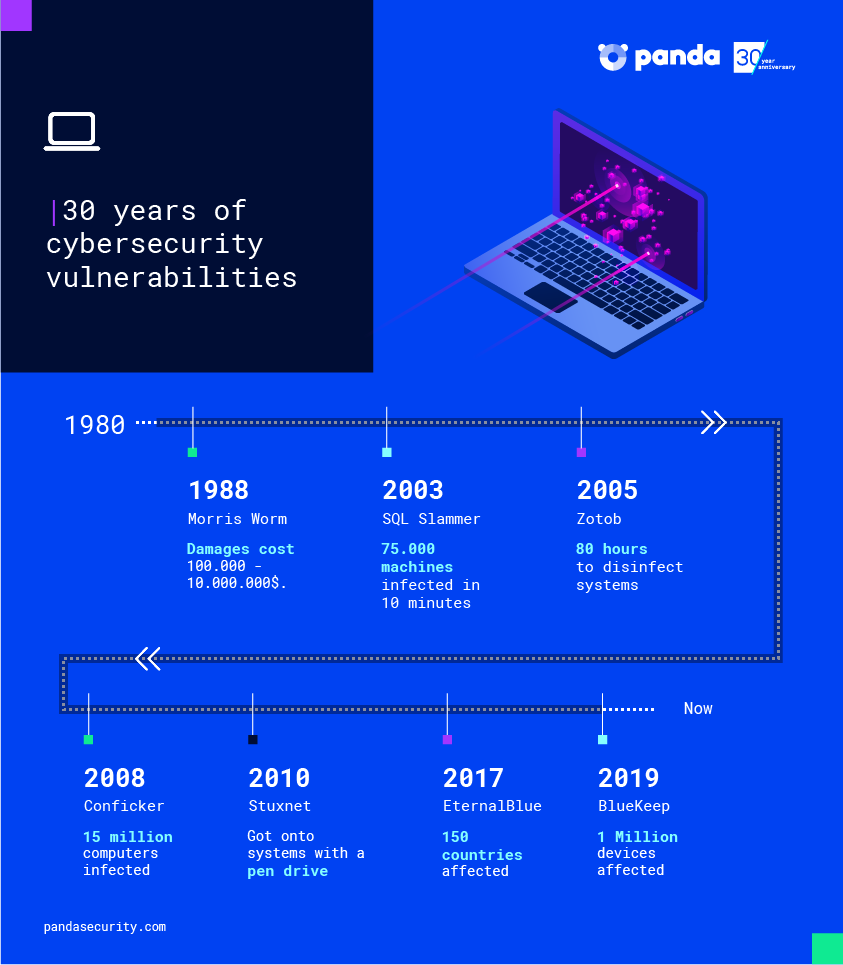 These vulnerabilities are just a few of the vulnerabilities that have had an impact over the years. However, every year, tens of thousands of new vulnerabilities are discovered that can pose a serious problem for the cybersecurity of small, medium, and large organizations. This is why Panda Security offers its clients specific solutions to fix vulnerabilities, as well as resources so that they can find out about the most important vulnerabilities. In Panda Security's 30 years of experience, we've seen thousands of vulnerabilities and thousands of cyberincidents caused by them. Another constant throughout all of these years is that all of our clients have always been protected.