It's no secret that people love social media. Whether it's Facebook which has over 2 billion active users as of October 2018, Instagram with its 1 billion users or LinkedIn with its 590 million users, each platform offers a unique place to interact with friends, family and sometimes strangers.
Although these platforms allow us to connect with others, they can also pose a threat if we aren't cautious. There are many scammers on these social media channels. Both individuals and businesses have lost over $100 billion due to internet fraud. In 2017, the Better Business Bureau reported 45,811 scams in the U.S., and in 2018 that number rose to 48,369 scams.
Scams might be common, but the techniques that scammers use can vary. To help you identify common scams on social media and prevent them from occurring, we have an infographic on 10 social media scams and how to spot them.
1. Lottery and Free Gift Card Scam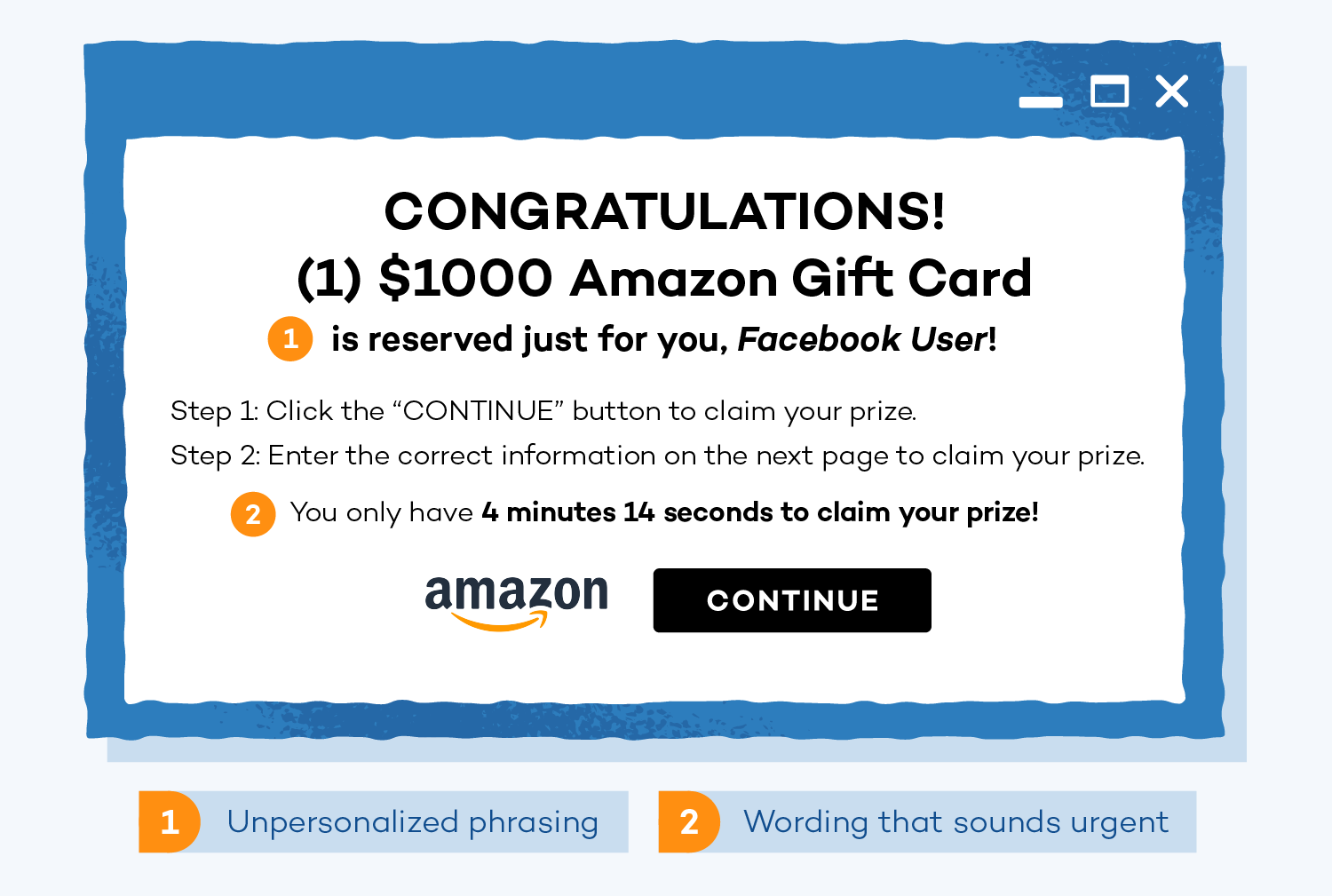 Oftentimes there are posts on social media claiming to give out free gift cards to popular stores like Starbucks, Target and the Cheesecake Factory or announcing that you've won the lottery. When you click on them, you're taken to a site that asks you to enter your information to claim your winnings. The information they ask for may vary. They could ask for your phone number to secretly charge you in data fees. A "lottery" post may require your banking information in order to wire you money, which they end up stealing from you instead.
Why it works:
Plays on people's desire for free money.
How to Spot a Lottery or Free Gift Card Scam
Remember that you can't win a lottery you never entered.

Be wary of giving sites your personal information, especially banking details.
2. Gossip Scam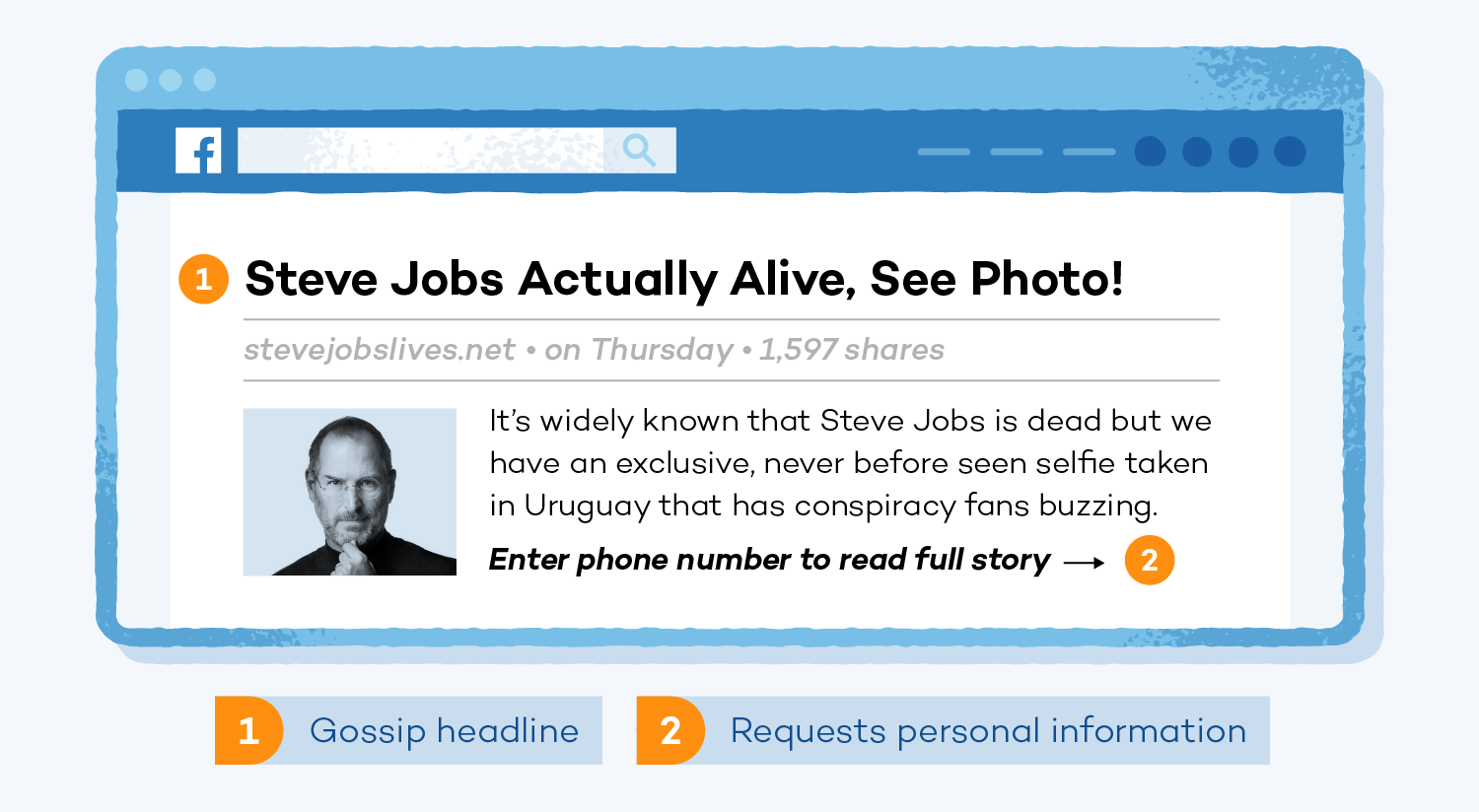 An ad like this might read, "Secret details about Michael Jackson's death!" This type of scam plays on people's fascination with celebrity news. When the person clicks, they are taken to a page that tells them to download the latest Adobe Flash. Instead of downloading this program, it is a bot Trojan or other malware.
Why it works:
Plays on people's curiosity.
How to Spot and Prevent a Gossip Scam
Be wary of gossip headlines and look at the source's URL.

If prompted to download Adobe Flash, download directly from the Adobe site rather than the page you were directed to.
3. Healthcare Scam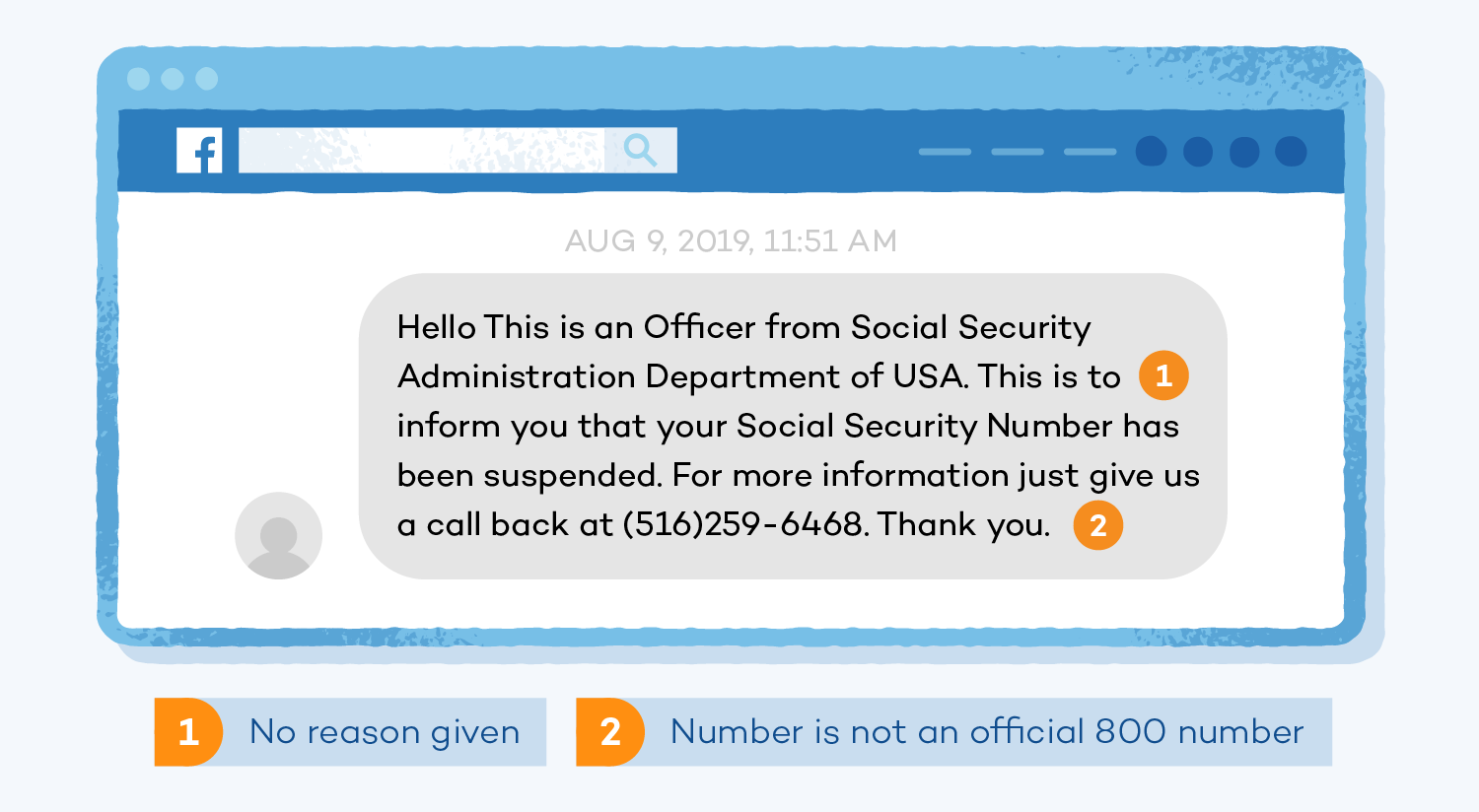 A popular form of this is false medicare or social security ads. These companies offer services such as a corrected social security card with the person's married name, a social security card to replace a lost card, a social security statement or a social security number for a child. These companies may have profiles that feature the Medicare logo to seem legitimate. They require a fee on offerings that someone can get from Social Security, free of charge.
Why it works:
Plays on people's healthcare needs.
How to Spot and Prevent a Healthcare Scam
4. Catfishing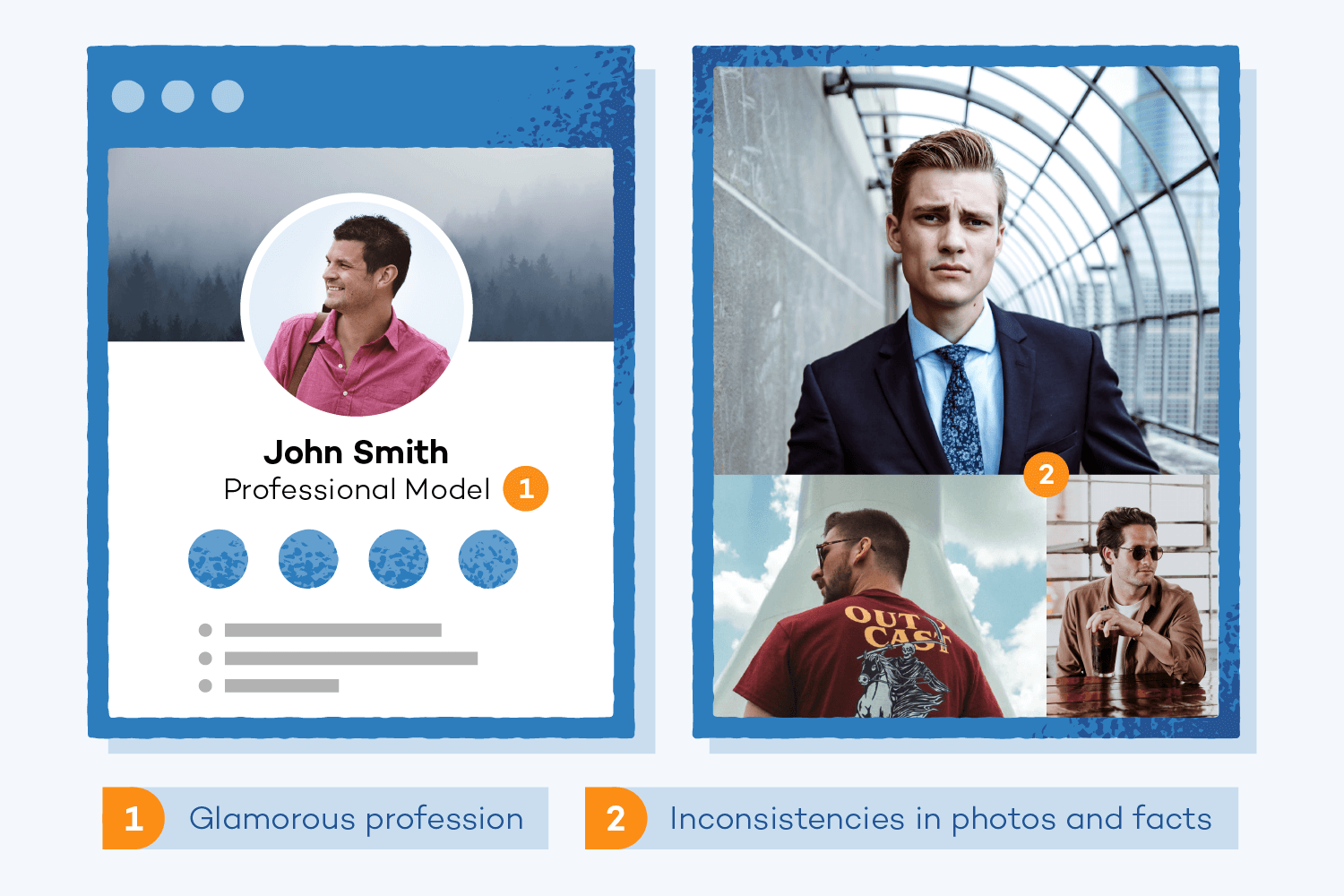 With an increase in social interaction online comes an increase in relationships that were built through social media. It's reported that 1 in 5 relationships begins online. By 2040, it's estimated that 70% of people will have met their significant other online.
Scammers have taken this as an opportunity to con people who are looking for love. Catfishing is a type of online harassment in which someone creates a fake identity online for the purpose of starting a relationship. They then use this relationship and trust to scam people out of money.
Why it works:
Plays on people's desire for love.
How to Spot Catfishing
The person is too good to be true or in a glamorous profession.

There are inconsistencies in the person's profile.

The person is in a rush to move the relationship along.

They won't meet you in person.
5. Photo of You Scam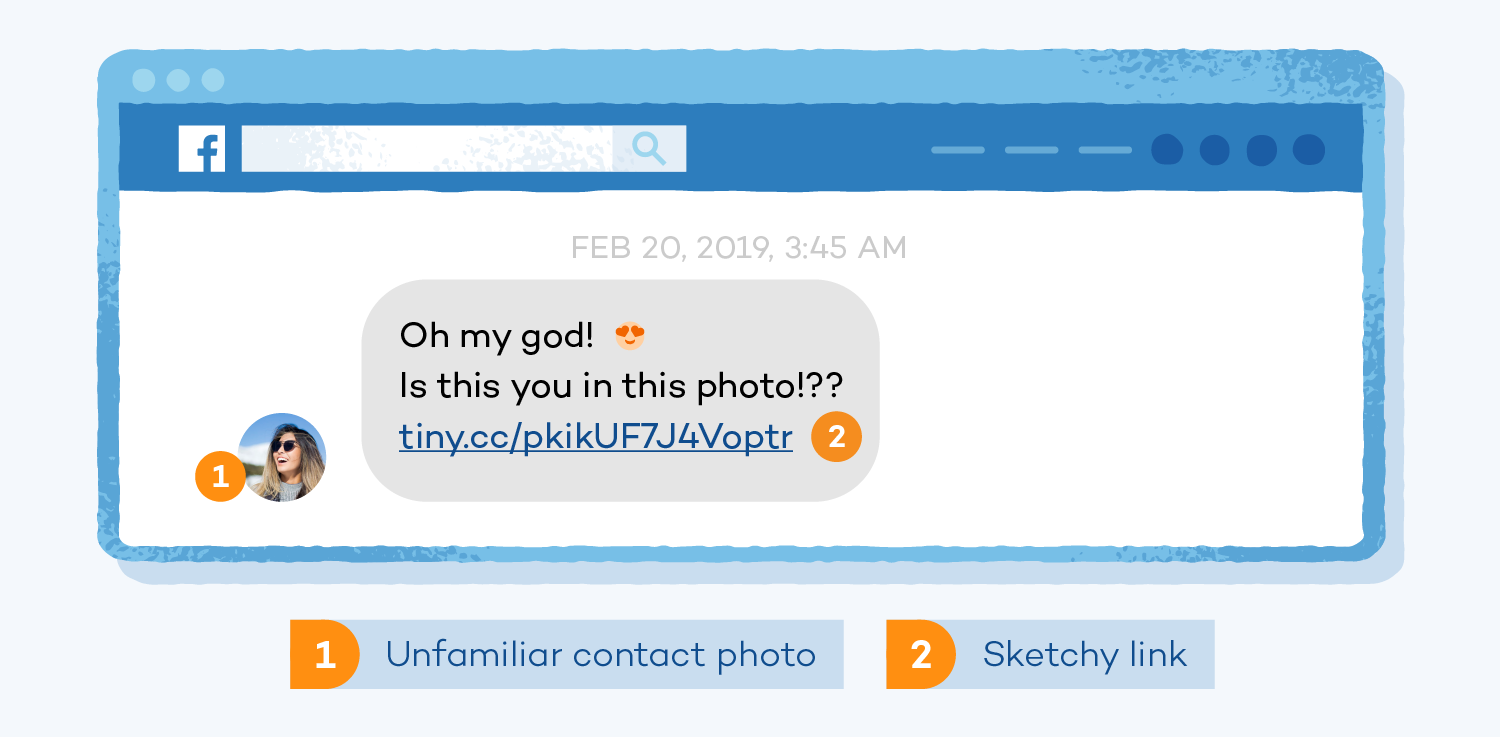 Although email phishing schemes are the most well-known, phishing schemes are often seen on social media too. People receive a message in their Facebook inbox or Twitter messages saying something like "Have you seen this photo of you??" or "Is what this blog is saying about you true?" The message then links to a page that looks identical to the social media site and prompts you to log in. In this way, they are able to gain access to your account and have your login credentials as well.
Why it works:
Plays on people's reputation.
How to Spot and Prevent a Photo of You Scam
Put your profile on private so that only your connections can message you.

Don't click on suspicious links.

When logging into social media, be sure the URL is correct.
6. Account Cancelled Scam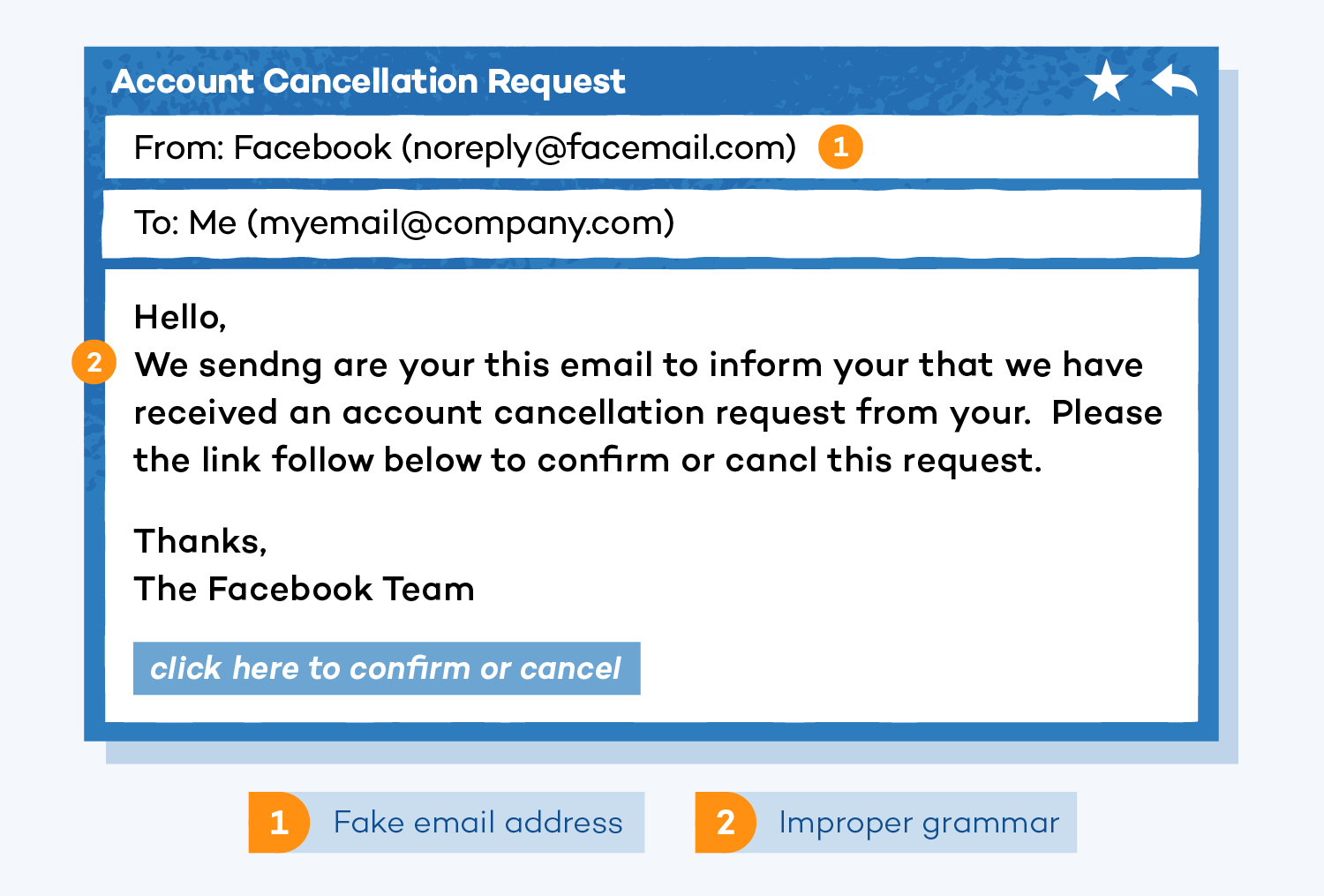 Another phishing scheme that has become common on Facebook is a message or email that claims to be from Facebook warning that your account will be disabled unless you take action. The scammer requests that you either send your account information to them or login via a link they provide. The scammer can then steal sensitive information or scam more people through your account.
Why it works:
Plays on people's addiction to social media.
How to Spot and Prevent an Account Cancellation Scam:
Don't trust any messages that claim to be an "official message from Facebook" unless they through the site itself.

Beware of requests that rush you to take action.

There should be no need for you to release your account details.
7. The 419 Scam or Nigerian Scam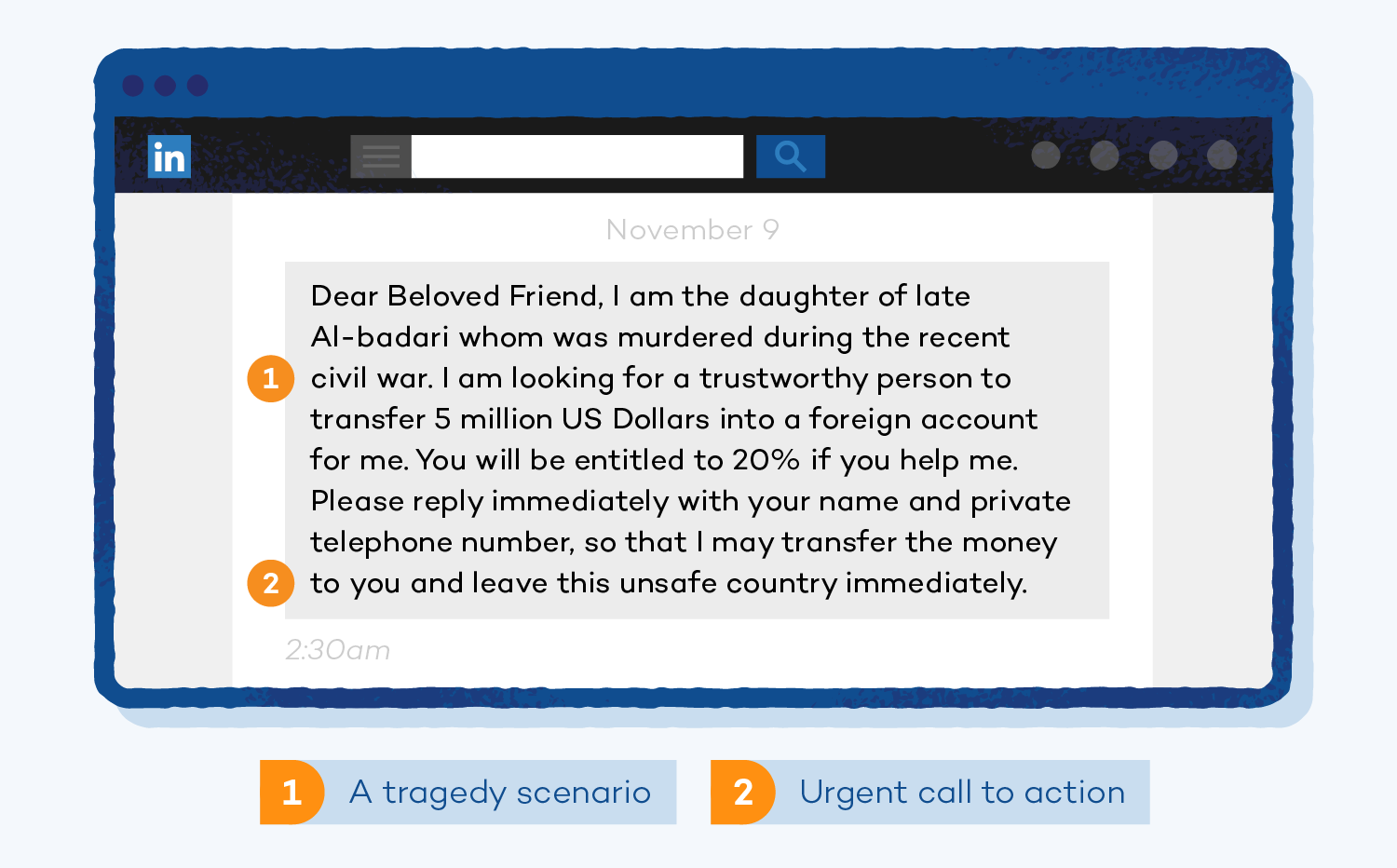 In this scam, someone abroad is offering you a share in a large sum of money for helping them transfer the money out of their country. To do this, they'll request your banking information or ask you to pay the fees, charges or taxes. This originated in Nigeria, but has been adopted by scammers all over the world.
Why it works:
Plays on people's desire for easy money.
How to Spot and Prevent a 419 Scam
If someone is offering you free money, it's usually too good to be true.

Keep your profile on private so that random people can't message you.

Never give you banking information to someone you've never met.
8. Stuck Abroad Scam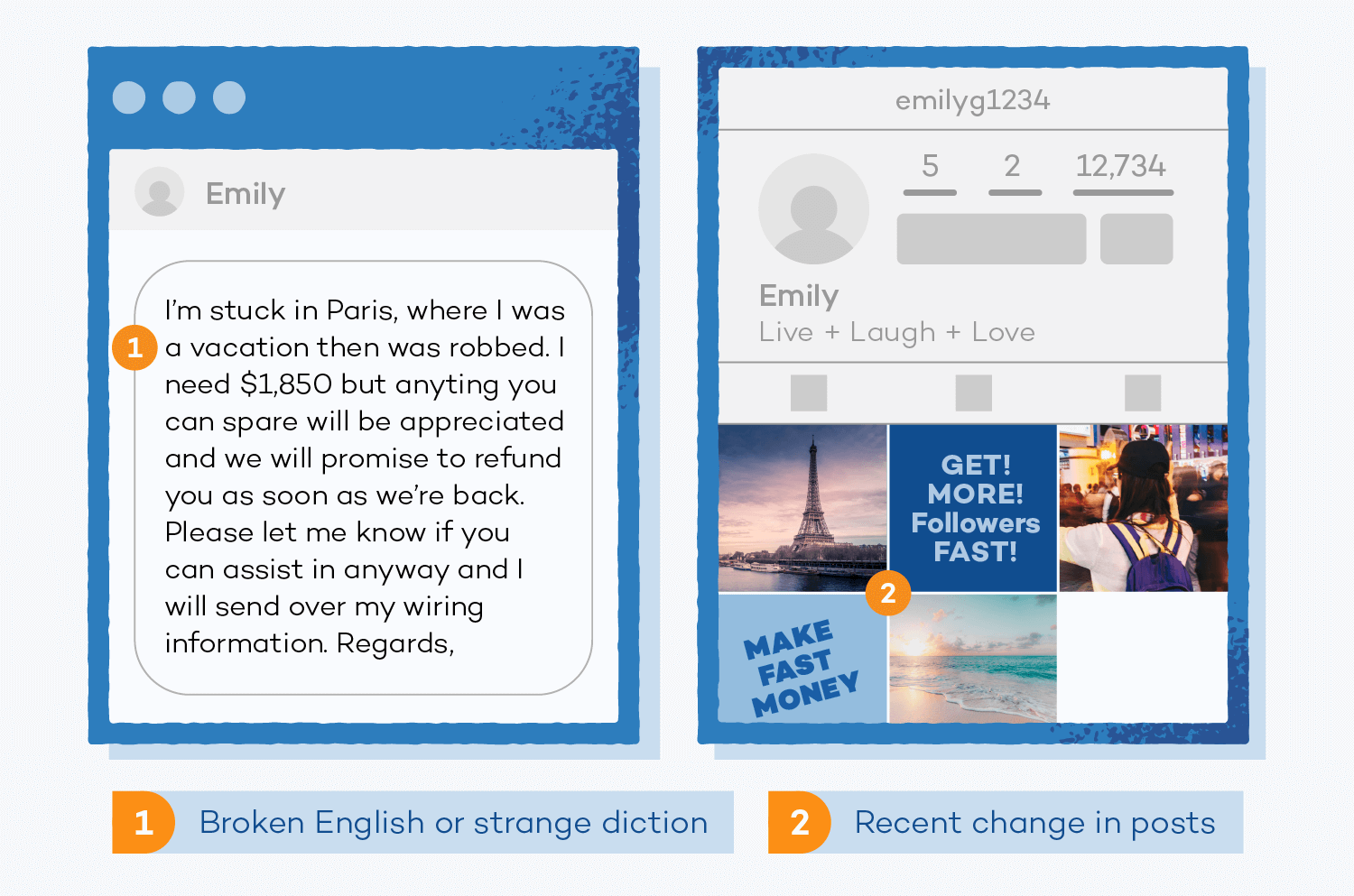 A friend or family member messages you saying, "I'm stuck in Paris and my wallet was stolen. Please send money!" This is a popular scam where someone hacks into the person's account or creates a profile to mimic them and asks you to wire money.
Why it works:
Plays on people's trust in relationships.
How to Spot and Prevent a Stuck Abroad Scam
If this situation occurs, verify it's actually the person you think it is via phone.

Never blindly wire anyone money.

Check to see if there is other suspicious activity on the person's feed.
9. IQ Scam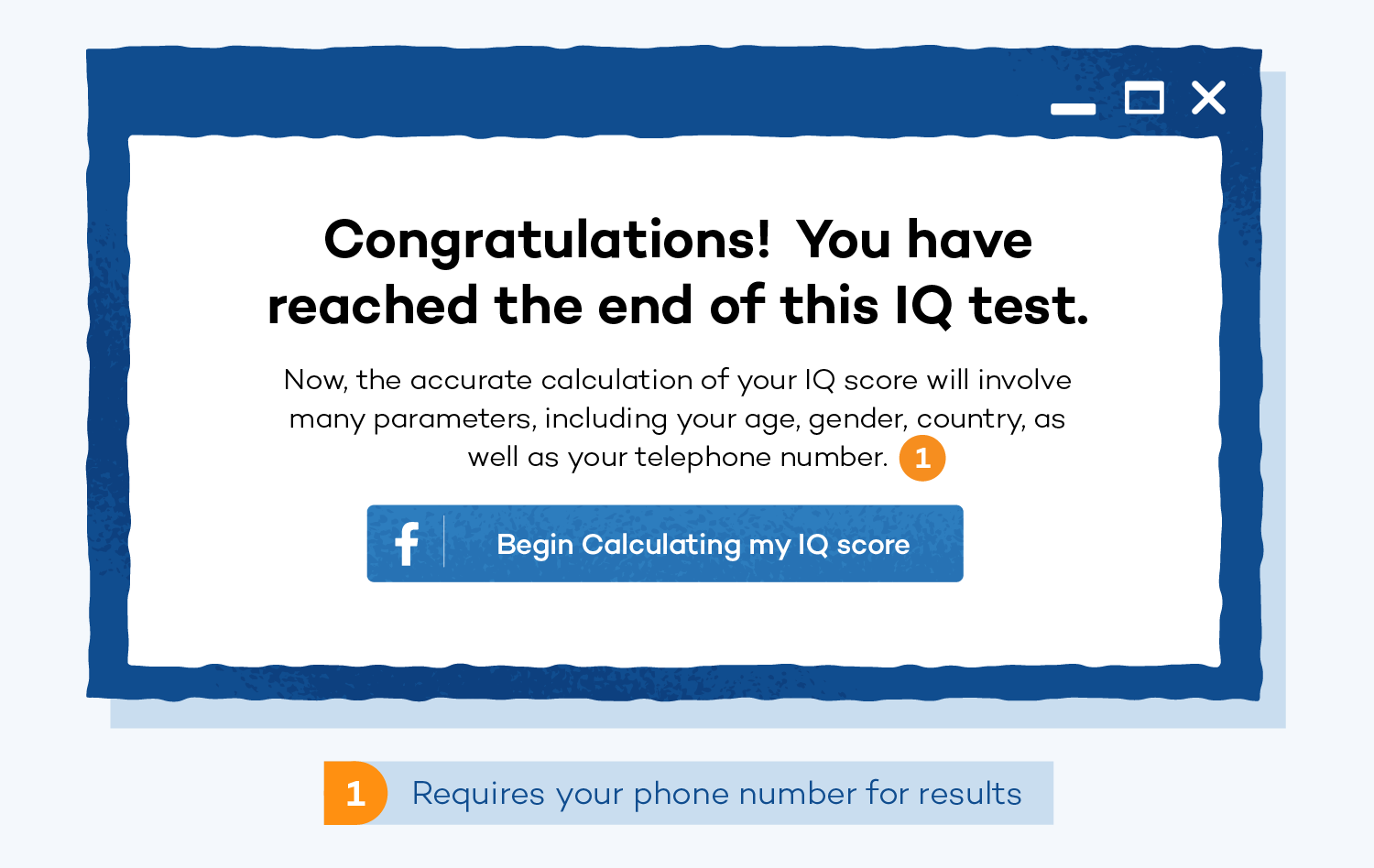 Many platforms, especially Facebook, have featured an application where you can test your IQ. Unfortunately, those who signed up were also subscribed to a text messaging service that was an extra $30 a month.
Why it works:
Plays on people's need to prove intelligence.
How to Spot an IQ scam
Be wary of the plug-ins or applications you use on Facebook. Many have full access to your profile information when used.

Don't give websites your number to receive quiz answers.
10. See Who Viewed Your Profile Scam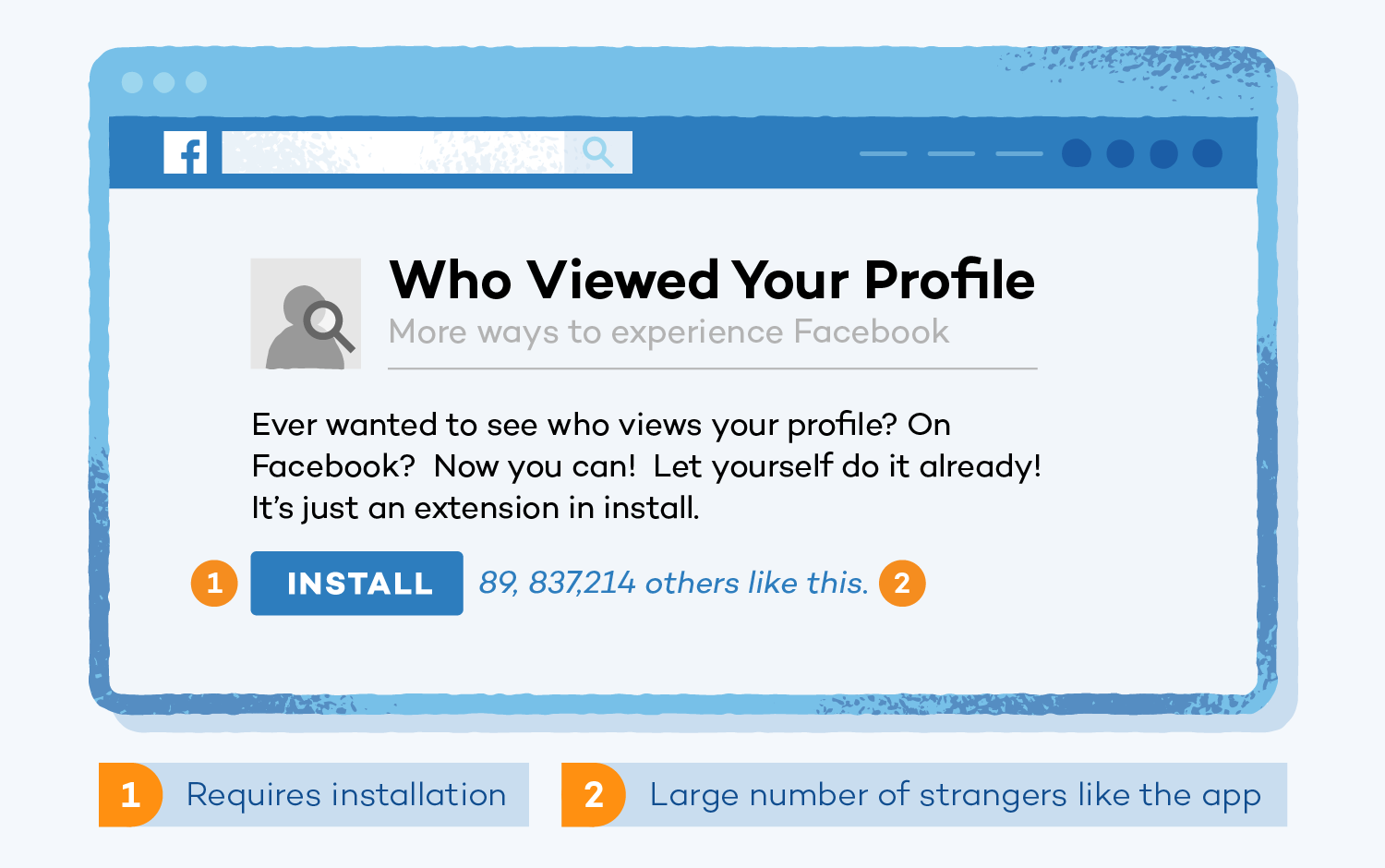 This scheme persuades a person to click on a link, where they are either directed to a fake login page to a survey that collects personal data which can be used against you or sold.
Why it works:
Plays on people's social standing.
How to Spot and Prevent a See Who Viewed Your Profile Scam
If redirected to a page, be sure the URL is legitimate.

Be cautious whenever you're prompted to enter sensitive information.
So much time is spent on social media that it's important to be aware of these potential scams. To ensure your information and identity are completely secure, try Panda Security's Identity Theft Protection which works to keep your personal details safe from hackers.

Sources:
ACCC I SSA.gov I Datafloq I CSO I Kent I Network World I Sprout Social I Kent.edu I The Street I Better Business Bureau I Psychology Today I Hootsuite I NY Times