File sharing is a critical part of any modern-day business — and with the growing shift toward remote work landscapes, organizations need to be able to share large files as quickly and securely as possible. Most of today's data is transferred with online tools, which is why choosing a secure file-sharing service is critical to avoid security threats and keep sensitive data protected. Read on to learn more about how to select the right file-sharing service for your organization.
What Is Secure File Sharing?
File sharing is the practice of sharing public or private computer files over a network. Depending on the access permissions, file sharing allows a select number of people to read, view or edit the file based on the level of authority the file sharer has provided. File-sharing services typically allocate a certain amount of file storage per user per account.
What Are the Risks and Advantages of File Sharing?
File sharing is a necessary component of any business that allows for efficiency in data syncing and collaboration across teams. However, it's important to be aware of the security threats tied to any type of file sharing.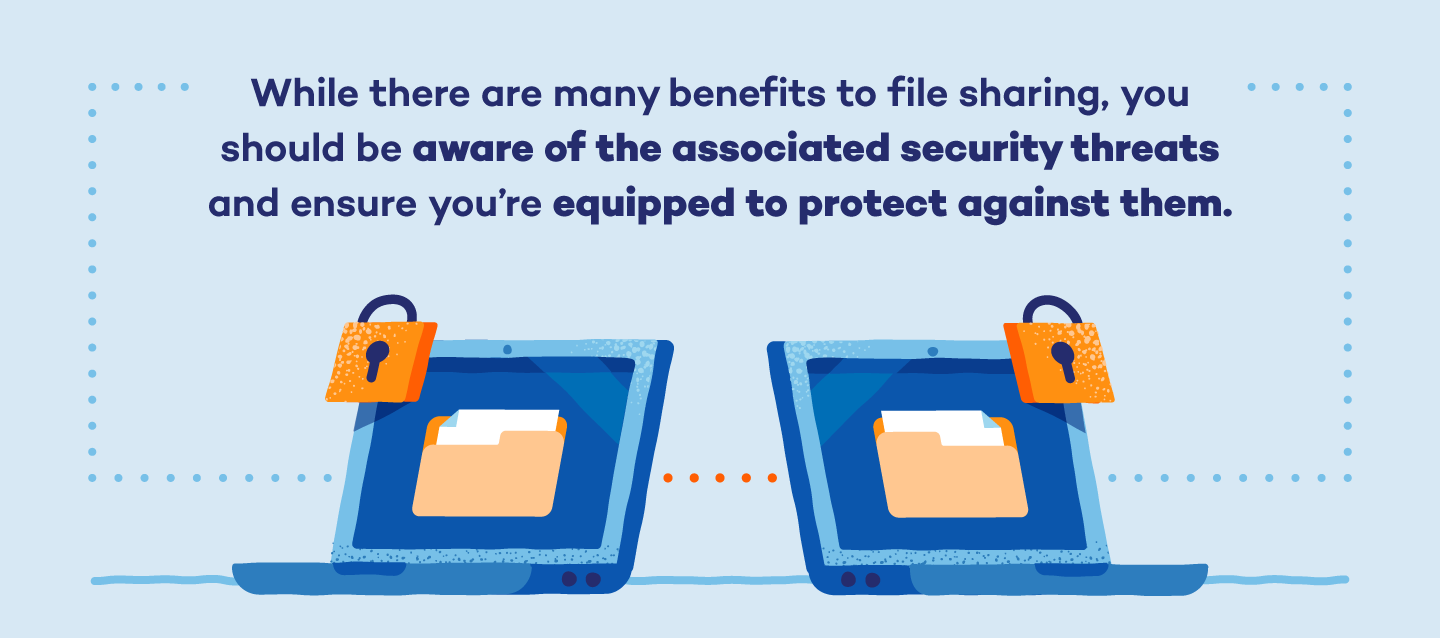 Risks:
Exposure of sensitive data: One of the greatest risks involved with file sharing is the potential for sensitive data to be exposed, whether accidentally or intentionally by an internal bad actor. If employees lack proper cybersecurity education or organizational security policies aren't in place, the risk for a data breach is far higher.
Vulnerability to cyberattacks: Some file-sharing services request that you bypass firewalls in order to upload or download files, which opens the door for attackers to prey.
Downloading malicious software: If a malicious file is planted in your file-sharing service, an employee could unintentionally open or download the file and expose your system to malware, spyware or any other threatening software.
Advantages:
Increased efficiency: A file-sharing service is an excellent efficiency tool because it allows teams to quickly access important files and data whenever they need it.
Centralizes files for consistency: Instead of navigating between multiple versions of a single file with the same information, a file-sharing service allows you to condense these files into the most up-to-date version and reduce file clutter.
Protects against data loss: Many file-sharing services make it easy to keep all of your data updated and backed up in real time, mitigating the impact of a potential computer crash or data breach.
Types of File Sharing
There are a variety of different types of file sharing, and the method you choose will depend on the types of files you're sharing and who you're sending them to. Here are some of the most common methods of storing and distributing files online.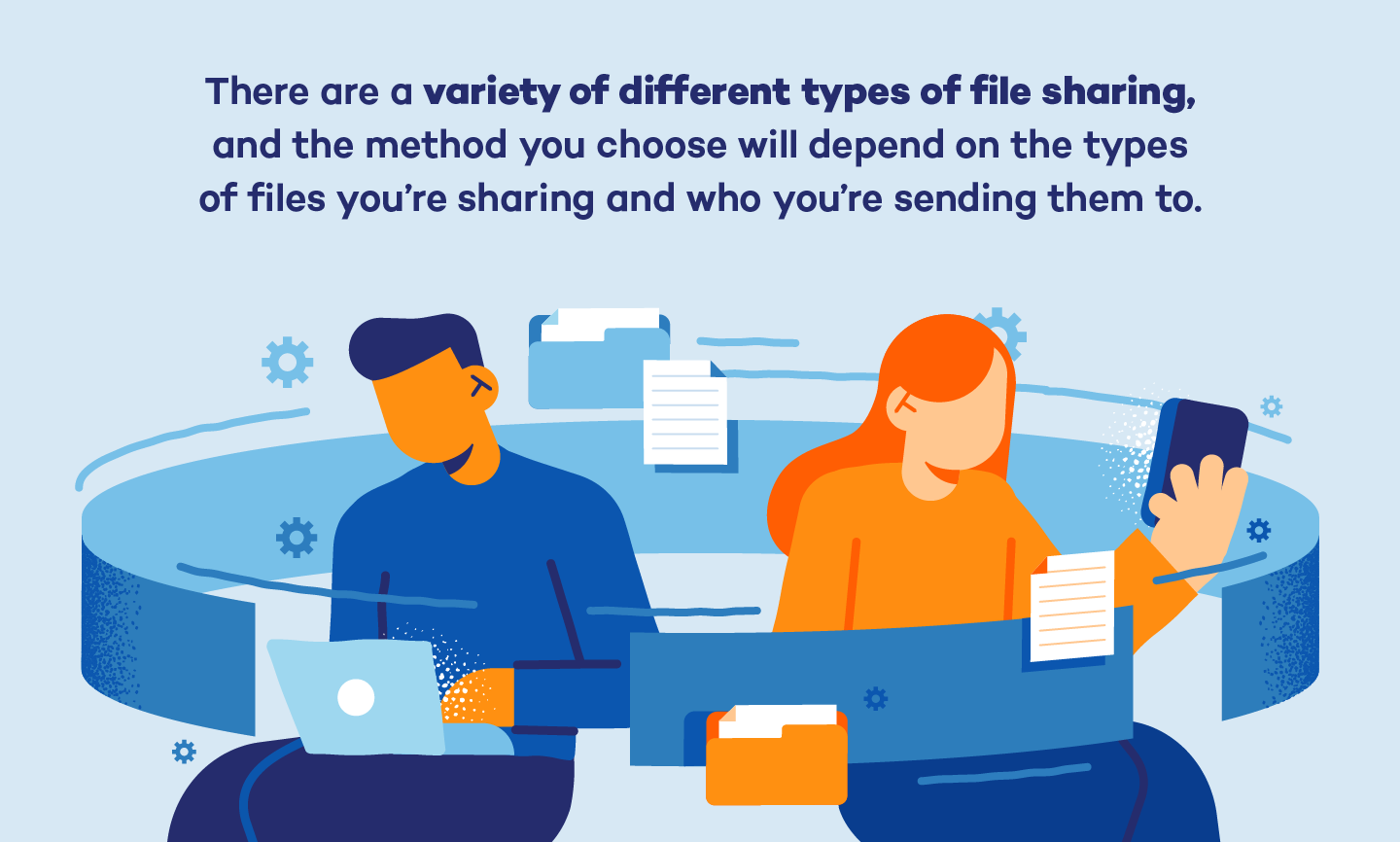 File Transfer Protocol (FTP)
The most common file transfer system on the internet to date is known as a File Transfer Protocol (FTP). FTP is a networking protocol used to send files between two computers, with one of them acting as a server. FTP allows users to gain access to files or programs shared from an FTP server site with the use of a password. Many FTP sites offer public file sharing or allow users to view or download files using a public password.
Best for: Large files or unusual file types
Example programs: Cyberduck, Firefox
Peer-to-Peer (P2P)
Peer-to-Peer (P2P) file sharing uses a software program (rather than your web browser) to transfer files without the need for a central server. The individual users in this type of network are known as peers — each peer is an end user's computer, which connects to another peer where the files are located and can then be shared via the internet.
Best for: Sharing files between small groups of people; sharing media files like photos, books or movies
Example programs: Instant messaging services like Skype
Cloud Services
With a cloud sharing service, files are stored on an online repository. When a user uploads their data to the online repository or platform, a unique URL is generated. When the file owner shares this URL with other users, it grants them access to download and share the files within the same platform.
Best for: Quickly sharing files, creating backups of data
Example programs: Dropbox, OneDrive, iCloud
Email Providers
Even if you're unfamiliar with different types of file sharing, you've likely already utilized file sharing via email providers. Anytime you attach a file or document to a message, you're transferring data across the open internet.
Best for: Small files, one-off file sharing
Example programs: Gmail, Outlook, Yahoo Mail
Removable Storage
Removable storage uses a physical or external hard drive to transfer files. It involves copying data to a USB flash drive or another external storage device, which the end user plugs into their computer to retrieve the information.
Best for: Extremely large files or sensitive data
Example programs: USB sticks, external hard drives, CDs
How to Choose the Best Service
Once you've narrowed down the type of file-sharing service that suits your needs, you'll need to select an individual service or product. With so many options available, it's helpful to hone in on the specific features that are most important to you in a file-sharing service. Here are some considerations to help you decide on the right solution. 
Security: The level of security needed in a file-sharing service will vary depending on your business and the sensitivity of the data being shared. Carefully review how each service secures information and decide whether or not it's robust enough to fit your needs.
Compatibility: Be sure to research what types of devices and operating systems a service is functional with to ensure compatibility with the systems your company uses.
Limitations: Before investing in a file-sharing service, take note of any restrictions in place that limit the number of files shared or how much data can be stored.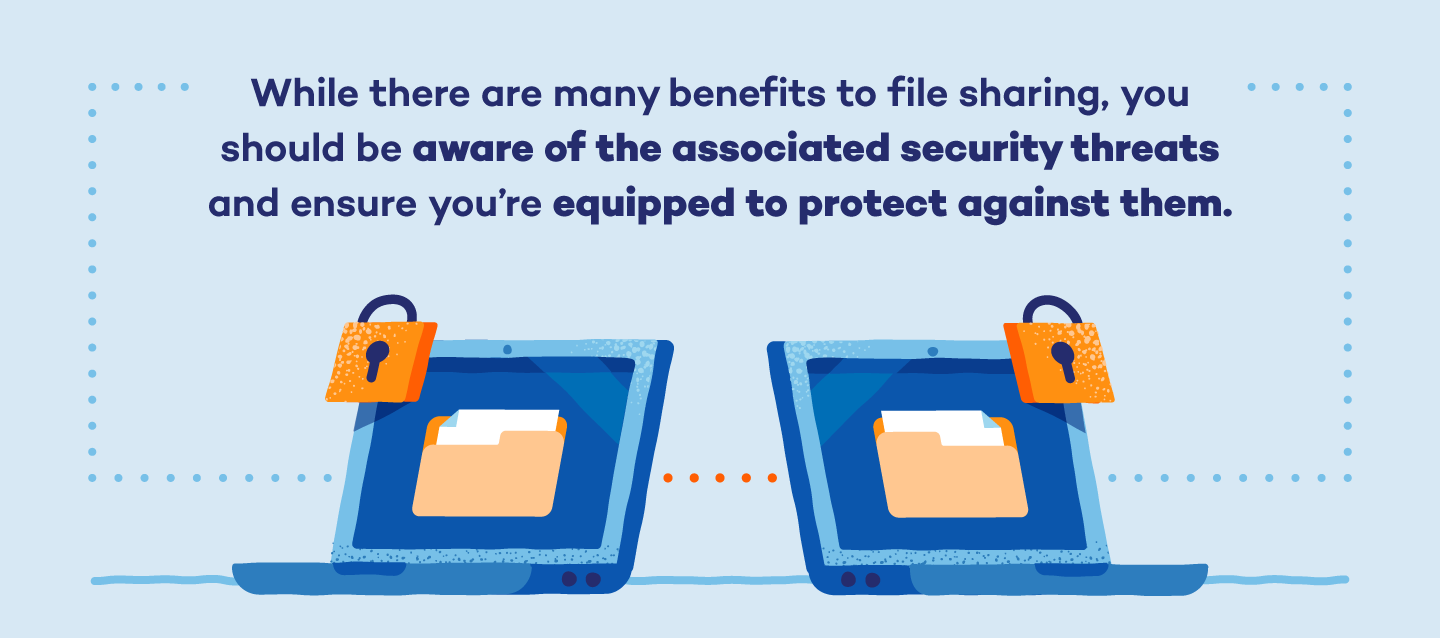 13 Best File-Sharing Services
While the specific service you choose will depend on your organization's unique needs, our roundup of the best file-sharing services is a great place to start.
1. Box
Box is a cloud-based sharing service geared toward businesses and enterprises. It allows organizations to centralize their data and collaborate with other connected users. Users may invite others to view or edit shared files, or users may upload files to a shared folder which other users have access to view. Box has a thorough range of paid enterprise plans, as well as a free option for individual users.
Pros: Smooth integration for enterprise security infrastructures, encryption key management, advanced security controls
Cons: Lower-tier plans have limited functionality
2. Dropbox
Dropbox is a popular file hosting service that includes cloud storage, file synchronization and personal and professional cloud software solutions. Users are able to create file folders within the Dropbox server, which are then synced across all connected users' devices for easy retrieval. Dropbox Basic offers two gigabytes of free storage space, while Dropbox Plus offers one terabyte.
Pros: Automatic encryption, allows file sharing with users who don't have a Dropbox account
Cons: Free plan (Dropbox Basic) has limited storage space
3. Egnyte
Egnyte is a cross-platform service that offers a hybrid of cloud and local storage. It's geared toward businesses seeking advanced security features for files shared within or outside the organization. Files are transferred using Advanced Encryption Standard (AES), rendering any compromised data useless in the event of a data breach.
Pros: Automatically syncs file changes across all copies, extra data backups of files are saved automatically, advanced encryption and security standards
Cons: More complex than other services
4. Google Drive
As one of the first big players in cloud-based collaboration and file sharing, Google Drive is a reliable file-sharing service for both personal and business use. Google Drive allows users to store files and synchronize digital content across all connected devices, and also offers a suite of browser-based tools (Google Docs, Google Slides and Google Sheets). All data shared on Google Drive is encrypted with the TLS standard — the same standard used to encrypt connections between web pages across the internet.
Pros: Simple interface, 15 gigabytes free for new users
Cons: Google account is required for collaboration features
5. iCloud Drive
iCloud Drive is a cloud storage service that integrates with Apple operating systems. iCloud Drive's file syncing and storage capabilities are useful if you're already working within the Apple ecosystem, and iCloud comes already installed on new Mac computers and iOS devices for easy syncing.
Pros: Seamless integration across all Apple and iCloud products
Cons: Integration with Windows is lacking, limited support for enterprise users
6. MediaFire
MediaFire is a smaller player in the cloud-based storage landscape that's seen steady growth over the years. It's aimed toward users in need of a simple file-sharing solution without any complicated or advanced features.
Pros: Unlimited bandwidth, fast downloads for extra large files
Cons: Limited collaboration functionality, on-screen ads visible in basic plan
7. Microsoft OneDrive
With Microsoft's steady movement toward cloud-based operating systems, OneDrive has become a staple in the latest Windows systems. Once a user's Microsoft account is authenticated, data can be synced across multiple folders within an organization. Users are allotted free storage space up to five gigabytes, or 50 gigabytes at $1.99 a month. OneDrive is the easiest option for Windows users and Office 365 users.
Pros: Seamless integration with Microsoft Office products
Cons: Not compatible with Mac operating systems
8. SecureDocs
SecureDocs provides secure file sharing for organizations who are managing mergers and acquisitions. With a flat monthly pricing model, SecureDocs allows an unlimited number of users to work within the system.
Pros: Flat-rate price model, provides unlimited user accounts
Cons: Complex permissions configurations
9. SugarSync
SugarSync is a cloud-based file-sharing platform that works for both Mac or Windows operating systems. Like Egnyte, SugarSync performs secure file sharing via AES encryption. Users can set permissions for how much access is given to recipients of shared files, and it allows users to share files without providing direct access to your account. Within organizations, shared folders can be accessed from anywhere, and files can easily be shared with clients or other outside recipients with the use of a public link for specific files.
Pros: Sensitive data can be remotely wiped from devices in the event of a data breach, easy file restoration
Cons: Only offers paid plans
10. WeTransfer
WeTransfer is a simple and straightforward file-sharing service that doesn't require you to sign up for a service if you don't want to. WeTransfer allows you to share one or multiple files with the use of a custom link. If you do choose to create an account, a Pro account costs $12 a month and offers additional features such as creating password-protected download links and a 20-gigabyte file limit rather than the two-gigabyte limit for free users.
Pros: Simplified one-time file transfers, no account required
Cons: Limit of two gigabytes of data for free users, lacks security features
11. Resilio
Resilio transfers files using the BitTorrent protocol, which offers increased transfer times and peer-to-peer communication capabilities. This means that instead of sharing files using a cloud service, they can be shared in real time between two devices as long as they're both online. BitTorrent also makes it easy to share large files. Resilio offers a variety of one-time payment tiers with no file storage limit.
Pros: Enhanced file sharing via BitTorrent, great for sharing large files
Cons: File sharing limited to paid users
12. Tresorit
Tresorit stands out thanks to its advanced file-sharing capabilities while remaining a free platform to use. It offers a number of security features, including end-to-end encryption, GDPR compliance and password protection, and users can share up to five gigabytes in files.
Pros: Offers more control over your files after sharing them, reliable security protections
Cons: Five-gigabyte data limit
13. pCloud
pCloud is a cloud storage platform that provides added security thanks to end-to-end encryption added to all backed-up files. There's no limit to the size of files you can share, making it easy to share large files. pCloud supports a wide range of devices including Android, Linux, iOS and Windows, making it accessible to a variety of users or organizations regardless of the operating system in place.
Pros: Supports a wide range of devices
Cons: Encryption feature requires additional fee
An organization's data is arguably one of the most important assets they own, and finding a reliable way to share, sync and save sensitive data is critical to smooth and secure business operations. While some services are more secure than others, it's wise to ensure you have a solid antivirus software in place to safeguard your data.