Today we're going to talk about a rogueware program. To be honest, we're fed up with seeing these programs everyday, because it's always the same stuff, the same interfaces, the same icons, the same behaviour…and just another name.
As you know, these programs try to deceive you passing themselves off as real antivirus programs which will protect and disinfect your computer. Nothing further from the truth.
Nevertheless, we feel obliged to inform you and warn you of these programs, because we don't want you to fall into the trap.
Recently, we've found a new rogueware which uses a very similar name to Microsoft's free antimalware protection: Security Essentials.
Actually, this rogueware program is called Security essentials 2010. The name's choice is not accidental, but carefully thought-out. It just wants to gain your trust and make you think that your computer is really infected and that it will remove the threats detected in your computer.
The following image belongs to the interface of the program: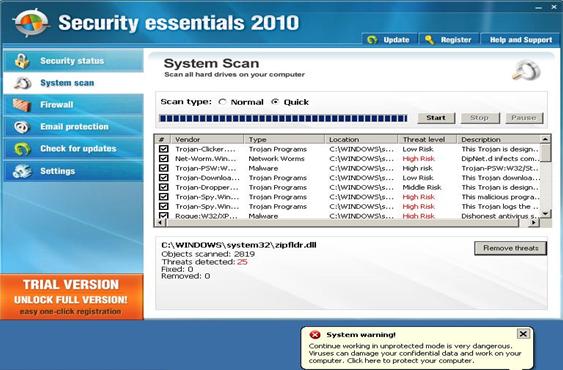 As the other rogueware programs, it carries out a system scan and warns you that your computer is infected and that you should install a removal tool to disinfect it.
If you want to get more information about this rogueware, you can check it in the following link:
https://www.pandasecurity.com/homeusers/security-info/218061/SecurityEssentials2010