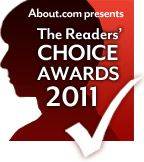 Mary Landesman and the editors of antivirus.about.com recently launched the "Reader's Choice Awards 2011" for favorite antivirus by the community.
The first step is a call for nominations. Help us promote Panda Cloud Antivirus by nominating it under the "Best Free Antivirus" category.
Follow this link to nominate Panda:
http://antivirus.about.com/library/bl-readers-choice-awards-2011.htm?nl=1
Make sure you submit your nomination by February 4th as that is the deadline.