Since its launch in 2007, Panda Security's system for automatically scanning, detecting, classifying and disinfecting malware has processed more than 200 million individual files
According to Collective Intelligence, 24.2 percent of all existing malware has been created in the first nine months of 2011
There are approximately 82 million malware samples in circulation today. By the end of 2010, the total number of malware strains reached 62 million
Collective Intelligence backend servers, the engine of Panda Security's cloud security solutions, have reached 200 million files processed. Collective Intelligence is Panda's exclusive technology that automatically detects, scans, classifies and disinfects 99.4 percent of all new malware received every day at PandaLabs. The system has now processed over 200 million files since its launch, 40 percent of which were malware.
Between January and September this year, this system has processed 19.9 million new malware specimens (including new threats and variants of existing families), the same amount as in the first ten months of 2010. Panda Security's database currently stores 81.9 million malware samples, 24.2 percent of which have been created in the first nine months of 2011. These figures show cyber-criminals' capacity to automate the creation of new malware variants. The average number of new threats created and released every day has risen from 63,000 to 73,000. The company's expert technical team manually processes the 0.6 percent of files received that cannot be determined automatically.
Collective Intelligence, Panda Security's pioneering cloud-based technology, allows the company to offer cloud-based solutions to home users and companies alike. This internationally acclaimed protection model offers all users a series of key benefits: investment costs reduced by 50 percent, reduced local server and desktop resource consumption and greater overall protection in real time.
Thanks to this system, Panda Security was the first company to bring cloud-based solutions to the market:
Panda ActiveScan, scanning from the cloud since 2007.
For home users, cloud scanning was implemented in the 2008 consumer solutions, and in the first antivirus designed specifically to protect from the cloud, Panda Cloud Antivirus (www.cloudantivirus.com) in April 2009.
For businesses, cloud-based scanning was offered through Panda Cloud Protection in November 2009, delivering protection for email, servers and desktops. These services include Panda Cloud Office Protection, Panda Cloud Email Protection and Panda Cloud Internet Protection. Additionally, all the solutions can be delivered through the SaaS (Security-as-a-Service) model.
Millions of users now benefit from Collective Intelligence
Since its launch, millions of users around the world have experienced the benefits that Collective Intelligence delivers. With the increased detection capacity of Collective Intelligence, and due to ever-increasing cyber-criminal activity, the system has detected that 43.10 percent of computers scanned were infected with active or latent malware.
The ranking of the top countries with the most infections is led by China (62.6), followed by Taiwan (53.75) and Turkey (50.6), well above the world average (43.10 percent). The graph below shows the 20 countries with the highest rates of malware infection in the first nine months of 2011: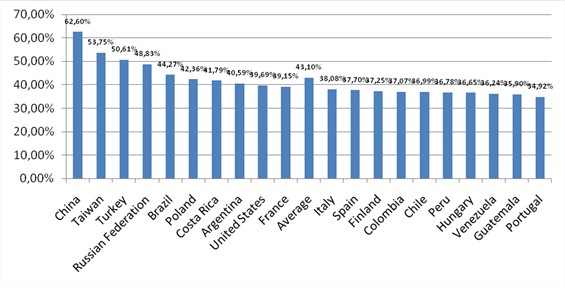 | | |
| --- | --- |
| Country | % |
| China | 62.60% |
| Taiwan | 53.75% |
| Turkey | 50.61% |
| Russian Federation | 48.83% |
| Brazil | 44.27% |
| Poland | 42.36% |
| Costa Rica | 41.79% |
| Argentina | 40.59% |
| United States | 39.69% |
| France | 39.15% |
| Average | 43.10% |
| Italy | 38.08% |
| Spain | 37.70% |
| Finland | 37.25% |
| Colombia | 37.07% |
| Chile | 36.99% |
| Peru | 36.78% |
| Hungary | 36.65% |
| Venezuela | 36.24% |
| Guatemala | 35.90% |
| Portugal | 34.92% |
On the other end of the spectrum, Sweden garnered the lowest detection rate (23.35 percent), followed by Switzerland (28.9 percent), Norway (29.67 percent) and Germany (30.88 percent). The graph below shows the countries with the lowest infection rates. It is interesting to note that all of them are European nations with the exception of Japan and Australia: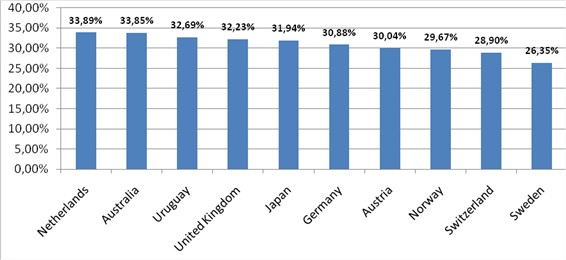 As for malware distribution by type between January and September 2011, Trojans again have accounted for most new threats (73.47 percent), followed by viruses and worms. The 'Other' category includes items detected as dialers, hacking tools, jokes, PUPs, security risks and tracking cookies.