The study, conducted among consumers in Spain, evaluates the top 500 businesses in the country
Panda Security won the 'Best eCommerce Software' award, 89 points ahead of second-place Softonic software download portal
Panda Security, The Cloud Security Company, today announced that it has won top honors in the Best Customer Experience Awards 2012 in the category of eCommerce Software. Sponsored by the Best Customer Experience Institute, these awards celebrate the best in quality, customer service and buying experience. This is the first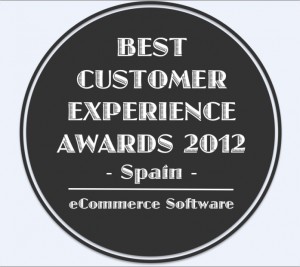 edition of these awards, which let over 2,000 consumers in Spain select the top 500 companies in the country, in 85 different categories.
The Best Customer Experience Awards 2012 are the result of rigorous market research which evaluated the customer service of the companies selected. Panda Security won the award for Best eCommerce Software with a total score of 723 points, 44.5 points more than the average result.
"We are delighted to receive this prestigious award that comes from the consumer community. It is a reward to our effort in giving our best to increase customer satisfaction," explained Enrique Aguilera, VP Consumer Sales and Marketing at Panda Security. "At Panda Security we are totally committed to providing the best service to our customers, as all our products are designed to offer maximum security and peace of mind."
Panda was the winner in the eCommerce Software category, 89 points ahead of second-place Softonic software download portal. The award recognizes the company's innovative customer service and commitment to customer satisfaction.
The study, which was conducted in various countries, consisted of online and face-to-face surveys of more than 2,000 consumers who selected the 500 companies with the best customer experience.
This list was subsequently divided into 85 business categories, whereas 250 multichannel tests were conducted on each of the 500 companies in order to recognize the best company in each category. The research used the following techniques: Mystery Shopping at the point of sale, Mystery Calling for telephone sales, Mystery eMailing for email and interactive sales channels, Usability Tests for websites and social networks, and a Satisfaction Survey on a sample group of customers. Finally, a ranking was drawn up with the winners in each category.
For more information about the Best Customer Experience Awards 2012, please visit:
www.bestcustomerexperienceawards.com/pressroom
About Best Customer Experience Institute
Best Customer Experience Institute is dedicated to the research, development and dissemination of customer experience best practices in all industries and channels.
They conduct periodical research with the most innovative methodologies and in the most rigorous manner in various countries in the world (Spain, Portugal, France, Germany, UK, USA, India, China, Italy, Middle East), recognizing industry leaders in customer experience.
They ask, evaluate, and draw conclusions that later they try to disseminate through the media, social networking sites, webinars and physical events throughout the year.
Finally, they award companies with the best customer service, helping them capitalize on their good work and communicate it to their stakeholders freely.