Panda Security, The Cloud Security Company, has announced today the launch of PandaIT S.O.S., an international contest where participants can share all those hilarious or utterly bizarre moments that most IT professionals have lived at one point or another when dealing with user problems. The prize, the new iPad, will be awarded to the story with the most votes on the website set up for the contest, which will run from September 10 until October 31.
Participation in the contest will be via www.pandasos.com or Twitter with the hashtag #PandaIT_SOS. All phrases and stories, even those submitted via Twitter, will be posted on the contest site and will be subject to voting by registered users. The story or phrase with the most votes at the time of closing will win the new Apple iPad (16GB, Wi-Fi).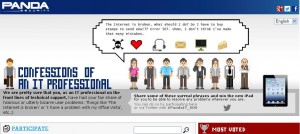 How the Contest Works
The contest is very simple. Participants simply have to enter their email address or Twitter account at www.pandasos.com and post any funny or weird stories related to their work assisting users who are having problems with software, computers or peripherals. Some examples are:
My computer screen shows Error 507 but I don't think I've made that many mistakes.
Do I have to buy stamps to send email?
I have entered asterisk, dot, asterisk, but nothing happens… Wait, does asterisk end with a k or a c?
The cup holder on my PC is broken… What should I do?
All stories posted on the website or sent via Twitter will appear at www.pandasos.com and will be subject to voting by users. Participants will receive a link to their stories so that they can send them to their contacts and receive more votes through social networking sites like Facebook, Twitter, Google+, etc.
These hilarious, but true situations are part of the everyday lives of IT technicians, along with other not-so-fun incidents. To help IT professionals resolve and even prevent these problems, Panda Security offers participants the new Panda Cloud Systems Management, a remote management and monitoring solution designed to manage, monitor and support all types of IT devices. All contest participants and users who vote for their favorite story will receive a free product trial.
Panda Cloud Systems Management lets administrators manage all their IT resources simply and remotely, reducing costs and anticipating problems before they occur.
For more information about Panda Cloud Systems Management, please visit http://it-systemsmanagement.pandasecurity.com/ and http://systemsmanagement.pandasecurity.com/