Panda Security is launching Endpoint Protection 7.20, the cross-platform solution that offers businesses the best protection delivered from the cloud rapidly, simply and efficiently. This product represents the new version of Panda Cloud Office Protection (PCOP) and Panda Cloud Office Protection Advanced (PCOPA), now called Endpoint Protection and Endpoint Protection Plus respectively. Both versions include security for Android with antivirus protection.
New protection for Android systems
The new version of Endpoint Protection now includes an important new feature: protection for Android systems. "Attacks on smartphones, and especially those running Android, are set to reach new levels. Not only will they increase, they will also become more complex, and they will all have a common target: to steal users' personal data", warns Roberto Fernández, Product Manager at Panda Security.
"We are increasingly storing more and more data on smartphones, and cyber-criminals will do anything to get hold of this information. All indications are that in 2015 these threats will grow exponentially, as will the number of victims, and as such it will be essential for users to have antivirus protection", adds Fernández.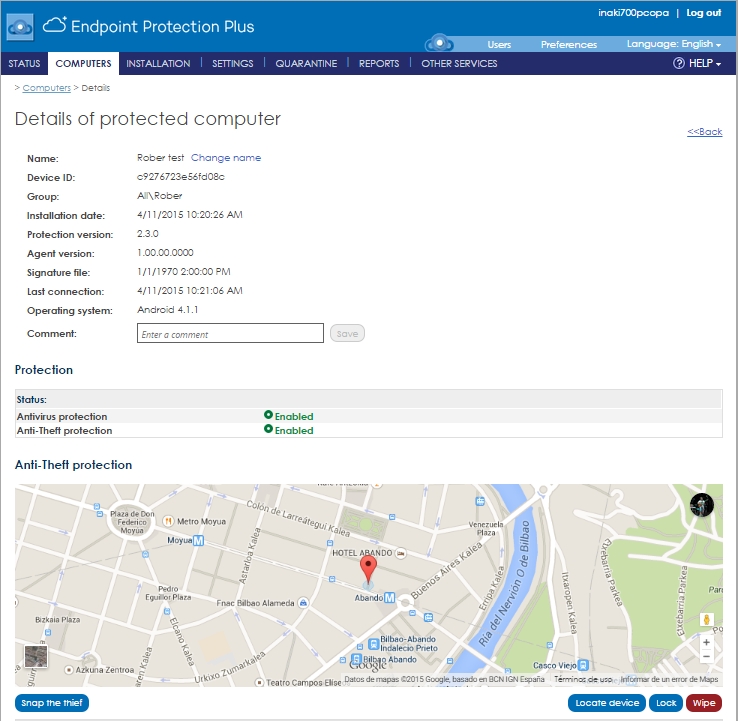 Automatic organization by IP address
Panda Security has also included in this solution a system for automatically organizing computers by IP address. This way, users with Endpoint Protection installed will be able to set rules to automatically distribute computers into groups and assign a configuration profile to them based on their IP addresses.
Improved security for users' login credentials
The new versions of this solution now include an Identity Provider system to enhance customers' security. Instead of passwords, customers will now receive a link through which to create their own user. This will offer them greater autonomy by allowing them to make any changes whenever they need.
'Plus' version offers added value
Though both Endpoint and Endpoint Plus include antivirus for Android, the 'Plus' version also provides anti-theft protection for businesses that want even greater control over devices.
This anti-theft feature in Endpoint Protection Plus enables the locking and remote wiping of devices to prevent thieves from accessing confidential data. It also includes a geo-locating feature and even the possibility to take a photo of the person who has stolen the device.