Panda Security, The Cloud Security Company, today announced the beta release of Panda Global Protection 2014, its comprehensive solution for protecting the information and digital life of home computer users, now with multi-device, multi-platform support (PCs, Macs, tablets and smartphones).
The beta can be downloaded for free at https://www.pandasecurity.com/spain/promotions/betatest/
Along with the release of the beta, Panda also announced the launch of a beta testing competition. All users testing the solution will receive a 50 percent discount on the purchase of the final product, and the ten beta testers suggesting the most helpful improvements will each receive a $200 Amazon.com gift certificate.
Even More Security
Panda Global Protection 2014 is the most comprehensive solution in Panda Security's new retail product lineup to be launched in the next few months. The product continues to improve upon previous versions, providing even better real-time protection against all kinds of threats. The product leverages Panda's unique Collective Intelligence Technology to collect threat intelligence from millions of computer users and deliver automated, instantaneous protection against known and unknown malware from the cloud.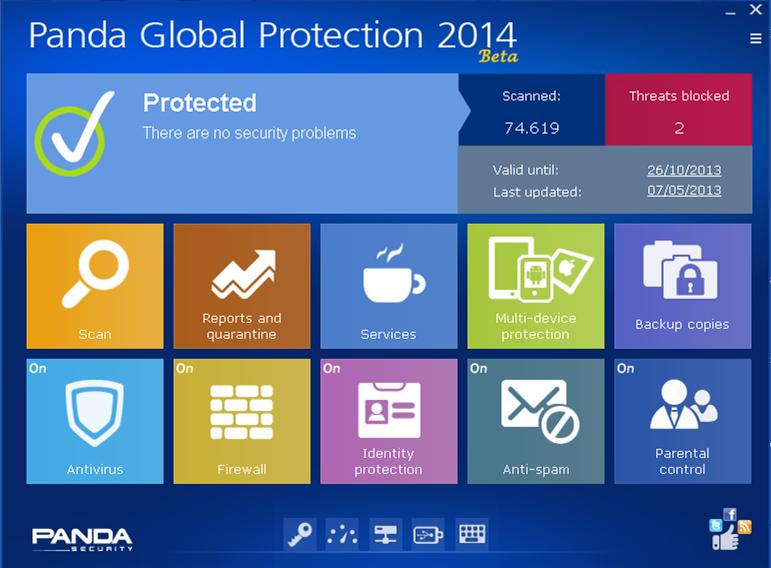 "The new version of Panda Global Protection 2014 is specifically designed for highly-active users with the most demanding protection needs in multi-platform, multi-device environments. The solution preserves user security and privacy on the Internet and specifically social networking sites. In addition, the Panda Global Protection 2014 Beta prevents identity theft as it lets users encrypt private files and folders with valuable information", explained Hervé Lambert, Retail Product Marketing Manager at Panda Security.  
Panda Global Protection 2014 includes a new disinfection kit for infected computers that allows users to create a safe boot point on the computer to be able to boot it and disinfect it in emergency situations where it has become so infected that it won't start. Users can also create a bootable USB drive they can share to boot and disinfect any computer, even without a Panda Security product installed.
Multi-Platform, Multi-Device Protection
Another major benefit of the Panda Global Protection 2014 Beta is its new multi-platform and multi-device protection that offers unified security for PCs, Mac, Android, smartphones and tablets.
In short, the new features and improvements of the Panda Global Protection 2014 Beta include:
Multi-platform, multi-device protection.
New user interface look and feel, making it easier than ever to use the tools included in the 2014 lineup.
Improved antivirus engine with better detection and disinfection capabilities.
New installer that makes installation easier and faster than ever.
New disinfection kit that allows users to create a safe boot point on infected computers to boot and disinfect them.
To download the free beta and get more information about the contest, please visit: https://www.pandasecurity.com/spain/promotions/betatest/