Company's cloud protection model also gets top honors in recent independent reviews from CNET, PCMag.com and About.com
Panda Security today announced results from several independent product tests, demonstrating the effectiveness of the company's proactive and cloud protection technologies in detecting new malware while minimizing impact on users' PCs performance.
In the two tests conducted by AV-Comparatives.org during 2010, Panda Antivirus Pro exceeded the malware detection capability of competitors Symantec, McAfee Kaspersky, Microsoft, Sophos and other main competitors. In the Retrospective/Proactive AV-Comparatives.org May 2010 test, the second part of the Main Test Series, Panda Antivirus Pro 2010 obtained top score for proactive capabilities. According to AV-Comparatives.org's report, this test "shows how good the proactive detection capabilities of the scanners were in detecting new threats", and Panda received an impressive 63% detection of new malware using only heuristics and generic signatures. In the first series of the test, the On-Demand Malware Detection test performed in February 2010, Panda Antivirus Pro 2010 also achieved top scores, scoring 99.2% in the detection of the tests sample set.
In a separate but similar comparative test of free antivirus products performed by c't magazine and published in May 2010, Panda also achieved top scores in both the on-demand test and proactive/heuristic detection of new malware test.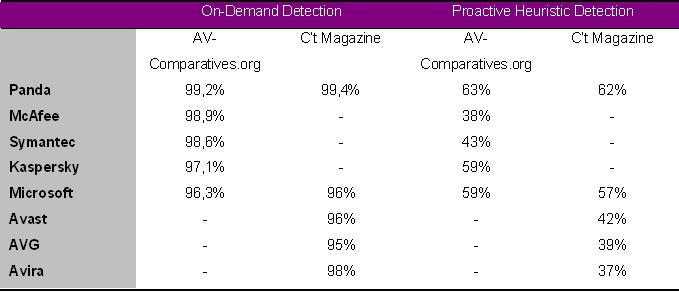 * AV-Comparatives.org test available at www.av-comparatives.org. On-Demand detection tested against 1.2 million malware samples seen in the last 8 months by AV-Comapratives.org. Restrospective/Proactive tests performed with frozen signatures from February 10th, 2010 and tested against new malware until May 2010.
* c't magazine tests performed by AV-Test.org on March 16, 2010. On-demand detection tested against 401.043 malware samples seen in circulation in recent months. Heuristic test performed using 4-week old signatures against new malware found during the 4-week period.
* For details of products tested please visit or contact AV-Comparatives.org and c't magazine.
* These tests are only representative of on-demand malware detection and proactive/heuristic detection of unknown malware. Other detection & protection technologies that may be products such as behavioural analysis, HIPS or URL filtering were not tested.
Thanks to Panda's proprietary Collective Intelligence technology, its products benefit from quicker response time to new malware released to the wild while at the same time reducing the resource consumption on the endpoint considerably. Panda Cloud Antivirus is built entirely around this cloud-based approach, and has been praised for its minimal impact on PC performance and impressive detection levels of zero-day threats. Panda Cloud Antivirus is the first and only cloud-based anti-malware service to protect home computer users both on- and off-line and to be certified by the International Computer Security Association (ICSA).
Recent reviews of Panda Cloud Antivirus include:
Neil Rubenking of PCMag.com gave Panda Cloud Antivirus the Editors' Choice designation for "Best Free Antivirus".
Seth Rosenblatt of CNET stated that Panda Cloud Antivirus is "now known as an effective alternative to the security powerhouses."
Mary Landesman of About.com gave Panda Cloud Antivirus a perfect score of 5 out of 5 stars, declaring that "Panda takes free antivirus to a whole new level with Panda Cloud Antivirus."
"These independent test results and reviews underscore the detection capabilities of Panda's Collective Intelligence system, which is at the core of all our products," said Pedro Bustamante, Senior Research Advisor at Panda Security. "What's more, this great detection doesn't come at the expense of PC performance, because all of the heavy lifting of malware analysis and classification is performed in the cloud."