Panda Security, The Cloud Security Company, today announced the addition of significant enhancements and new features to Panda Cloud Systems Management (PCSM), its remote management and monitoring solution designed to help organizations manage, monitor and support all types of devices on their computer networks, both in the office and on the road.
The new features incorporated in Panda Cloud Systems Management include printer management via SNMP, which allows IT administrators to configure monitors and alerts to control printer status, track toner and paper usage, etc. This feature will extend to routers and switches in future releases.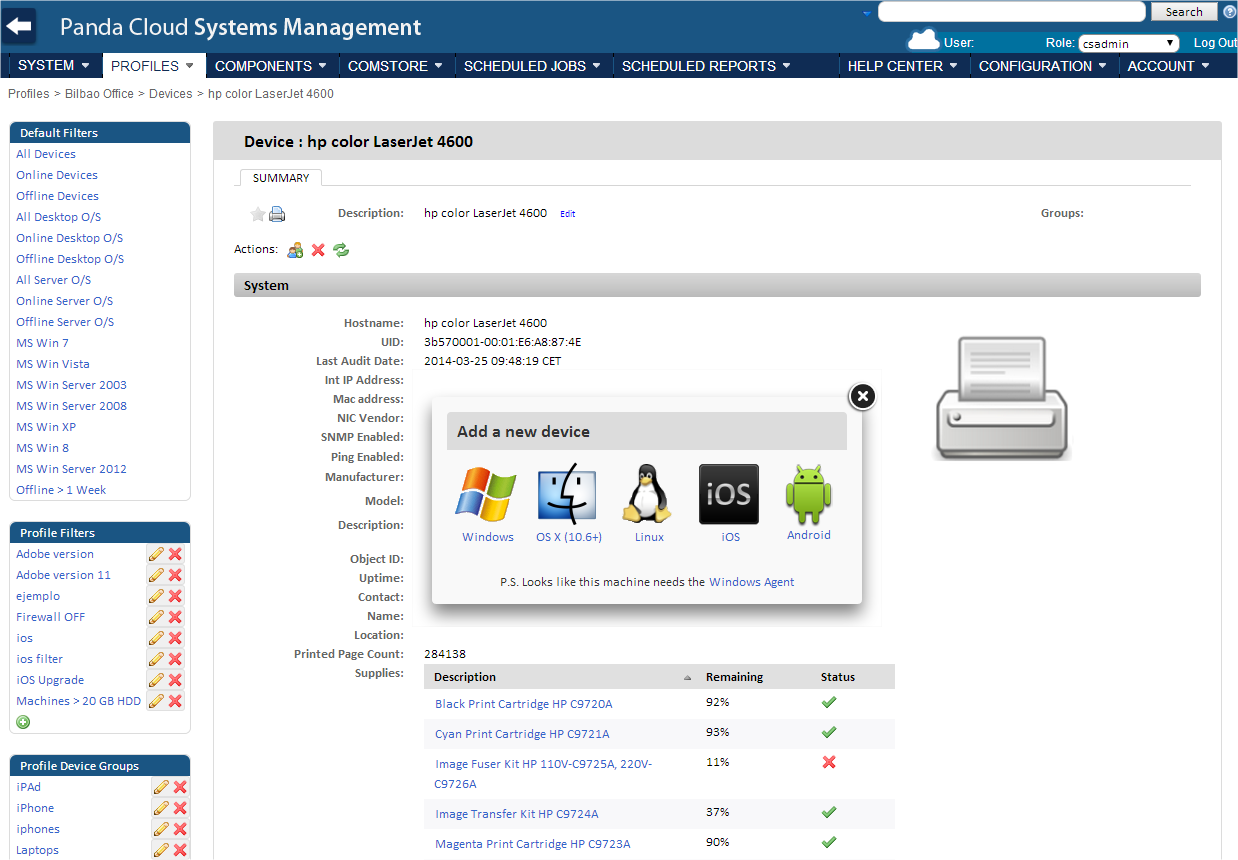 Activity Log
The new version of Panda Cloud Systems Management also boasts a new activity log feature. Every action that takes place on users' computers is logged in a report, giving administrators the ability to search, filter and export log data. This feature provides detailed, comprehensive visibility into network activity, so that administrators can see at any time which actions have been performed by each user and when.
Additionally, the solution provides additional security measures, such as two-factor authentication to access the PCSM Web console. "With this new feature it will be extremely difficult, if not impossible, to compromise user accounts", said Manuel Santamaría, Product Manager Director at Panda Security.
Linux Device Management
The new version of Panda Cloud Systems Management adds Linux support to its cross-platform management capabilities. Panda Security understands that today's enterprise environments consist of multiple operating systems and platforms, and helps IT administrators deal with this situation by offering them PCSM, a unified solution for managing Windows, Mac, iOS, Android and now Linux devices.
This feature is available for Linux computers running Ubuntu and Red Hat, and includes hardware and software inventory. Additionally, the solution supports remote access to network computers via a command line interface, and includes advanced system utilities such as Shell, Restart, Shutdown, File Transfer, Quick Jobs and Wake on LAN.
"The new features incorporated into PCSM deliver significant benefits to companies, easing IT management and reducing costs," explained Santamaría. "With the launch of this new service, Panda Security reinforces its commitment to providing comprehensive solutions that reduce the complexity of security management. Thanks to Panda Cloud Systems Management, partners have an easy-to-use, centralized management tool that reduces maintenance time and costs, improves margins and revenue and provides added value for customers."
More information about Panda Cloud Systems Management here.