This month, Cape Town will play host to the African leg of the Gartner IT Symposium/Xpo 2019. The three-day conference and expo will be held at the Cape Town International Convention Centre (CTICC2), and aims to explore the technology, insights and trends that are shaping the future of IT and business.
Panda Security will be represented at the event, with a team on hand to share their insights into the threat landscape, and the risks advanced threats can pose for large enterprises. The team will run demonstrations helping attendees gain an understanding of the tactics and technology necessary to mitigate cybersecurity risk.
"We see this as an invaluable opportunity to engage with South African and African business leaders to discuss the challenges we face today, and the technology that can mitigate risk and ensure business continuity", says Jeremy Matthews Regional Manager of Panda Security.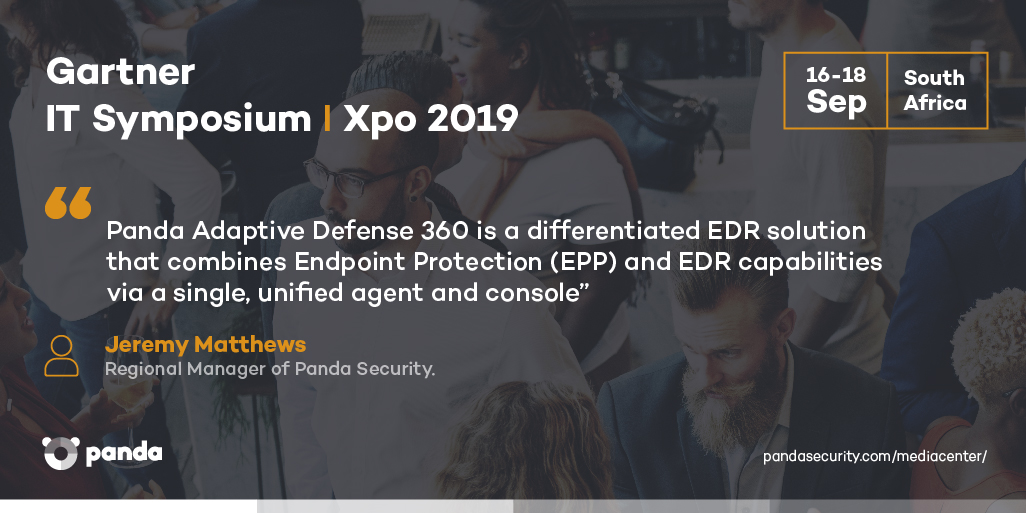 Advanced threats require organisations to adopt a more robust, multi-layered approach to cybersecurity that includes Endpoint Detection and Response (EDR) technology. "We are able to deliver key competencies where it comes to building cyber-resilient organisations with Panda Adaptive Defense 360. AD360 is a differentiated EDR solution that combines Endpoint Protection (EPP) and EDR capabilities via a single, unified agent and console", says Matthews. The solution provides two unique services powered by artificial intelligence and machine learning:
A 100% attestation service, that classifies all processes and only allows goodware to run.
Threat Hunting and Investigation Service, thatidentifies and validates known and unknown IoAs for malwareless attacks in real-time – underpinned by Panda's data and security analysts.
Panda's extensible model goes beyond its base proposition to deliver solutions for data security, software vulnerability management and User & Entity Behaviour Analytics (UEBA).
Panda Security will also debut their new enterprise focused brand—Cytomic—aimed at providing solutions that add value for organisations with a high level of security maturity, that are looking to maximise prevention and stop attacks. Cytomic Orion is a solution that accelerates and simplifies the process of threat hunting, investigating and responding to threats on a large scale, making it an ideal solution for enterprise clients. "Orion's Threat Hunting service is an incredibly useful tool for organisations looking to enhance their security posture", explains Matthews
Panda Security will be at stand 101 at the Gartner IT Symposium/Xpo at the CTICC2 from the 16th to 18th September 2019.
About the Gartner IT Symposium/Xpo
Gartner IT Symposium/Xpo 2019 is the world's most important gathering of CIOs and other senior IT executives. IT executives rely on these events to gain insight into how their organizations can use IT to overcome business challenges and improve operational efficiency. Follow news and updates from the events on Twitter using #GartnerSYM.
Find out more about the event at: https://www.gartner.com/en/conferences/emea/symposium-south-africa/agenda.