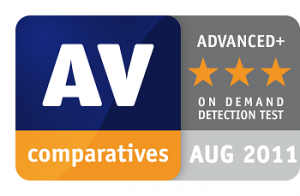 AV-Comparatives.org just published its latest detection test. This test takes into consideration detection of recent malware as well as false positives. This is the first time that Panda Cloud Antivirus Free Edition participates in AV-Comparatives.org independent tests.
We're happy to announce that the results couldn't be much better. Panda Cloud Antivirus Free Edition achieved the highest rating (Advanced+) by being one of the AVs with the highest detection and lowest false positive ratings of the 20 products tested. Panda Cloud Antivirus Free Edition even got higher scores both in detection and false positives than paid-for security solutions from Kasperspky, ESET, McAfee, Trend Micro and Symantec and also higher scores than other free solutions by Avast and AVG.
You can read the full report at AV-Comparatives.org testing site.