– Customers with a Bankia personal manager will be able to enjoy the advantages that Panda Mobile Family has to offer for a period of six months.
– Panda Mobile Family is a security suite aimed at taking care of the mobile devices of family members such as children or elderly relatives.
Panda Security, Spanish cybersecurity multinational, has signed an agreement with Bankia to offer the bank's customers the solution Panda Mobile Family. The agreement is intended for those customers who have a personal manager and who wish to benefit from this solution for six months at no cost. Subsequently, they will have the opportunity to acquire the Panda Mobile Family license.
The solution Panda Mobile Family is a security suite that allows you to protect your mobile devices, your privacy and your loved ones, in order to balance out the mix of benefits, rewards and risks that come with using this technology.
As Adriano de la Rubia, Director of Customer Marketing at the bank, explains, "At Bankia, we want to offer the best customer experience. With this agreement, we can offer our customers access to the security that Panda Security offers to protect them when they use technologies and mobile devices."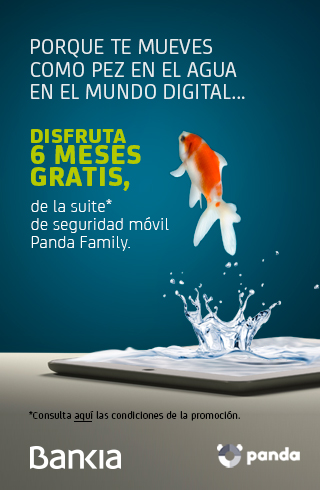 Bankia customers who wish to take advantage of this promotion will be able to enjoy numerous functions, specifically aimed at parental control of mobile devices.
The solution Panda Mobile Family allows you to have direct control of mobile devices thanks to the multiple functionalities that it has. The product is especially aimed at parents who wish to control their children's use of technology in order to avoid the risks that new technologies can pose. It can also be used for elderly people who require special attention.
In this sense, Alberto Tejero, Sales Manager Iberia at Panda Security explains: "With the solution Panda Mobile Family, we want to help families to use new technologies. The parental control simplifies family activities so that it is easier to adapt the necessary security measures to how they really use these mobile devices."
The promotion will be available until December 31, 2018. Find out more here: http://promo.pandasecurity.com/bankia/ 
For safe use of new technologies
With the signing of this agreement between Bankia and Panda Security, a perfect duo has been created between two companies, cooperating in the interest of offering better service and protection for their clients. Bankia chooses and trusts Panda Security's technology for this task. It coincides with the Spanish cybersecurity company's values in its conviction that companies have a responsibility to the society where we carry out our business. This is a commitment that we at Panda have acquired throughout the 28 years of the company's history, and it is an area about which we are constantly learning.  Ultimately, what we seek to do is to be better as a company that is responsible towards people – our employees, towards society, and towards our clients and shareholders – as well as towards the environment where we work, and the environment in general.
At Panda we aim to realize projects that contribute to the safe use of new technologies, and which encourage universal, equitable access to the Information Society for the most disadvantaged groups, and especially for children, elderly people, and disabled people. This is why we work tirelessly to develop the most cutting edge cybersecurity technology and to develop agreements with large companies such as Bankia.