A few days ago we raised the following question to you, on the curious origin of the names of some companies: Why is called Panda Security called Panda?
Well, we have received many comments – thanks! – so, what is the correct answer to the question? Well, the right answer, as much of you already pointed out is:
b. Because the company was founded by a bunch of friends! 😉
Yes, those were the times, more than twenty years ago, when Mikel Urizarbarrena, creator of Panda, decided to call it Panda in honour of the gang of friends who helped him make of Panda the multinational company it is now. And the company has grown so much that today it is present in 52 countries worldwide. As an example, today we would like to introduce the Panda US Corporate Support Team: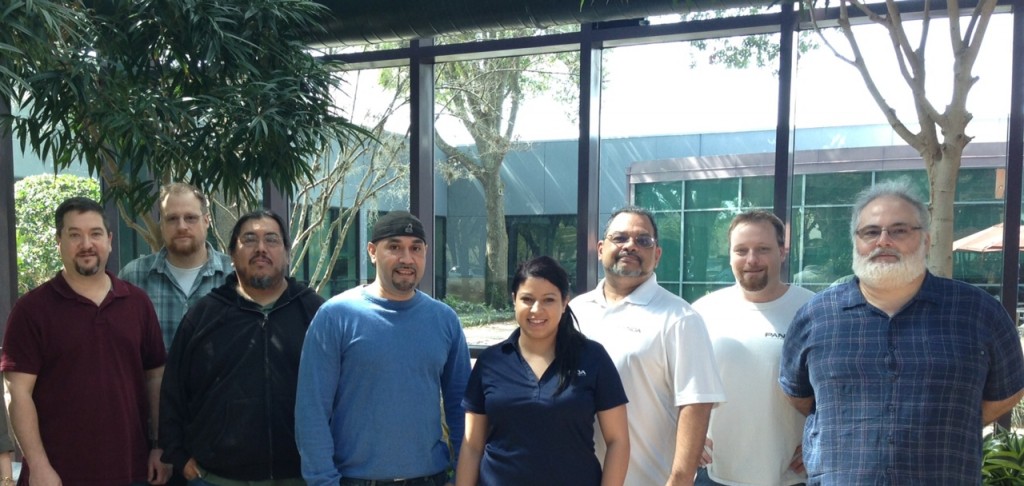 From left to right: James Manning, Joshua Meador, Juan López, Louis Bayron, Stephanie Urena, Héctor Sánchez, Tyler Tuggle, Juan Fernández
James Manning: Panda US Corporate Support & Malware Technician
I started working in computers as a residential consulting business doing break-fixes and new builds. After that I went to work for an antispyware firm doing tech support when spyware was in its infancy (homepage hijackers, adware). We brought our signature processing and malware collection in house and I was put in charge of that. I had to establish criteria and rules for detection and analysis and storage of samples as well as normalize public facing information. We were also a charter member for one of the first attempts at unifying and normalizing the anti-spyware space in a consortium called COAST. The company also produced antispyware technology for American Online and EarthLink and was later bought by EarthLink. I co-wrote a paper on "permissive botnets" (think Anonymous and Jihad Silver) with my Malware Research Director that was accepted for the EICAR conference. At the end of my time there I was editing an online security website for EarthLink that aggregated and explained technical information and threats to EarthLink subscribers. After a very short break in between I came here to Panda. Most all of my background in computers has been related to malware in some capacity or another.
Joshua Meador: Panda US Corporate Support Technician
I've been working at Panda since 2009, I support all products but specialize mostly in email related products such as PCEP and PCOP Advanced. My interests include high-altitude hiking, mountaineering, photography and art.
Juan Lopez: Panda US Corporate Support Technician
I live in Los Angeles, California but I'm originally from Guatemala.I got my High School in Guatemala City at the "Instituto Tecnico Vocacional Imrich Fischmann". My background is in electronics. Panda is a great place to work. Everyday, I get a chance to solve technical problems on customer's computers.Before coming to Panda I worked in several computers shops in the greater Los Angeles Area.I've been dealing with computers since 1992 when I was a freshman at Cal State LA. The first operating system I used was Windows for Workgroups 3.11. For me, antivirus software is the hardest to install. The initial deployment is the hardest since previous AV has to be fully removed! I've been with Panda for almost 8 years!
Louis Bayron: Panda US Corporate Support Technician
Born June 3, 1971, originally from New York City born and raised came to live in Orlando Florida in 2005 and have been here ever since. Experience with computer technology has been 9 years on job related. I have some college but no degree I do have 3 certifications I am A plus, Network plus, MCP certified. Love movies especially sci-fi, reading tons of different books and practice martial arts-kickboxing. My greatest passion is one, my daughter since I have one child and secondly is my Art, I am metal sculptor by heart.
Stephanie Urena: Panda US Customer Service representative
I have been here for a little over a year now and I absolutely love it! I have worked in customer service for about 6 years. The best part about my job is that I get to interact with some of the greatest clients over the phone and through e-mails every day. I am a single mother of two so my time is very valuable. When I get to speak with my clients and help them with whatever issues they are having, that gives me the best satisfaction. Just to have the ability to make the clients happy and comfortable with me is why I choose to work in customer service.
Just to touch on a little bit about me, I am 22 years old and a single mother of two handsome little baby boys. I have a 3 year old named Jayden and a 7 month old named Maison. They are my world. On my spare time I love taking them to the park and going on long walks. Jayden loves to play baseball so I spend a great deal of time teaching him how to play since I grew up playing softball myself. Working for Panda Security gives me the ability to enjoy all of my friends and family at home.
Panda Security is the greatest place to work. The staff, support and managers are AWESOME! We are a pretty small office and have grown into our own little family. Everyone here is charismatic and energetic and makes working here a lot of fun! The US Support team definitely shines above all else. Being a part of this support team is the greatest pleasure I have ever had. Every single of them are very special to me. The management here is indescribable. They are all polite and very easy to talk to, but the best one has to be my manager Juan! Basically, Panda overall is a great place to work and being able to say you look forward to coming to work every day is very hard nowadays with this economy. Thank you Panda!
Héctor Sánchez: Panda US Corporate Support Technician
I was born and raised New York City. My parents are from Puerto Rico. I moved to Florida in 1994. I have worked Information Technology since 1986 at various companies that included Businessland, Chase Bank, Neuberger & Berman, Sears.I have been married for 30 years and have 3 children. I like to travel with my family to different countries when I can, watch movies and have barbecues in the backyard. I am a people person and keep our customers as happy as I can with our product and our support.
Tyler Tuggle: Panda US Corporate Support Technician
I was born in Ft. Lauderdale, Florida January 15th 1982, and have lived most of my life in central Florida. I enjoy outdoor activities such as surfing and wakeboarding. I like going to the beach, and I of course love computers. I was privileged enough to be born in a house with lots of computers around. So it was natural that I end up working with them. Starting with a Commodore 64, I have a long history with all sorts of computer systems, all the way up to SGI onyx machines. I run my own website hosted on a custom server that I built from extra parts I had on hand. I very much enjoy working for Panda and the challenges this job presents.
Juan Fernández: Panda US Technical Support Manager
Born in Barcelona but raised in Almeria (Spain), my life as always been related to computer support and programming. I moved to the USA in 1999 and had tech support management roles for different companies, until 2005, just before Hurrican Katrina hit New Orleans, when I began working for Panda. I will always remember that as some of my friends went there to help but I had just began working for Panda and had to pass (I'm an active Search and Rescue volunteer) I began working at Panda as a regular tech but quickly became an expert and finally the last Tech Support manager on the Los Angeles office, while developing PSCAN and other tools you may have used already. My next step was to work directly for HQ doing custom development, some Sales Force integration projects and VIP support. This time at the company helped me adquire a different view of the complexities of our company.
Now I'm back as the USA Tech Support Manager, where I plan to use all the experience adquired during the 9+ years at Panda to the benefit of the company and its customers.