WatchGuard and Panda Security channel partners can access the complete offering of products and benefits that this combined company delivers.
After the acquisition completed by WatchGuard Technologies in the second quarter of this year, the company has included Panda Security's range of endpoint solutions in its portfolio. The acquisition of Panda Security provides a fourth pilar of protection and extends the company's range of threat detection and response products and services. As such, the combined offering means that corporate protection now extends from  Network Security and Intelligence, Multifactor Authentication, Endpoint Protection, and Secure Wi-Fi. As well as the option of endpoint security specialization in our Channel program.
The immediate goal of the combined company is to offer partners and customers of both companies access to the newly extended, innovative portfolio of security solutions, creating a security platform that connects the network and the user's perimeter with advanced protection capabilities for endpoints.
Adaptive Defense 360 joins the WatchGuard security platform
With its combination of technologies for prevention, detection, containment, and response driven by AI processes and reinforced with threat investigation and analysis, Panda Security was the first provider of endpoint protection platforms (EPP) to offer 100% certification of processes as a service with Adaptive Defense 360. This classification process guarantees that all running applications are legitimate and secure.
WatchGuardONE: open to Panda partners
In June, WatchGuard launched its Early Access Program to make Panda solutions available to existing partners for immediate evaluation as well as training. Already, more than 25% of WatchGuard partners have integrated Adaptive Defense 360 into their portfolios and have begun to deploy it on customers' infrastructures.
Similarly, WatchGuard has incorporated the 6,500 Panda Security partners, growing its community of Channel partners to more than 18,000- worldwide. As such, Panda Security partners have access to specialization in any of the existing categories, including Network Security, Multifactor Authentication,  Endpoint Protection and Secure Wi-Fi.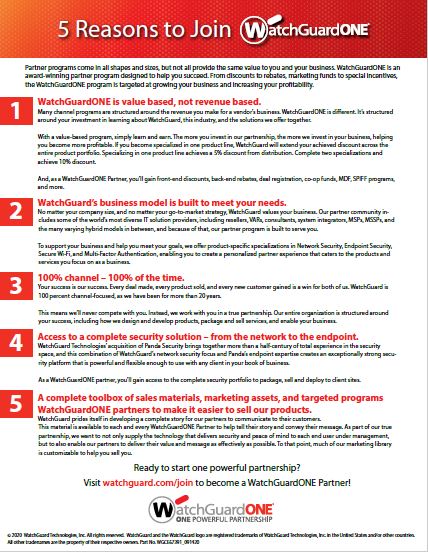 Partners looking to extend their portfolio with the new WatchGuard and Panda solutions should consult their account manager. To get full information on the complete WatchGuard product portfolio, click here. For more details regarding the WatchGuardONE partner program, click here.