-The 2020 edition of the Panda Security Summit will reveal the keys to tackling the five cybersecurity challenges that enterprises have to deal with nowadays, with real, effective and innovative tactics, techniques and procedures.
-On June 18, IFEMA Municipal Palace will be the meeting point for over 1,000 IT professionals from the leading companies and institutions in Europe.
-#PASS2020 cements its place as one of the unmissable dates in the cybersecurity calendar, when Panda Security celebrates 30 years of innovation, technology, challenges, and evolution.
The Panda Security Summit (#PASS2020), organized by Panda Security for the third year running, is an advanced cybersecurity event. It is the European meeting point for all IT professionals, where analysts, SOCs, clients and service providers will analyze cybersecurity strategies and trends to help you boost your company's protection.
Use the code joinPASS2020 to get your free ticket
The 2020 edition is designed to demonstrate to IT security and tech experts the Five Big Cybersecurity Challenges that any organization, regardless of their turnover, sector, or size, must resolve.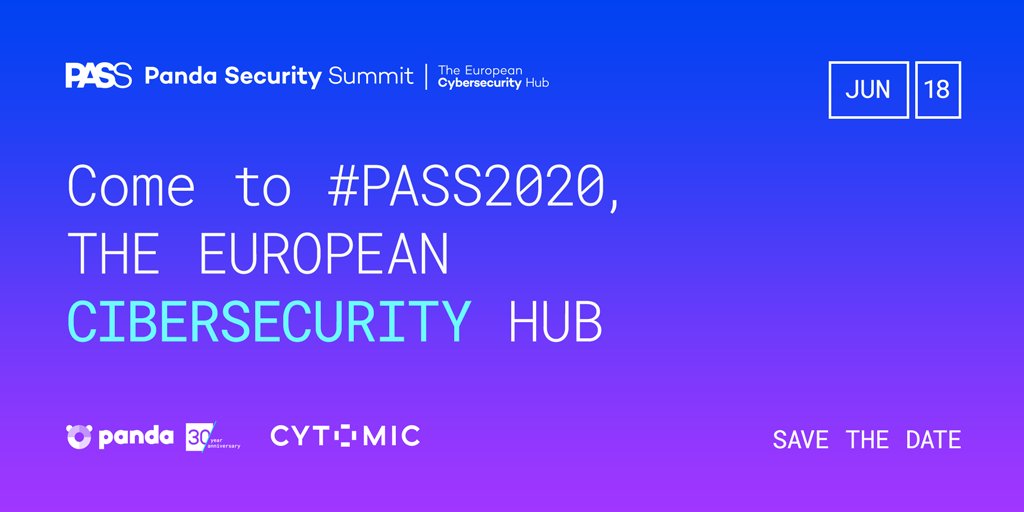 The details will be revealed in a total of 6 conferences, 4 workshops, and over 1,000 professionals from all over the world in attendance. All of this makes PASS2020 an unmissable event for the CISOs, CIOs, and heads of cybersecurity of the most important European institutions.
Coinciding with this annual cybersecurity event is the celebration of Panda Security's 30th anniversary. Three decades of protection in which we've accompanied our customers and partners with advanced solutions, managed services, an innovative vision, and truly ingenious people. And we want you to be part of our party!
Find out more about the Panda Security Summit 2020 on the event website, and register now! Join us in the IFEMA Municipal Palace on June 18, and discover the most innovative and effective ideas, the latest breakthroughs, and the insights and tips to help you protect your company.