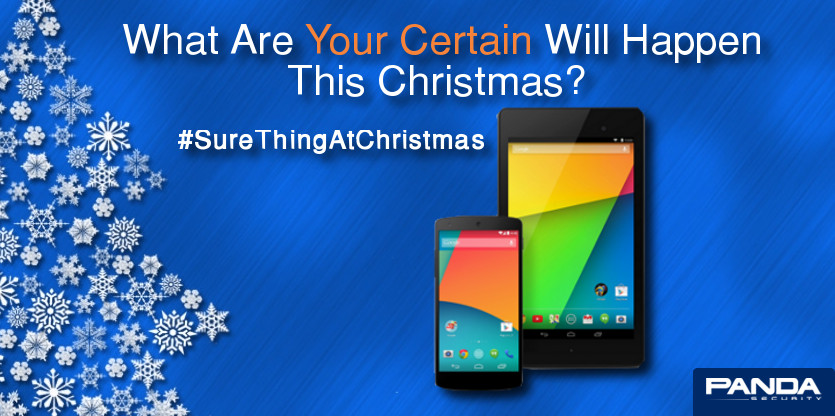 We're getting closer by the day to discovering the winners of our 'What are you Certain Will Happen this Christmas?' competition!
Here are the top 10 participants from the last week!
– @JimmySunwest:  Este año como todos los anteriores tendremos #NavidadSegura sin luz, somos tantos en una sola casa que los plomos se asustan! 

– @ChusFVega: se derramará una copa y alguien gritará: NO PASA NADA. (y si que ha pasado)
– @abelcardiel: seguro que mancho el vestido a mi suegra al pelar un langostino, pasa desde hace 12 años y seguirá pasando
– Elisa: Seguro que este año no habrá gato encerrado, habrá "roscón encerrado" y es que misteriosamente mi tío se encierra en la cocina antes de traer el Roscón de Reyes y nunca, nunca le toca el haba.
–  Sergi Castells: Este año después de pasar lo de cada año en la comida de Navidad (el tío mas grande de la familia sentado en un pequeño taburete porque no hay mas sillas, la tía que vive ese día con gran emoción y acaba tirando alguna que otra copa mientras el resto de la mesa grita Alegria!!, el brindis del familiar mas carismático, el tío lejano que no para de llenar las copas a los demás mientras les dice que no todos los días se celebra la navidad, los problemas de mi madre al intentar cortar el turrón del duro con el cuchillo del pan y el familiar al que siempre le ha tirado el mundo de la farándula y se arranca con el repertorio de villancicos de Raphael) paso algo extraordinario, el nacimiento de mi hijo Alex esa misma noche. Una situación que no esperábamos que pasara ese día pero que nos lleno de alegría esta Navidad.
– @AmandaDhillon1: Instead of gift giving ,we do a big family vacation at Christmas and travel to a new destination
– Gagan: Giving a beautiful flower bouquet to my mom,going out for dinner with my parents,going to parties and having a great holiday.
– @MrsJenniferLynn: Going to see the beautiful light displays, decorating, spending time with family, giving to others
– @GodKirk: esta Navidad paso lo mismo de todos los años, mi abuela se quedó dormida antes del brindis de medianoche jaja
– Cristina: Lo que pasará seguro es que nos levantaremos el día 6 de Enero con los 5 sentidos puestos las 4 personas de mi familia, para ver qué nos han traído los 3 Reyes Magos, y al final tendremos 2 alegrías, los regalos y 1 año más que estamos todos juntos. ¡Feliz Año Nuevo!
Congratulations! We´ll announce the winner soon! Stay tuned!