Panda Security, The Cloud Security Company, has announced that Silvia Torres has been appointed as its new Global PR Director. Torres' mission will be to implement and maintain quality internal and external communications both in Spain and all other countries where the multinational operates.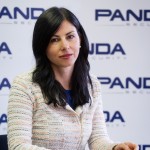 Torres holds a Bachelor's Degree in Journalism from the Complutense University of Madrid, and has over 15 years of experience working in the Information and Communication Technology (ICT) sector. For more than a decade, she was the editor-in-chief of TCN (Technology Channel News), a publication concerning IT distribution channels and partnerships, as well as a regular contributor to other publications in the technology area.
Over the last few months, Torres has acted as coordinator for Samsung's IT and Telecommunications division at the Asesores de Relaciones Públicas y Comunicación PR and communications agency.
Silvia Torres has a Master's Degree in Community Management & Social Media Marketing from CEDECO.
"Joining Panda Security, a leading multinational company with presence in 56 countries and over 10 million users around the world, is an exciting new challenge that will allow me to grow both personally and professionally, helping develop the communication processes of a top player in the security and innovation sectors", said Silvia Torres.